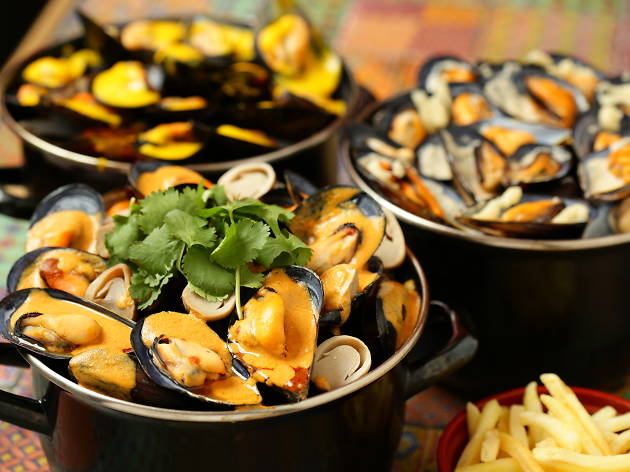 1/3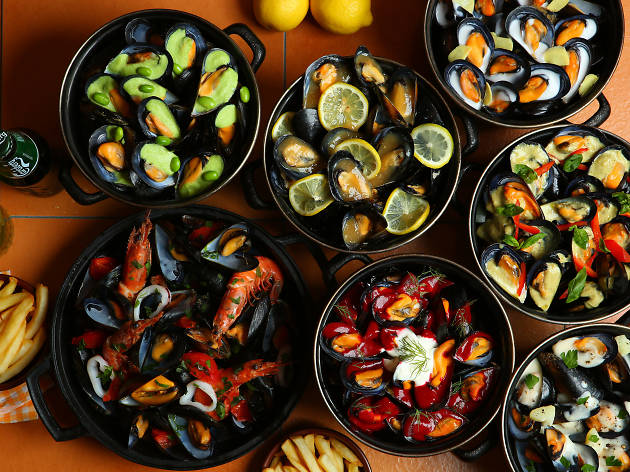 2/3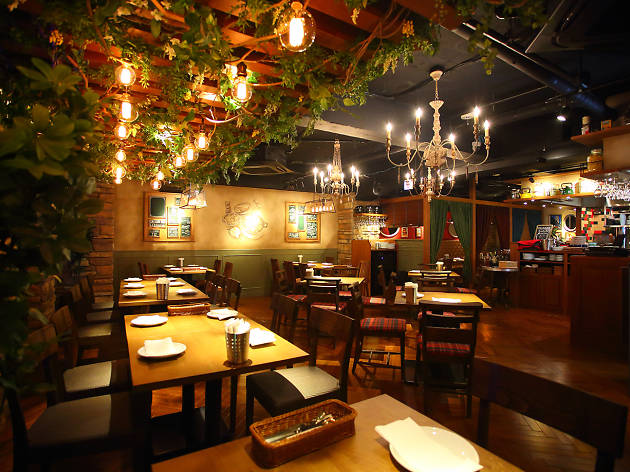 3/3
UPDATE: Bistro Moules closed for good at the end of 2017.
Moules frites or simmered mussels and fries is a classic dish consumed in near-obscene quantities across Belgium as well as in much of France. Tokyoites were finally introduced to this simple but succulent combo in July 2016, when a local enthusiast of Belgian cuisine set up his own take on the mussel bistro inside one of the many slightly run-down buildings housing chain eateries and 'girls' bars' on the south side of Kichijoji Station.
Getting to Bistro Moules requires taking one of the least confidence-inspiring elevators we've seen in Tokyo up to the third floor, but the restaurant itself is anything but scruffy: the low lights, dark brown tables and admittedly stylish fake brick details stand out right away. We were offered a spot on the small but comfy-looking terrace, but opted for a window seat instead – maybe next time. In addition to the disarming interior, we found the friendly, accommodating service an immediate plus.
The menu lists a whopping 35 flavours of sauce for the main attraction: heaping piles of mussels served together with golden frites to be dipped in the savoury soup left on the bottom of the pot. In addition to the classic Marinière (a white wine-based soup with onion and celery), we went for two Italian-inspired options: Carbonara and Marinara. Inspired choices, it turned out – the former was creamy and pleasantly peppery, the latter fresh, light and significantly better than we've had at many Italian joints. This duo actually overshadowed the solid but unsurprising Marinière. The mussel pots are available in three sizes, with the smallest one packing around 30 shells: anyone looking to sample more than one flavour will want to stay away from the two other sizes. As for manners, getting your hands dirty is the way to go – a bucket of wet tissues is provided.
Beyond the comfy space and the competently executed moules, the key here is the ¥900 all-you-can-drink wine deal that becomes available from 9pm nightly. You get to have your way with a rotating selection of two whites and two reds picked to match the mussels. As such an inviting offer makes clear, Bistro Moules is essentially a glorified, Belgian-themed izakaya. But it sure as hell is the best glorified, Belgian-themed izakaya we've come across anywhere. Only half full on the Friday night of our visit, this one deserves much more attention than it seems to be getting.
Venue name:
[CLOSED] Bistro Moules
Contact:
Address:
Chugai Bldg 3F, 1-1-5 Kichijoji-Minamicho, Musashino-shi
Tokyo


Opening hours:
5pm-11pm daily
Transport:
Kichijoji Station (Chuo, Sobu, Keio Inokashira lines)