Modern sushi omakase at the Bellwood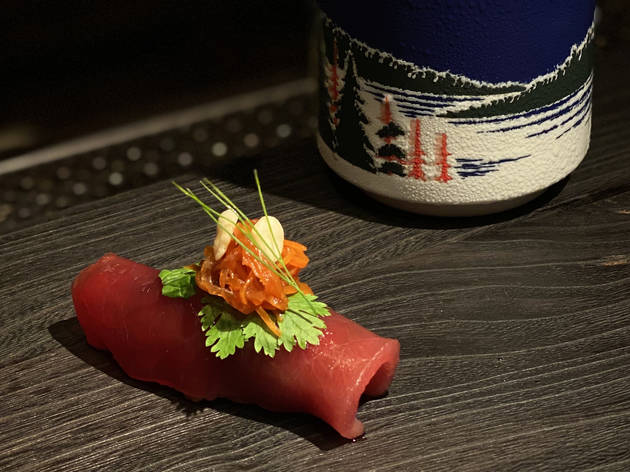 1/3
Photo: The Bellwood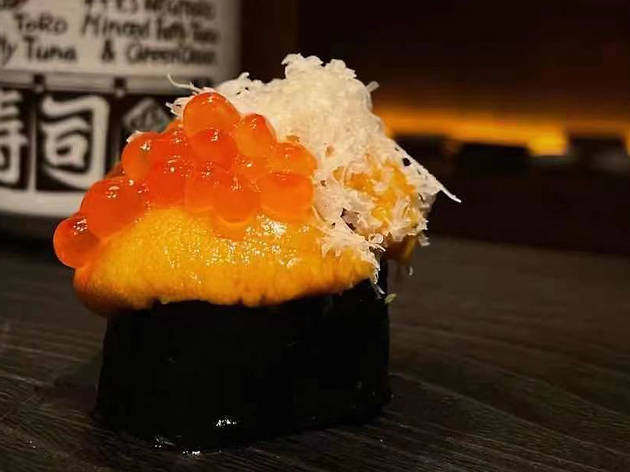 2/3
Photo: The Bellwood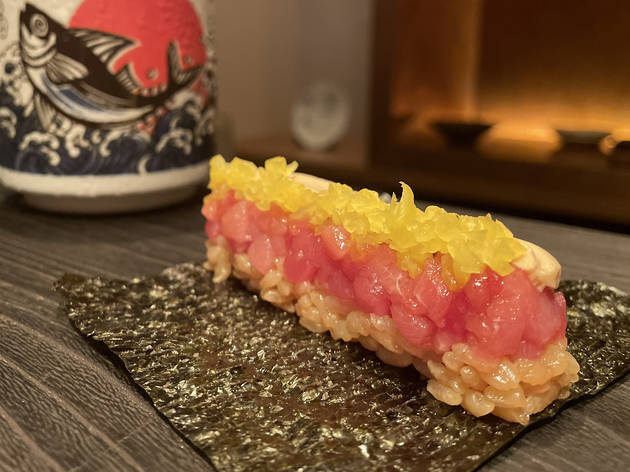 3/3
Photo: The Bellwood
Time Out says
You wouldn't think that a kissaten-inspired cocktail bar would come to offer some of the best sushi in town, but The Bellwood in Shibuya has always been full of surprises. Served in The Bellwood Lab – the bar's private backroom reserved for experimental pop-ups – Bellsushi features eight pieces of nigiri served with two cocktails for a reasonable ¥6,050 (tax included).
The experience is an unconventional one, but that's not just because omakase sushi dinners at cocktail bars are unheard of in Tokyo. For one thing, the menu is devised by The Bellwood's executive chef Ayaka Terai, who stands out in a male-dominated industry where women are rarely seen behind a sushi counter. Moreover, unlike the traditional pieces of nigiri you'll find at local sushi joints, Bellsushi features an amalgamation of Japanese and international flavours with ingredients like coffee beans, tahini, olives and even cheese thrown into the mix.
It's a feat that purists by the likes of Jiro Ono would scoff at, but The Bellwood's executive chef Ayaka Terai has essentially nailed what thousands of ambitious sushi chefs have failed to do by delivering a perfect balance between classic and innovative, texture and bags of flavour.
Maguro tuna is topped with pickled carrot and crispy tempura batter as a banh mi-inspired nigiri, while shima aji is combined with jalapeno and a tortilla chip for sushi reminiscent of Mexican cuisine. To go with the courses, you're served a cocktail made with SG Mugi Shochu, fermented tea and sherry – a play on the quintessential green tea offered at sushi restaurants. Alongside this, you're also given a shot-sized serving of a boozy pink ginger concoction to sip as a palate cleanser between sushi in lieu of gari (pickled ginger).
It's the sort of culinary experience that deserves its own venue, but since this is a limited time event, it's best to book your reservation now (available only via Instagram DM) before it ends. If you're looking to go all-out, you can also upgrade your course to include 12 dishes and a third cocktail for a total of ¥13,200.
Details
Dates And Times
The Bellwood

From ¥6,050 (includes tax)

From 6pm until late. 

The Bellwood

From ¥6,050 (includes tax)

From 6pm until late. 

The Bellwood

From ¥6,050 (includes tax)

From 6pm until late. 

The Bellwood

From ¥6,050 (includes tax)

From 6pm until late. 

The Bellwood

From ¥6,050 (includes tax)

From 6pm until late. 

The Bellwood

From ¥6,050 (includes tax)

From 6pm until late. 

The Bellwood

From ¥6,050 (includes tax)

From 6pm until late. 

The Bellwood

From ¥6,050 (includes tax)

From 6pm until late. 

The Bellwood

From ¥6,050 (includes tax)

From 6pm until late. 

The Bellwood

From ¥6,050 (includes tax)

From 6pm until late. 

Show more
Best selling Time Out Offers