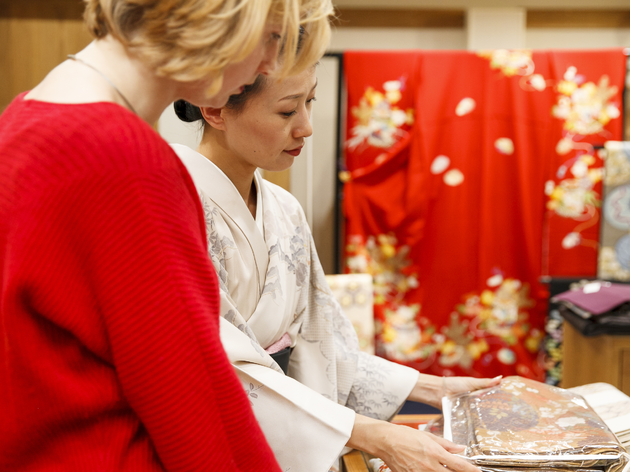 The best antique and secondhand kimono shops in Tokyo
We guide you into the world of this traditional garment
The kimono is a huge part of how the world sees Japan. In virtually every Orientalist depiction of the country, kimono-clad women will be doing the rounds, and to this day, it's synonymous with the ideals (and stereotypes) of this island nation. For most average Japanese people today, however, kimono are often seen as off-limits or as relics of the past – a dazzling, complex arrangement of clothing that they may only have worn as a kid, if ever.
Hitomi Ito is determined to keep the tradition alive. A kimono-ka, or kimono expert, Ito wears mainly kimono – she actually threw out most of her Western-style clothing a few years ago – and treasures the clothing passed down in her family, in addition to shopping for beautiful, pre-loved garments at secondhand shops. '"Antique" kimono roughly refers to garments from the Meiji, Taisho and early Showa periods (1868-1930s)', Ito explains. 'Whereas recycled (secondhand) kimono are anything from mid-late Showa (1950s) onwards.'
'If you want to buy a kimono, the key thing is thinking about when you would wear it,' she says. 'Kimono aren't exactly like other kinds of clothing, which you can just buy without knowing when you'd wear it.'
Seasons are a good place to start. In winter (October to May, in this case), deeper, bolder colours with seasonal flowers are de rigueur while the materials are awase (lined). Hitoe (unlined) or usumono (lightweight) summer kimonos tend to place emphasis on more subtle pastel shades. Whatever the time of year, you'll be wearing a simple underlayer (nagajuban), often coupled with a second layer (hadajuban) underneath.
If you are looking for an everyday kimono you can wear to a casual party, your best bet is a komon (with patterns all over). A homongi (with patterns at the bottom and over the shoulders, both flowing over the seams) is reserved for formal occasions, while a furisode (for unmarried, young women, distinguished by its long sleeves) or tomesode (for older, married women) is better if you're attending a wedding. For a concise overview of how patterns define formality, check out this graph (in Japanese).
The obi (belt) should reflect the formality of the kimono too; simply put, anything brocade-esque or with gold and silver threads is formal, whereas base colours in a simple fabric are casual. For coordination, Ito recommends picking an obi that matches one or more colours of the patterns on your kimono, rather than the base colour, for a sleek whole.
Top off your ensemble with two other essential bits: the obi-age and the obi-jime. The former is a small cloth which hides the towels wrapped around your waist, keeps things in place and presents a pop of colour between the top of the obi and your kimono, while the latter is a rope tied around the obi. Tie it all together by adding in some accessories and putting your hair up: showing the nape of your neck is considered the most aesthetically pleasing.
It may sound complicated, but Ms Ito left us with the assurance that 'at the end of the day, what matters most is what you like and what you feel comfortable in'. With the times a-changing and styles going in and out of fashion, a more modern take on kimono seems to be a freer one. Phew.
Looking for something lighter?