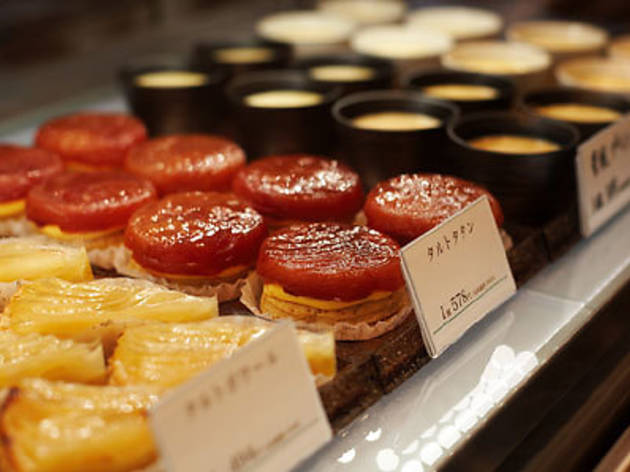 Driven by concerns about Japan's food self-sufficiency ratio of only 41% (based on calories), and wanting to further the idea of 'local production for local consumption', Kaze to Tsuchi, a patisserie specializing in producing western style cakes and confectionary from ingredients produced in Japan, opened on Dec 3 2009. The location is Tokyo's Ginza, home to both a range of prestigious Japanese stores and host to various flagship outlets from international brands such as Hermès, Cartier and Chanel. Walking two blocks from Sukiyabashi intersection along Sotobori-dori in the direction of Shinbashi will bring you to the shop front. The shop itself is relatively compact, so much so that it gets crowded with only about five customers; however, the aroma of freshly baked confectionary that hits you as you walk through the door will leave your taste buds waiting with anticipation. If it doesn't, then the various reds, oranges and chocolate-browns of the confectionaries on offer, all meticulously arranged in a large L-shape glass cabinet, almost certainly will.

One particularly interesting confectionary on offer is a 'chiso keiki', or layered cake, named 'Fu-Rin', that consists of seven layers— including a café-au-lait coloured brown sponge layer underneath a layer of snow-white cream. The cake's different layers, each with a different appearance, represent the very earth that Japan rests upon; and are of course, made from ingredients, such as akagome (red rice), millet, whole wheat flour and brown sugar that are all produced in Japan. As you bite through the various different layers you'll notice each of their textures— some melting silently away on your palette and others putting up more of a fight with lovely crisp crunching sounds. Pâtissier Takuya Uemura commented that 'the cake took two months to perfect. Compared to western produced brands, wheat flour that's produced in Japan is courser and considerably harder to mix in. It's a bit like trying to mix eggs with stones.' A process of trial and error eventually lead Takuya to a solution that makes use of two different mixers, one Germany made and the other American made – a solution that in itself should indicate just how much trouble the shop went through in trying to realize its ideal of producing western style confectionary using only Japanese ingredients.

In addition to various fresh baked confectionary such as the above mentioned 'Fu-Rin' layer cake, Kaze to Tsuchi also offers a range of longer lasting sweets that includes a kind of chestnut pie, named 'Ginza Marronier Dori' (named after a street in Ginza), which uses whole large astringent chestnuts from Ehime Prefecture; and a leaf shaped pastry named 'Enju' (the Japanese word for pagoda tree), which uses butter from Hokkaido.

A few doors down from Kaze to Tsuchi you'll find 'Confectionary West', a different, well renowned and much-loved patisserie that's been around since 1947. Whether or not Kaze to Tsuchi will bring with it a new wind of change to the area's taste in confectionary remains something to be seen and looked forward to.
Venue name:
Kaze to Tsuchi
Contact:
Address:
6-4-8 Ginza, Chuo, Tokyo
Tokyo


Transport:
Ginza Station (Tokyo Metro Subway Marunouchi, Hibiya, Ginza lines)