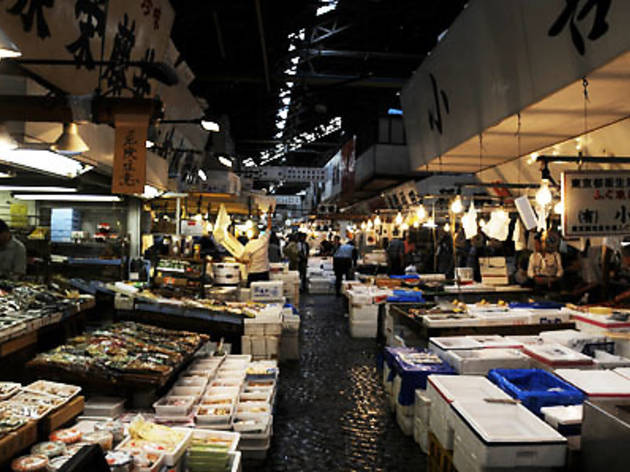 This busy market holds a special place within Japan's food culture. By sheer volume and space alone it's a wonder – the 23 hectare market-area deals in approximately 3000 tonnes of seafood and other creatures from the deep each day. The commercial wholesale market shares its space with a shopping district and retail market. At the retail market, you can find not only fresh fish, but also dried fish and deli-style dishes, and counters to sidle up to and enjoy freshly-made sushi. Shops that are open relatively late tend to attract crowds of curious onlookers, many of which are tourists.
From 5am, when the market area opens to wholesalers, the area becomes a veritable battleground. It is possible to watch the sales going on in the market until 9am, however the immensely popular auction drew such crowds (and disruptions) that it is sadly not open to public view for the time being. Single fish can be bought, though if you're planning to buy a lot be sure to carry your bags in your arms as merchants will scold for any kind of obstructive luggage trailing along the floor.
As the number of tourists visiting the market has increased exponentially, and complaints about visitors disrupting the daily transactions of the merchants have risen, Tsukiji Market have begun a program to increase visitors' awareness of proper manners while at the market.
Venue name:
Tsukiji Market
Contact:
Address:
5-2-1 Tsukiji, Chuo-ku
Tokyo


Transport:
Tsukijishijo Station (Oedo line)