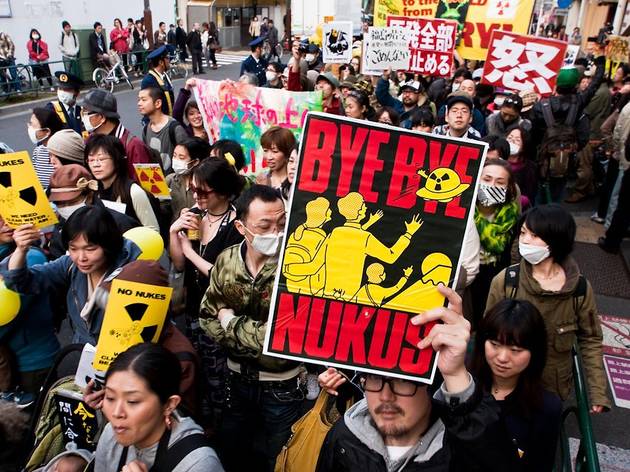 Japan's burgeoning anti-nuclear movement will be marking the three month anniversary of the March 11 quake and tsunami with a nationwide day of protests, amidst reports that Japan's nuclear reactors may all be shut down by next April. Organisers are touting the day as a '100-man-nin akushon' (1 million-strong action), and there are nearly a dozen marches happening in Tokyo alone – although whether that's evidence of widespread support, or of a movement that's still hopelessly fragmented, is debatable. The largest demos will centre on Shinjuku, Shibuya and the well-trodden route from Shiba Park to Tokyo Station.
Freelance journalist Yasumi Iwakami and newscaster Mari Maeda are going to be doing a live Ustream broadcast throughout the day - check the Complete Broadcasting Project for details. The following information has been translated from the Nonukes.jp website, and is up-to-date as of lunchtime on Thursday, June 9.

Nerima, 10am-12 noon
Meet at: Park outside Nerima Art Museum, 1-36-16 Nukui, Nerima-ku, Tokyo. Access: Nakamurabashi Station (Seibu Ikeburo line), north exit
Talks from 10am, followed by a parade from 11am to Nerima Station, via the Tepco Nerima branch office. Costumes, placards and musical instruments welcome.

Kodaira, 10.45am-12.45pm
Meet at: Rune Kodaira, 1-8-5 Misonocho, Kodaira, Tokyo. Access: Kodaira Station (Seibu Shinjuku line), south exit
A 'slow walk' around Kodaira, taking roughly 2 hours to cover the 2.5km distance to Hitotsubashi-Gakuen Station.

Seibu Ikeburo line, 11am-12 noon
Meet at: Oizumi-Gakuen Station (Seibu Ikebukuro line), south exit
Ride the 'People's Train': after rallying outside the station with placards, costumes and the like, everybody will bundle onto the train and take it to Nerima Station.

Ochanomizu, 11am-4.30pm
Meet at: Zendentsu Hall, 3-6 Kanda-Surugadai, Chiyoda-ku, Tokyo. Access: Ochanomizu Station (JR Chuo, Sobu lines)
Talk by director Hitomi Kamanaka and screening of two of her documentaries: Bunbun Tsuushin No. 1 and Hibakusha. ¥1,500 adv, ¥1,700 on the door. Details (JP only) at Minimisuma.net.

Edogawa-ku, 12 noon-5pm
Meet at: Kasai Station (Tozai line)
'Edogawa Future Walk' along the following route: Kasai Station - Tepco Eco Plaza - Reuse Shop Eco Messe - Higashiojima Station - Arakawa River (to take radioactivity readings) - Juko-in Temple.

Shinjuku, 12.30-2pm
Meet at: Shinjuku Alta, 3-43-3 Shinjuku, Shinjuku-ku, Tokyo. Access: Shinjuku Station, east exit
'Old people, former revolutionaries, former activists, former factionists, former nothing-in-particulars' welcome at this warm-up for the day's protests in Shinjuku. There'll be 'relay interviews', then everyone will hook up with the main Shinjuku demo (see below).

Shiba Park, 1-2.30pm
Meet at: Shiba Park. Access: Onarimon Station (Mita line)
Organised by the World Peace Now crew. Speeches from 1.30pm, followed by a demonstration from 2.30pm. The route is as follows: Shiba Park - METI - Tepco Headquarters - Ginza - Tokyo Station - Tokiwabashi Park. Details (JP only) at World Peace Now.

Oji, 1-3pm
Meet at: Kita-Topia, 1-11-1 Oji, Kita-ku, Tokyo. Access: Oji Station, north exit
Activists will be surveying passersby on whether they agree with the government's decision to raise the permitted radiation exposure for citizens to 20 mSv/year.

Kasumigaseki, 1.30-4.30pm
Meet at: Tokyo Bar Association, 1-1-3 Kasumigaseki, Chiyoda-ku, Tokyo. Access: Kasumigaseki Station (Marunouchi line), exit B1
Symposium on the post-Fukushima energy and environmental situation, with speakers including Tetsunari Iida of the Institute for Sustainable Energy Policies and reactor designer Masahi Goto.

Shibuya, 2-5pm
Meet at: Keyaki Namiki Road, Yoyogi Park (near C.C. Lemon Hall). Access: Harajuku Station (Yamanote line) or Shibuya Station
'Energy Shift Parade', supported by Ryuichi Sakamoto and C.W. Nicol, among others. There'll be an opening talk from 2pm with environmentalists Kanta Hani, Koichi Suzuki and Junichi Sato, followed by a moment's silence at 2.46pm, and then a parade through Shibuya. Details (JP only) at www.enepare.org.

Kunitachi, 2-5pm
Meet at: South gate of Hitobashi University West Campus. Access: Kunitachi Station (JR Chuo line)
Billed as a get-together for people who are concerned – or merely a little bummed out – about the Fukushima situation. Instruments, placards and costumes welcome. Meet-up at 1.45pm, then the 2km walk through Kunitachi departs at 2pm. Details (JP only) at http://d.hatena.ne.jp/tamawalk2011.

Machida, 2-4pm
Meet at: In front of Machida Shimin Hall, 2-2-38 Morino, Machida, Tokyo. Access: Machida Station (Odakyu line), west exit
Parade through the streets of Machida. Details (JP only) at http://machidasimin.blogspot.com.

Shinjuku, 2-6pm
Meet at: Shinjuku Chuo Park, 2-11-1 Nishi-Shinjuku, Shinjuku-ku, Tokyo. Access: Tochomae Station (Oedo line) or Shinjuku Station, central west exit
'Kick the Nukes!' demo organised by the guys behind the Koenji march. A parade through the streets of Shinjuku starts from 3pm, with punk bands and MCs including Rankin Taxi on the sound systems. Details at http://611shinjuku.tumblr.com.

Shinjuku, 6-8pm
Meet at: Shinjuku Alta, 3-43-3 Shinjuku, Shinjuku-ku, Tokyo. Access: Shinjuku Station, east exit
Wrap-up event for the day's Shinjuku march, with speeches by celebrities and Diet members promised.