Heads up! We're working hard to be accurate – but these are unusual times, so please always check before heading out.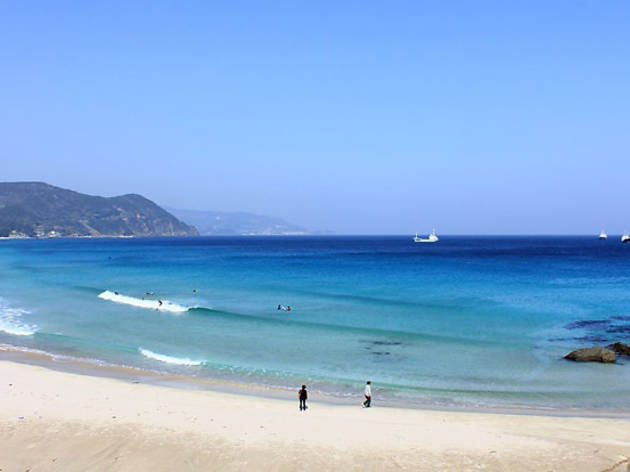 Best beach getaway near Tokyo
Explore the white sands of Shimoda, only three hours away
If you happen to hail from a city that's blessed with white sands and turquoise seas, we know how you felt when you first set out to explore Tokyo's closest beaches. Even if you were prepared for the black volcanic sand, you most likely didn't enjoy having to dodge bits and pieces of garbage while swimming. And if you visited in the run-up to the July/August summer season, you probably didn't enjoy being serenaded by the sounds of construction (seasonal bars, if newbies are wondering) rather than the gentle lapping of waves. We are here to tell you not to give up. The beach of your dreams is just a few hours away.
Japan's answer to the Amalfi Coast
It may be a stretch to say this, but when we spent a long weekend discovering Shimoda's coves and sandy stretches, we felt the kind of wonder that can only come with racing on a scooter between Italy's Sorrento and Positano. Shimoda is part of Shizuoka Prefecture, which is situated along the Izu Peninsula, and boasts nine main beaches all worth visiting.
We stayed at Shimoda Tokyu Hotel and, on our first morning, we wandered to the end of the hotel's garden path to a steep set of stairs that took us all the way down past the hotel's leafy pool area to a narrow road. Just a few metres on, we discovered a small, quiet patch of sand overlooking a bay of emerald water. This beach is called Nabetahama. Make sure you take a walk along the rocky sidepath until you're within swimming distance from the shore. Dive in and swim your way through tiny jumping fish who look as happy as you're bound to feel.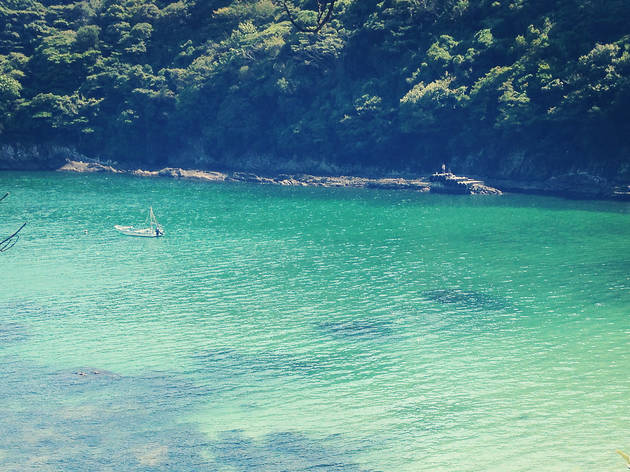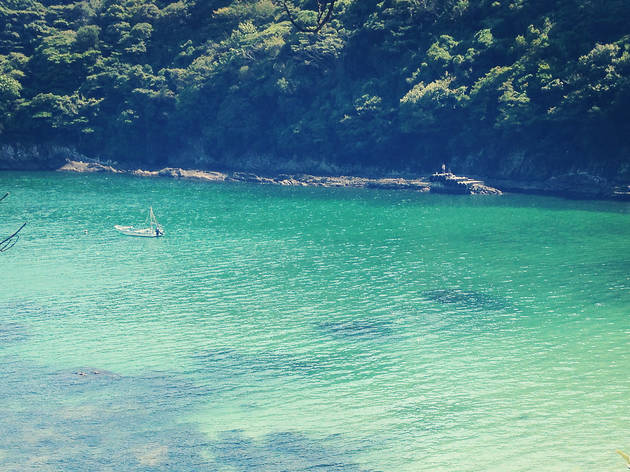 Photo by Annemarie Luck
Above: Nabetahama

That afternoon we walked all the way from our hotel to Shirahama Ohama beach, through the old but charming town and then along the coastal road as it curved up and down around the mountain, giving us views of beautifully clear blue ocean below. We stopped for lunch at Ra-maru, which is at the harbour in the same complex as the Shimoda Tourist Association and famed for its delicious crunchy-fried fish burgers served with toppings like camembert. Shirahama is the most popular beach but we opted for the neighbouring and less busy Shirahama Ohama. It's a long stretch of soft pale sand and the water is warm and as blue as the sky. As dusk fell and a breeze picked up, we sipped on hot coffee and watched the clouds turn to candyfloss.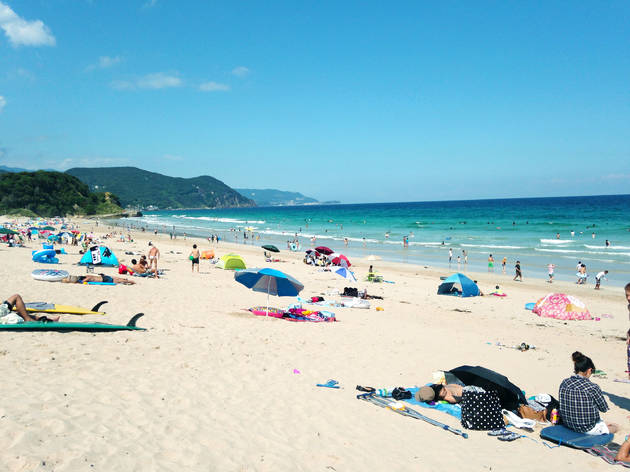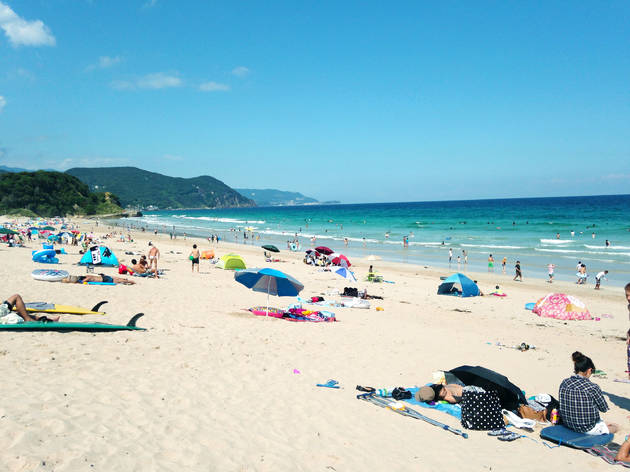 Photo by Annemarie Luck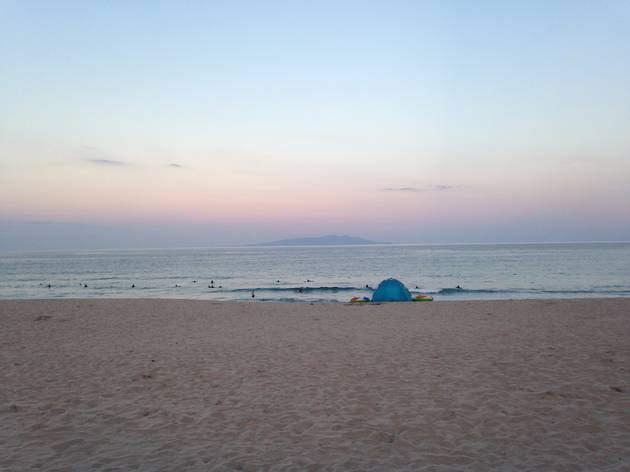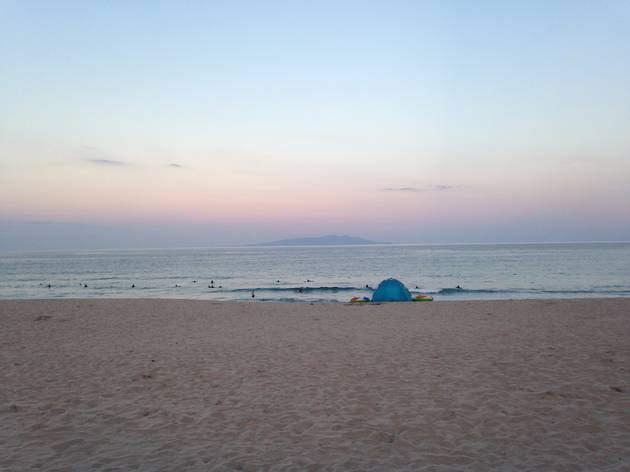 Photo by Annemarie Luck
Above: Shirahama Ohama beach

On the other side of town is Tatadohama beach, which you can get to by taking a bus from Izukyu-Shimoda Station – we picked up bus timetables from the Tourist Association, which also rents out bicycles. Tatadohama is where the surfers go. The beachfront is lined with campervans with open boots facing the ocean, giving it a wonderfully casual atmosphere, with surfers changing in and out of wetsuits, and dads teaching sons to bodyboard. The bay is completely enclosed by a high wall of foresty mountain and as the sun dipped behind it, we lay back and wished we never had to leave.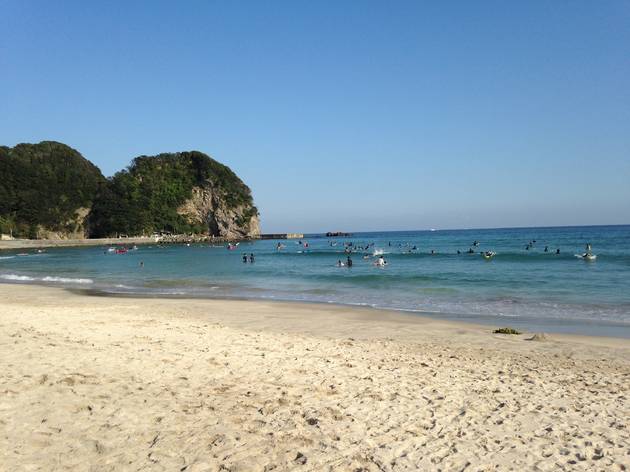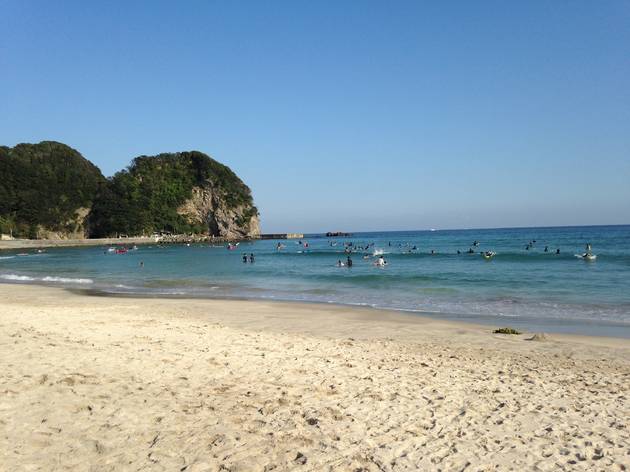 Photo by Annemarie Luck
Essential information
HOW TO GET TO SHIMODA
The Superview Odoriko (a limited express train on the Tokaido line) runs from Tokyo Station to Izukyu-Shimoda Station. Or, the shinkansen runs from Tokyo to Atami, where you need to change to a local train to Shimoda. Both journeys take about two hours and 45 minutes. You can save a bit of money by taking a local train from Tokyo via Atami and journey time is about 3.5 hours. If you want to drive there, read our guide, 'How to rent a car in Japan'.
WHILE YOU'RE THERE
Take a ride up the Shimoda ropeway, just near the station, to the top of Mt Nesugata. From here you get an excellent view of the whole town, the bay dotted with islands, and the surrounding mountains. More info here.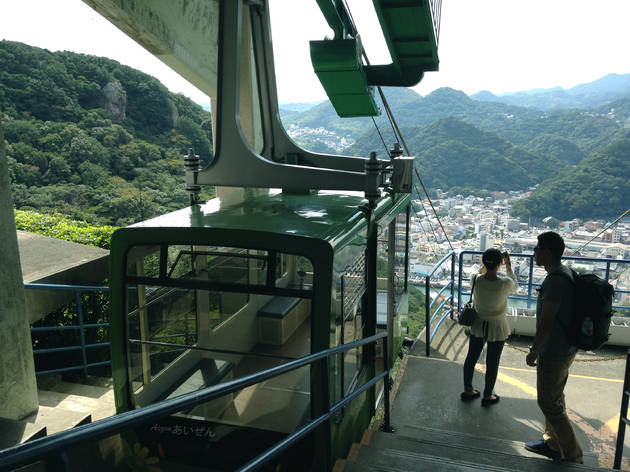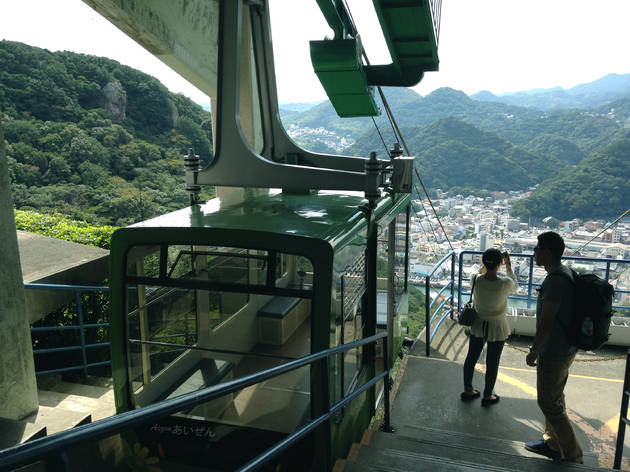 EAT AT: RA-MARU
1-1 Sotogaoka, Shimoda-shi, Shizuoka. 0558 27 2510. 10am-4.30pm.
STAY AT: SHIMODA TOKYU HOTEL 5-12-1, Shimoda-shi, Shizuoka. 0558 22 2411. shimoda.tokyuhotels.com.
SHIMODA TOURIST ASSOCIATION
1-1 Sotogaoka, Shimoda-shi, Shizuoka. 0558 22 1531. shimoda-city.info/index_e.html. 9am-5pm daily.
More beaches on our radar
You don't have to put up with the party people of Zushi or the crows of Kamakura. Add an extra hour or so on to your travel time and you will find a better beach. Aside from these three, also check out our article, 'Four best beaches near Tokyo'.
KUJUKURI
CNN called it a 'little Hawaii'. We might not go that far, but it does score points for being the second-longest beach in Japan and only a couple of hours from Tokyo. This 66km-long stretch of sand in Chiba extends from Cape Gyobu (in Iioka, south of Choshi) to Cape Daito (in Misaki) and is ideal for swimming, surfing and other watersports.

How to get there: From Tokyo, take the limited express Wakashio to Oami Station (50 minutes), then switch to the Togane line to Togane Station (10 minutes), then take a bus bound for Katagai and get off at Katagai Station (30 minutes).
ARAIHAMA
A baby beach in comparison to Kujukuri, this little cove is only 150m long but visitors consistently praise its clear water and green surroundings. Aburatsubo Marine Park (www.aburatsubo.co.jp) is nearby, featuring an aquarium and views of Sagami Bay.

How to get there: From Shinagawa, take the Keikyu line to Misakiguchi Station (one hour and 10 minutes), then hop on bus no. 4 for about 13 minutes to Aburatsubo (the last stop). Walk towards Aburatsubo Marine Park; just before it, turn left at the forest path which leads to the beach.
UCHIURA
There's not much information available about this short beach that's found in Chiba's Suruga Bay, but we take that as a good sign. It means you'll be primarily hanging with the locals. It's most noted for its calm, warm water and beautiful coral. You will have to put up with passing traffic though as there's a road running behind the beach.

How to get there: From Tokyo, take the limited express Wakashio to Awakominato Station (one hour and 50 minutes). The beach is just a short walk away.