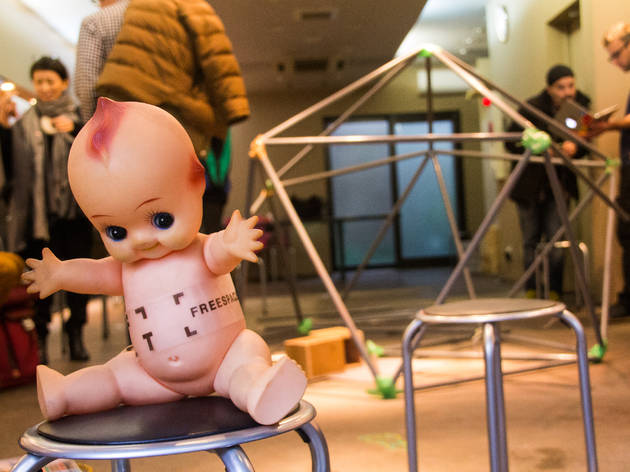 What happens when you open up a space in restrictively expensive central Tokyo and invite the public to come and use it for anything they like? That's what Freespace Tokyo intends to find out on the ground floor of Proto, a building condemned to demolition in March 2015 that's been taken over by a group of creatives for its last few months. Until Dec 31 (there are plans in the works to keep it going for longer), anyone can use the space between 8am-10pm, for whatever reason they like. The organisers stress that the doors will be open and people can come inside and participate in absolutely any way they like, even just to shelter from the rain or use the free wi-fi.
The original Freespace project was held in San Francisco last summer, and has since spread around the world under the guiding hand of co-founder Mike Zuckerman, a self-described 'culture hacker'. Questioned about what might be conjured from the project in Japan, he replies that there's no way of predicting how people will react. In San Francisco, 119 events were hosted in the first 30 days, from dance classes to art workshops and even a tournament where participants made cardboard armour and wrestled, but each subsequent location has found its own voice. 'Every country has a different culture, but the whole concept of "free" is radical everywhere,' says Mike. In Uganda, participants set up a boxing tournament and litter-free zones that they patrolled and cleaned themselves; in Paris, they held their own fashion event while the official Fashion Week was taking place. Contrasting with the expensive, exclusive aura of the corporate-sponsored version, Freespace's show was open to anybody under one proviso: all clothes had to be upcycled.
The draw of the project is that anything can happen, there's no agenda and the power is completely in participants' hands – the only rule is that you can't use the space to oppose anything. Rather, if there is an 'issue' you're looking to highlight, the project encourages innovation and positivity. One example of this is the Detroit Water Brigade, an ongoing volunteer organisation which sprouted from the city's Freespace project. Rather than protest against the extensive water shut-offs devastating the city's poorest residents, they decided to provide the water to the city themselves. 'We're not anti-government, we're pro-people,' Mike says.
User-generated events will be posted on the website's calendar until the space closes, though the group hopes that this won't be the end of Freespace's experiment in Tokyo.