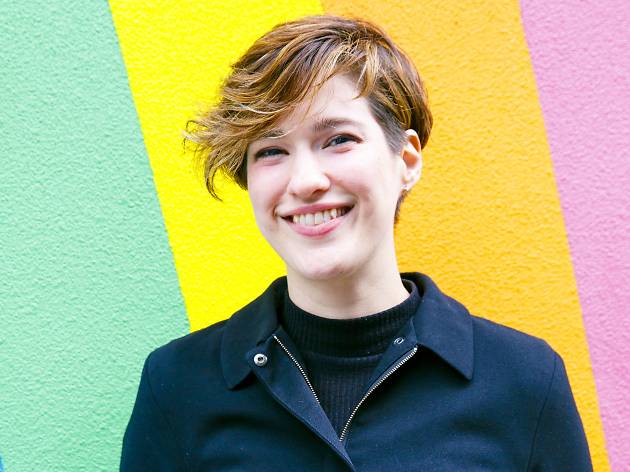 I, Tokyo: Lauren Rose Kocher
Peek into the lives of international Tokyoites with our I, Tokyo series
Originally published in Time Out Tokyo magazine issue 19 (June 2018)
Lauren Rose Kocher works at Sony Music Entertainment (Japan) Inc. She is also an activist for the city's LGBTQ scene. Here she shares some stories about her life in Tokyo.
When did you first come to Tokyo, and what made you choose Japan as your new home?
Working with music, or any type of art, is a huge honour because these things are the purest form of human expression. You get to connect the artists and the fans and the rest of the world, and you can move people, change their lives. At the same time, turning music into a career that also supports the artist's livelihood feels deeply meaningful. Making sure that as many artists as possible are able to live off their art should be the goal for whoever who works in this industry.
Tell us about your work.
In my role in business development, I spend a lot of time working with 77hz Ltd, the company which runs the music media website iFLYER. I am passionate about this project because I think it is really important for the future of Japan's entertainment industry. The industry has been analogue for so long; before this, when you put on a live show, you often didn't have a clue how many people watched the show or who they are.
77hz technology can be the best solution because it provides data and analytics, with a next generation ticketing service. Also, its team has people from around the world, and when you want to appeal to international visitors, you need a wide perspective from diverse cultures.
That would make the Japanese music scene more accessible to a wider audience. What's your take on the Japanese music industry?
The global music industry is changing so rapidly in the digital age, and I think there will be a boom in Japan-inspired content and its consumption internationally. Japanese traditional culture, pop culture and underground culture have so much cultural cachet.
I see much of my work as getting ready for the new Japanese entertainment industry, which is more digital, more global, more data-driven, and has more international stories. I've met so many musicians and 'creatives' who are desperate to work with Japanese artists, but Japan and the rest of the world have yet to connect in the way it should. But it's coming.
We hear you are also active in organising LGBTQ events in Tokyo.
Yes, I identify as a queer woman and recently I started doing more stuff to give back to the LGBTQ community. One of the events I am helping to organise is 'Lesbians Who Tech', a community to encourage more women and LGBTQ people to join the tech industry or startup companies. This event started in San Francisco and it's growing, so we've started a Japanese chapter with people who work in IT.
What do you recommend people do to find out more about Japan's music scene?
Go to Tower Records – it's one of the biggest music stores around, and it can be found in several cities in Japan. Browse through the Japanese artist albums and give them a listen. I also recommend that you go check out Japanese clubs like Womb or Vision in Shibuya.
See 77hz.jp for more information about 77hz. Lesbians Who Tech can be found on Facebook.