Setagaya Boroichi (Dec 2010)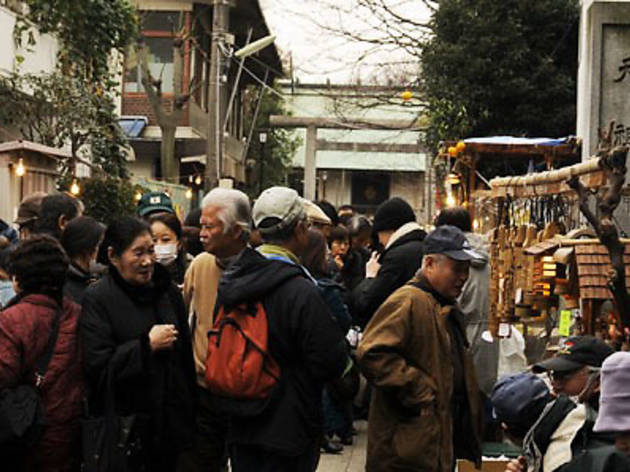 The Setagaya Boroichi is a flea market with a long tradition, and around 700 stalls line the streets side by side. It will be happening over four days: December 15 and 16, and January 15 and 16. As you'd expect from a festival that has a history of more than 400 years, tens of thousands of visitors flock in for what is a major event in Setagaya's yearly calendar. The market's main area is along Boroichi Dori, a street which centres on the Setagaya Daikan Yashiki, the old, thatched-roof local magistrate's residence.
The stalls selling the market's popular Daikan Mochi rice cakes can attract very long lines, and it's common to have to wait over an hour to get your hands on one. It's best to keep a watch on the crowd situation and choose the best time to line up carefully. Around the station some of the stalls might not be officially screened participants, and could just be taking advantage of the fact that the market is on, so take care where you make a purchase. We'd recommend hopping off the train at Setagaya Station on the Setagaya Line, walking along Boroichi Dori, and then leaving from Kamimachi Station. The Setagaya Line is a light rail line and tickets are bought either when you get on the train, or as you enter the platform, so you'll have a smoother trip if you get the fare ready beforehand (¥140 for adults, ¥70 for children).