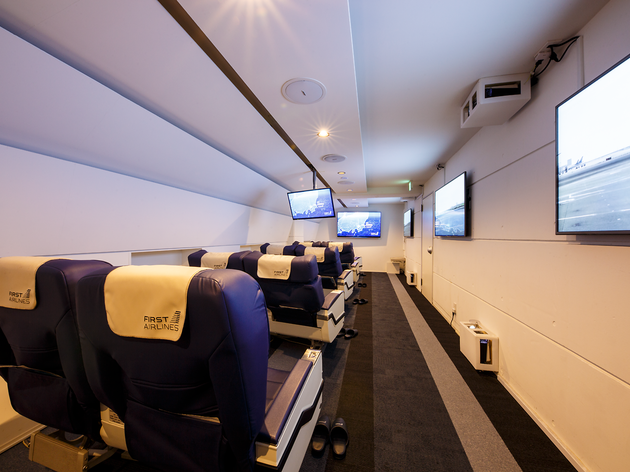 Travel the world in virtual reality with First Airlines
Fly to France, Italy, New York or Hawaii without actually leaving Tokyo
It's no secret that Tokyoites are quite the overworked bunch, with your average company worker having just 10 days of paid leave a year while clocking up quite the amount of overtime. But the lack of free time ain't going to stop us from getting away – even if we can't actually afford the time to leave the city. Enter First Airlines, a virtual travel company offering 360-degree VR experiences from 'Ikebukuro International Airport' (essentially an office space in a building in Ikebukuro).
¥6,200 (business class) or ¥6,600 (first class) gets you a two hour experience, in which you're flown to the destination of your choice (currently Hawaii, New York, France and Italy), get to try some local specialities as part of the in-flight meal, and see some of the sights.We tried out their flight to France and were pleasantly surprised.
The entrance, where you 'check-in' for your flight, is complete with a screen displaying flight times and boarding gates, while announcements similar to those at actual airports ('Flight FA321 to New York is now ready for boarding...') are played on loop while you wait. Bizarrely enough, the entire thing gives you some very real travel buzz – that quintessential head rush or raised heartbeat, questioning 'will I actually make my flight?!'. It's Pavlov reaction at its best.
Once safely in your seat, you'll be asked to buckle up, and after the customary safety procedures, it's take-off time. As soon as you're 'up in the air and flying proper', the stewardesses start plating up your multi-course meal, served with proper crockery and cutlery, as befits business class service.
In our case, it consisted of a salmon tartare with salad, a French onion soup, roast pork with a cream sauce, and to end it all, a nice slice of gâteau au chocolat. If that was our actual in-flight meal, we wouldn't complain about airplane food anymore.
As for the sightseeing, this comes courtesy of three different devices: an overheard screen, an iPad, and VR goggles. The experience becomes progressively more immersive and realistic: the video playing overhead could well considered the reason why people succumb to Paris Syndrome with its idealised shots of the city, but the content on the iPad is more of a personal tour of Google Streetview, with 360 degree views of the city of Rouen, overlayed with bits of information.
The VR goggles, which are handed to you for the last 10 minutes or so of the flight, transport you to the streets of Paris and the palace of Versailles, including its hordes of tourists and a (realistic) bit of grime. Paris' greatest hits (Eiffel Tower, the Louvre – including the Mona Lisa, the Sacre Coeur, etc) are all shown, and the 360 degree views do make it a rather authentic affair.
The entire experience is very much directed at Japanese customers: most of the narration during the flight is in Japanese, and one passenger got rather excited when we showed up, remarking that 'having a real gaijin (her words, not ours) on the flight really makes it feel like I travelled abroad today!', although she was disappointed that we weren't French. Alas.
Although the experience won't leave you with the feeling that you've actually visited Paris in the flesh, First Airlines does do a remarkable job when it comes to recreating that travel feeling. Cheeky trip to Europe in just two hours? It may just be the solution for some.
For more information and to book a VR flight, check First Airlines' website.
Want to fly in real life?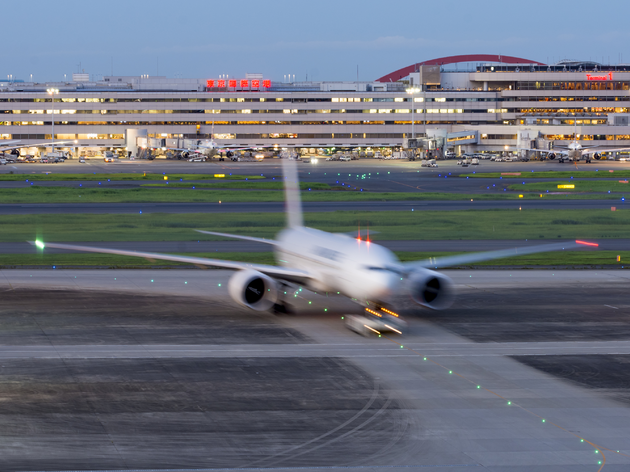 A new breed of cut price carriers (known as LCCs) launched in 2012, but it is making up for lost time and you are now spoilt for choice. Here's our breakdown of who to fly with where.
Best selling Time Out Offers