Heads up! We're working hard to be accurate – but these are unusual times, so please always check before heading out.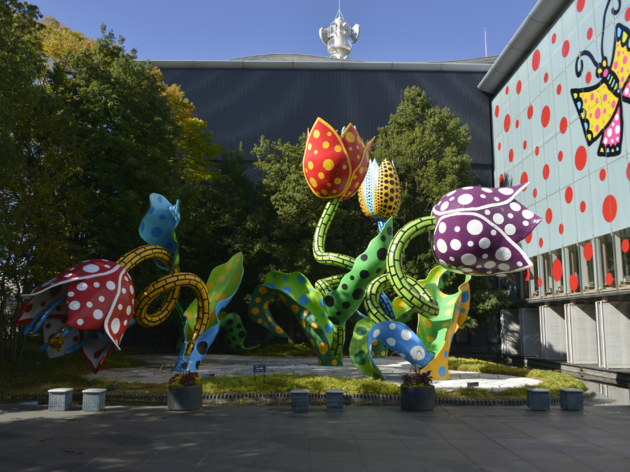 The best things to do in Matsumoto
We explore Yayoi Kusama's hometown Matsumoto, a little-known but very visit-worthy city up in Nagano
Calm Matsumoto is perhaps best known as bewigged artist Yayoi Kusama's hometown, and with the city museum and even some of the local buses decked out in polka dots, spending a day or two here is a must for the serious Kusama fan. But there's more to Matsumoto than its most famous child: this hidden treasure up in Nagano is well worth digging out.
What not to miss in Matsumoto
Go polka dot crazy at the Matsumoto City Museum of Art
With everyone obsessing over the new Yayoi Kusama Museum in Tokyo and the nigh-impossibility of getting tickets, the lack of visitors at the Matsumoto City Museum of Art is baffling. For starters, the entire outer facade of the museum is decked out in polka dots – not just for advertisement purposes, that's an actual (temporary) Kusama artwork. There's also a huge sculpture of Kusama-made flowers.
Inside you'll find a gallery dedicated to her art, and the museum shop sells a selection of fan-worthy goodies. Do note that only a small selection of Kusama's art was on display at the time of writing, as the museum is gearing up to host a mega-exhibition of her pieces that will take over half the museum from early March 2018. In the meantime, check out the other exhibits, all by Matsumoto artists.
4-2-22 Chuo, Matsumoto, Nagano. 0263 39 7400. matsumoto-artmuse.jp/en. Tue-Sun 9am-5pm, closed Mon (next working day if Mon is a holiday) and end of year holidays.
Go all green and spicy at Daio Wasabi Farm
Real wasabi is a world away from the tame, tubed stuff served at cheap soba and sushi restaurants. To get a taste of the real deal, head to Daio Wasabi Farm, the largest such farm in Japan, which accounts for up to ten percent of the nation's total wasabi production.
Besides the rather stunning vista of rows and rows of wasabi and enough wasabi-info to keep your future dinner party guests enrapt for hours, the food offerings are the main highlight: have the wasabi donburi, which comes with a mini wasabi stem (yes, it's a stem, not a root) for you to grate. Or how about wasabi croquettes, wasabi sausages, wasabi soft cream, wasabi green curry, wasabi beer... You get the idea.
3640 Hotaka, Azumino, Nagano. 0263 82 2118. www.daiowasabi.co.jp. Daily 9am-4.30pm (Nov-Feb), 9am-5.20pm (Mar-Oct).
Have a healthy meal at Alps Gohan
Alps Gohan owner Kaneko-san believes small is beautiful: he only serves two options, one of which is veg-focused. Both are always made with hyper-local ingredients sourced by himself or friendly farmers, as community is what Kaneko emphasises above everything else. On our visit, that meant a black sesame chicken curry and a plate full of smaller, all-veg bites. Plan your visit though, as the opening hours are few and far between.
3-7-5 Fukashi, Matsumoto, Nagano. 0263 87 5377. www.alpsgohan.com. Thu, Fri, Sat 11.30am-3pm (last orders 2.30pm), 5pm-9pm (8pm)
Get a royal view at Matsumoto Castle
Going to Matsumoto and not seeing the castle is a) pretty much impossible and b) akin to blasphemy. A national treasure and Japan's oldest five-tiered castle, it's set against a dramatic backdrop of the Japanese Alps rising in the distance. You can go inside, but taking a stroll around the grounds and admiring the view from the moat is just as enjoyable. The castle is also illuminated from sunset until 10pm every night.
4-1 Marunouchi, Matsumoto, Nagano. www.matsumoto-castle.jp. Daily 8.30am-5pm.
Take a warm soak at Hot Plaza Asama
No wintry visit to Matsumoto is complete without a soak in an onsen, and Hot Plaza Asama is a relaxed option northeast of town. Buy an entry ticket and a towel from the vending machine at the entrance and spend some time contemplating life in the rotenburo (open-air bath) – you can even do so late in the evening, as it's open until midnight.
3-16-3 Asama Onsen, Matsumoto, Nagano. 0263 46 6278. www.asamaonsen.com/hot-plaza. Mon, Wed-Sun 10am-12midnight (last entry 11pm), closed Tue (Wed if Tue is a holiday).
Learn to make soba at Fureai Yamabekan
Soba is a local delicacy, and rather than eating some at a restaurant, why not try making the noodles yourself? Well, it should be noted that making soba is not easy. In fact, it is a rather stressful experience for first-timers and anyone with perfectionist tendencies.
However, two-and-a-half hours of kneading, rolling, flattening and cutting later, you'll have your very own batch of hard-earned noodles, the surplus of which you get to take home with you. Although the course is only in Japanese, the elderly teachers will show you the ropes before you have to attempt it yourself. Afterwards, you can let off steam by taking a dip in the onsen downstairs.
Fureai Yamabekan Kenshushitsu 2F, 85-1 Satoyamabe, Matsumoto, Nagano. 0263 33 2353. www.mcci.or.jp/www/utsukushi/html/higaeri.htm. ¥2,700 for one, min. two people, reservations essential (at least one week in advance, mention 'soba experience' when calling).
Get caffeinated at Laboratorio
This cozy little place combines a shop selling Shaker boxes on the ground floor and a café-shop upstairs that serves English muffin lunch sets and great coffee, alongside a lineup of funky design goods and foodstuffs. The perfect spot to warm up with a drink in between sightseeing.
1F-2F, 1-3-29 Ote, Matsumoto, Nagano. 0263 36 8217. laboratorio.jp. Daily 11am-6pm.
Imbibe rare whiskey on the cheap at 8oz
12-year old Yamazaki and Hibiki are not bottles you'd usually find fixed to a shots-tender, and yet that is exactly where they are at 8oz. A single shot of most rare whiskies here goes for just ¥600. You should also try some of the local sake – we like Metoba no Izumi, a Matsumoto-brewed number that is very fruity yet smooth.
4-10-13 Ote, Matsumoto, Nagano. 0263 32 0179. www.hiraide.biz. Tue-Sat 4pm-10pm, closed Sun & most Mon.
Indulge in regional cuisine
Like any Japanese town, Matsumoto – and the surrounding Shinshu region – claims a long list of local gourmet specialities. Look out for:
Soba 蕎麦 or そば (buckwheat noodles)
Sanzokuyaki 山賊焼き ('bandit's grill', a huge slab of fried chicken)
Miso 味噌 or みそ (try the darker varieties)
Basashi 馬刺 (horse meat sashimi)
Usuyaki 薄焼き or うす焼き (a thick pancake stuffed with either sweet or savoury 'leftovers')
Apples りんご (have some apple juice after dipping in an onsen)
Wine ワイン (the surrounding Shinshu region is home to several vineyards)
Wasabi わさび (best had, of course, at Daio Wasabi Farm)
Where to stay: Tabi Shiro
Matsumoto has a wealth of ryokan (traditional inns), but for a more modern yet still personable stay, head to guesthouse Tabi Shiro, run by a bunch of affable locals who are the best kind of know-it-alls when it comes to recommending cool spots in the city. Plus you get a free drink ticket at check-in.
1-3-6 Josei, Matsumoto, Nagano. 0263 88 3453. tabi-shiro.com/en.
Want to go there now?
The Azusa and Super Azusa limited express trains depart Shinjuku every 30 minutes at peak times and hourly after that. They get you to Matsumoto Station in two-and-a-half to three hours for a cool ¥6,400 one way. The budget-friendly option is the highway bus from Shinjuku Busta terminal (about three-and-a-half hours, ¥3,500 one way).
At the time of writing, there was even a daily bus decked out in a Yayoi Kusama design leaving Matsumoto at 7.50am, 8.20am or 8.50am, and returning from Shinjuku at 4.55pm, 5.25pm or 5.55pm, depending on the day.
Most distances in central Matsumoto are quite walkable – it's ten to 15 minutes from the station to the City Museum, and the same to the castle. Bicycle rental is widely available too. However, if you're looking to go a bit further out or don't want to brave the cold, your options are limited to buses or taxis.
There are a number of loop buses that stop at Matsumoto's tourist attractions, but do note that they don't always run frequently. Especially in winter, it pays to check the timetable in advance at www.alpico.co.jp/access/matsumoto.
If money is less of an issue, taxis are the way forward. Booking one by phone (ask your hotel/restaurant) is often easier than trying to flag one down in the centre of town.
Check out Kanazawa, too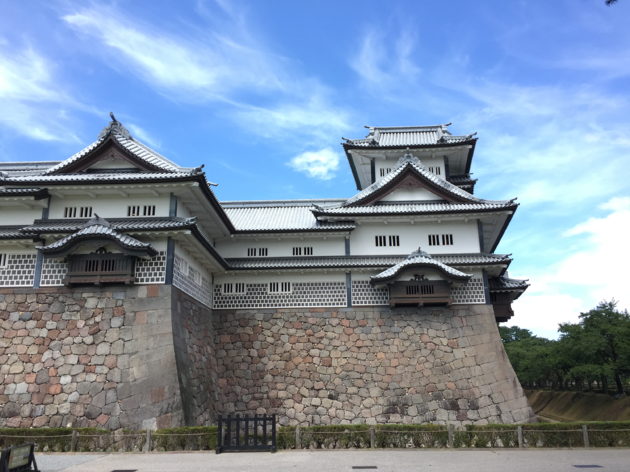 Embrace an oasis of tradition, beauty and food in the Hokuriku region