Heads up! We're working hard to be accurate – but these are unusual times, so please always check before heading out.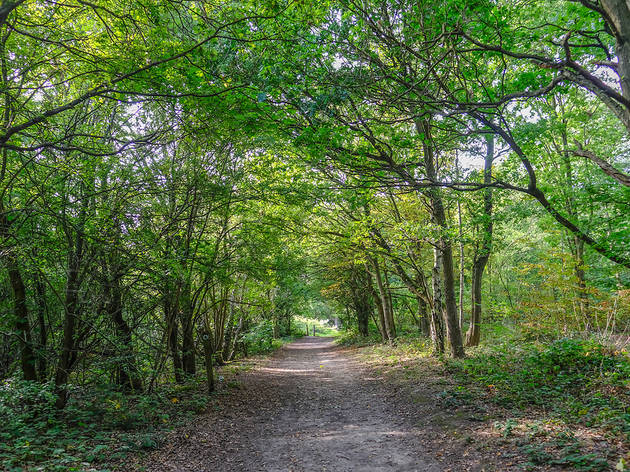 13 fairytale forests to visit in the UK
Where better than deep in the trees to shake off your malaise? Here are the best forests in the UK for post-lockdown adventures
Can you smell that fresh arboreal scent in the air? That's the UK's forests imploring you to head out on a woodland wander after months of being cooped up inside.
Okay, so the trees may not actually be able to sense our new national appreciation for the great outdoors, but the UK's forests are certainly spaces full of magical secrets and fantastical stories. While they might not be as famous as Germany's Black Forest or Finland's Wild Taiga, they're still crammed with beguiling foliage and ancient trees, and imbued with otherworldly fairytale magic from the myths and legends that surround them.
And soon we'll finally be able to explore these coniferous jungles, even if we aren't lucky enough to live nearby. Under the latest lockdown exit strategy, overnight stays in self-catered accommodation will be possible from April 12, while hostels, hotels and B&Bs will be able to open again from May 17. That means we can travel out of our local area and head out for a walk in the woods very soon.
So here's our pick of the best forests in the UK for a post-lockdown wander – spanning ancient hunting woods that have barely changed in 1,000 years, forests with wild-roaming ponies, woodlands full of adrenaline-pumping outdoor activities and sylvan glades that have inspired some of the world's greatest works of literature. See you amid the trees.
Please note: Travel from England to Wales and Scotland is currently not allowed. Facilities and businesses in the towns and villages we mention will be closed at the moment. Government advice is to avoid public transport, so don't travel by train or bus. Please be mindful of the people who live locally. And if you decide to travel, check whether car parks are open before you set off and adhere to social distancing guidelines on your walks.
RECOMMENDED: The best places to visit in the UK in 2021
Best UK forests to explore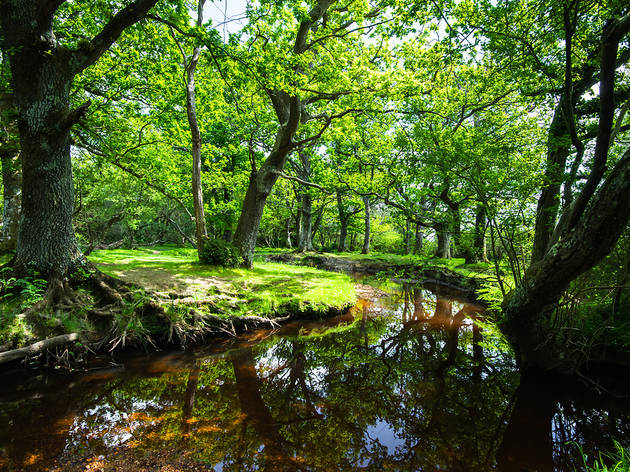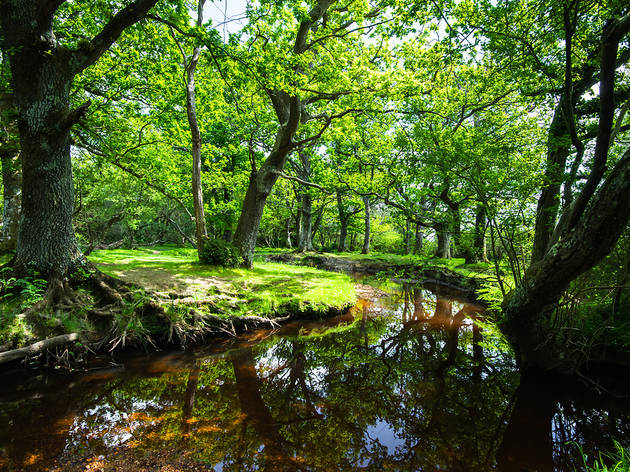 Photograph: Shutterstock
Contrary to its name, the New Forest is actually not very new at all. Created as William the Conqueror's hunting ground and featured in the Domesday Book, the New Forest is one of the largest remaining patches of pasture land, heathland and forest in southern England. Covering some 300 square miles – it stretches from the Solent all the way up to Salisbury – it's a beguiling, wild tapestry of woodland, heath and shoreline.
The place is packed with walking trails and dotted with pretty 'Vicar of Dibley'-style villages – like Lymington, Hordle, Brockenhurst and Beaulieu – so there are also plenty of places to stay and refuel while you're there.
Make sure you catch a glimpse of the famous ponies: there are 5,000 of them, trotting along the forest trails and grazing freely, and they have priority over car traffic.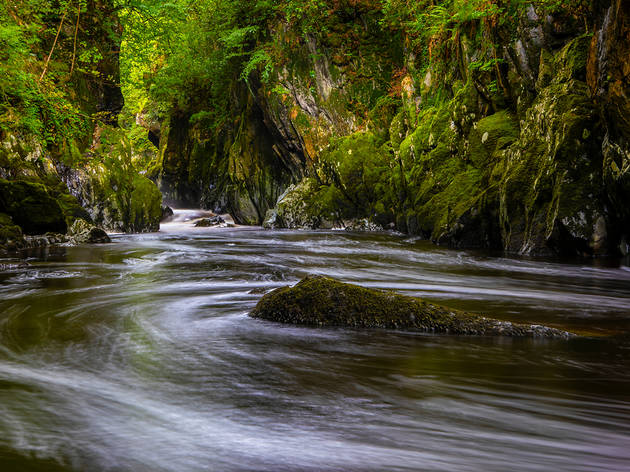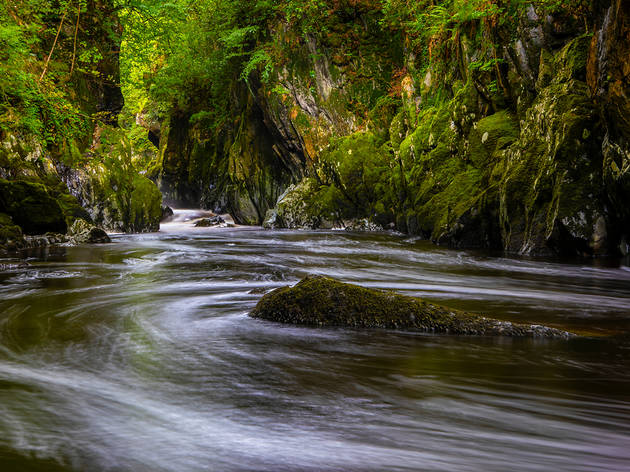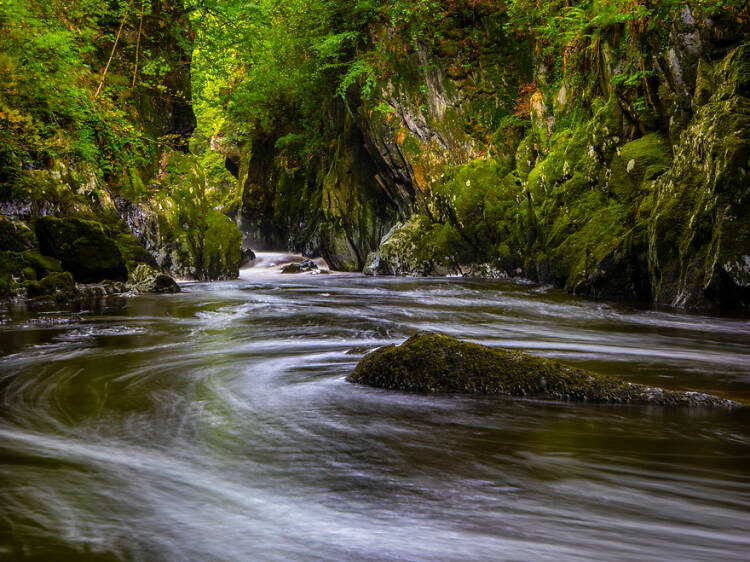 Photograph: Shutterstock
Full of lakes, mountains and enchanting scenery, Gwydir (which circles the pretty village of Betws-y-Coed in the heart of Snowdonia) is a landscape suffused with fairytale feels. It's easy to get lost in its woodland canopies full of moss-covered tree roots, lichen-encrusted rocks, thick blankets of climbing plants and tiny brooks flowing from jagged rocks.
Follow the old miners' paths that twist among the trees and immerse yourself in the myths and legends that fill this place, like the Robin Hood-esque figure of Dafydd ap Siencyn, stories about a forest-dwelling dragon named Garog, or Saint Elen of Caernarfon, whose name is given to an old Roman route you can follow through the forest.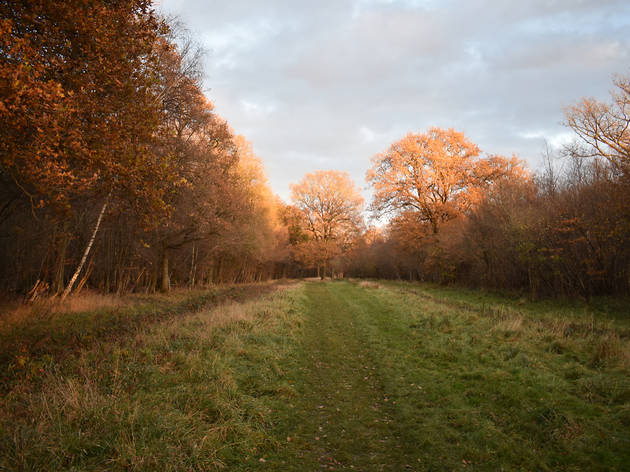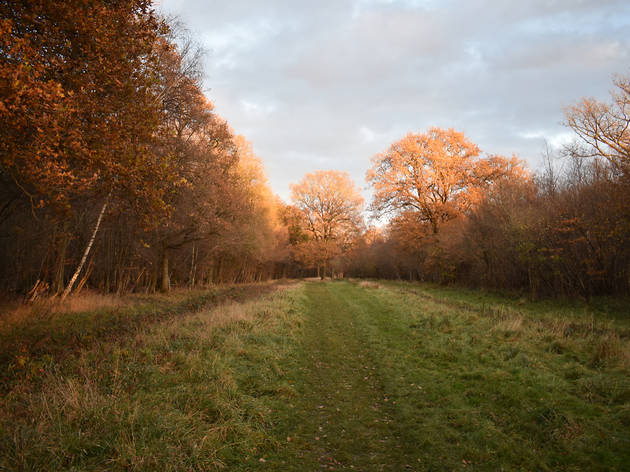 Photograph: Shutterstock
Ready for a change of scene? How about a leap through time? Hatfield Forest in Essex is the best surviving example in Britain of an almost complete royal hunting forest, meaning it's barely changed in 1000 years.
It's famous for its gnarled ancient trees (described as 'living sculptures' by locals), many of which have been standing tall for thousands of years. There's a fishing lake, paths for cycling and horse riding, herds of fallow deer alongside rare woodland species and the central area of the forest holds the remains of a 'pleasure ground' partially designed by famous landscaper Capability Brown.
Visit between May and June to see the plains around Hatfield Forest turn yellow as over 300 million buttercups come into bloom.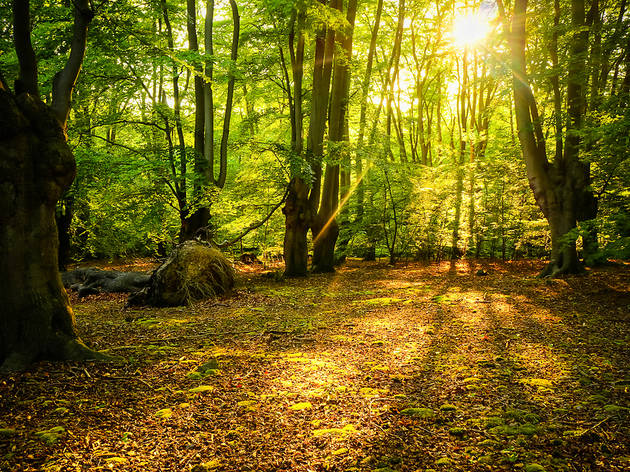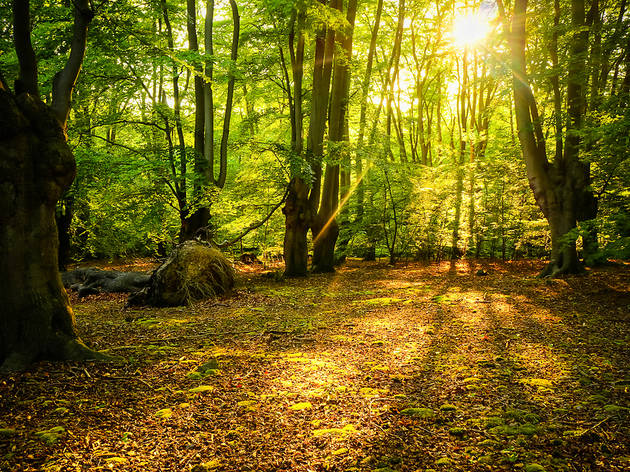 Photograph: Shutterstock
If you ever travel up to Zone 4 of north-east London, you'll notice a looming stretch of trees on the horizon. That'll be Epping Forest: the 6,000-acre stretch of lush wooded greenery perched on the edge of the city. It's a beautiful expanse of mature native trees with more than 100 lakes and ponds among them.
Walking routes are signposted through the area and horse-riding and cycling are both permitted. Four forest centres host regular events to help visitors of all ages enjoy the forest, and Queen Elizabeth's Hunting Lodge gives more background into the area's history.
Amble down the Oak Trail that takes walkers across the M25 towards the forest's more secluded northern realms, where gnarled beeches have grown massive crowns. You also pass a deer sanctuary and Iron Age earthworks – legend has it that Boudicca battled the Romans here. It's a thoroughly lovely ramble.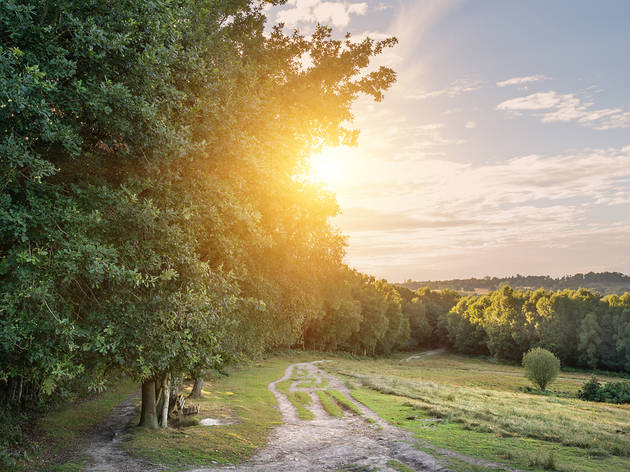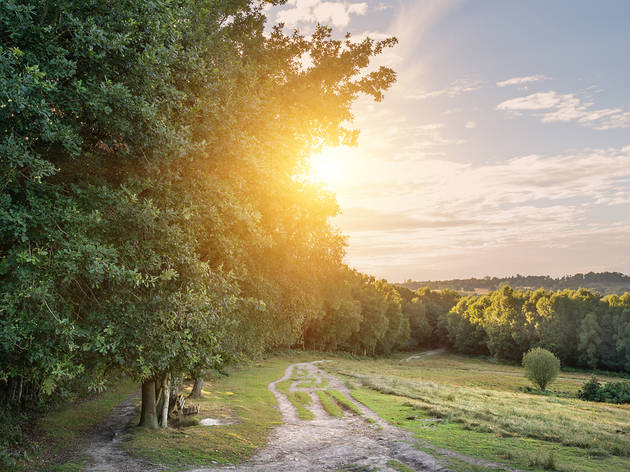 Photograph: Shutterstock
If Ashdown Forest feels vaguely familiar, that might be because it's where AA Milne got the inspiration for his Winnie-the-Pooh stories. Situated in the High Weald Area of Outstanding Natural Beauty, there are some pretty spectacular views across the Sussex countryside here, as well as plenty of flora and fauna thanks to its large areas of heathland – a rare habitat in the UK.
There are two Winnie-the-Pooh walks, which can be downloaded from Ashdown Forest's website. Both take in points of interest from the famous bear tales like Lone Pine, Roo's Sandy Pit, and a rickety-looking wooden Pooh Sticks bridge where you can have your own game. Just keep an eye out for Heffalumps.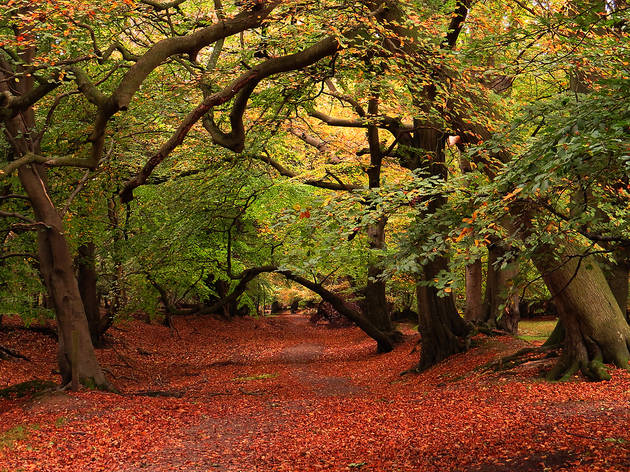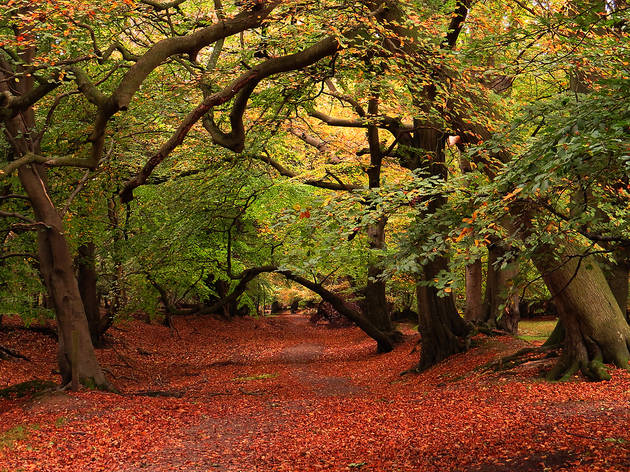 Photograph: Shutterstock
With twisted trees stretching out of the ground like wizened fingers, winding mossy verges and colourful carpets of wild flowers, Ashridge Estate woodland is straight out a fairy tale. In fact, it's played an enchanted forest in two Disney films: 'Maleficent' and 'Into the Woods'. The best way to explore its ancient beech and oak woodlands is on foot: there are miles of footpaths and bridleways stretching through the trees.
Visit in late April and May to see the cobalt crops of bluebells. And if you're starting to feel a little bewitched, break the spell on the wide-open commons and staggering chalk downlands of the nearby Chiltern Hills.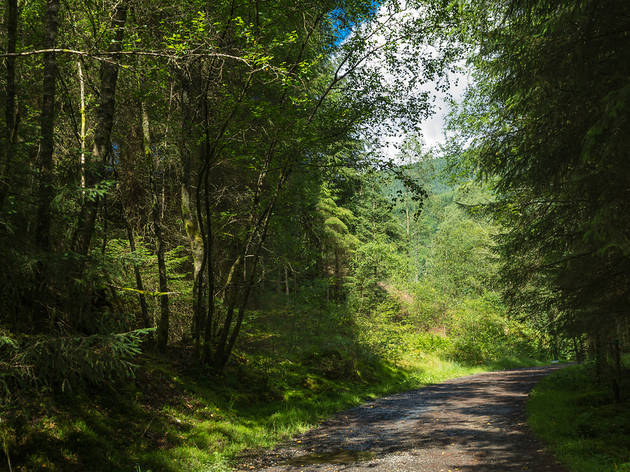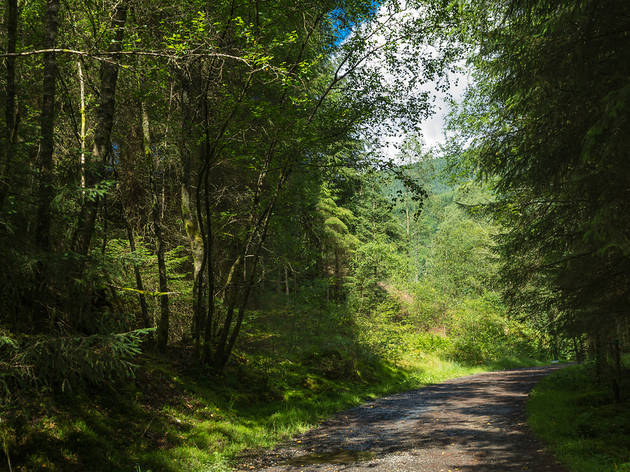 Photograph: Shutterstock
Stretching from the pretty village of Aberfoyle to the rugged hills beside Loch Lomond, the great Loch Ard Forest is a sublime body of trees, hiding both natural and manmade wonders. Its enveloping conifers and ancient oaks are home to rare animal species like roe deer, otters, red squirrels, reintroduced water voles and osprey.
Follow the myriad forest trails and see if you can find Loch Ard, a gleaming pool of fresh water that, thanks to its sheltered location, is the perfect spot for water sports like kayaking and wild swimming. Look out for delicate sculptures dotted around the trees by local artist and environmentalist Rob Mulholland.
If you fancy prolonging your stay, Loch Ard's sheltered woodland is also a good spot for wild camping, which is legal throughout Scotland.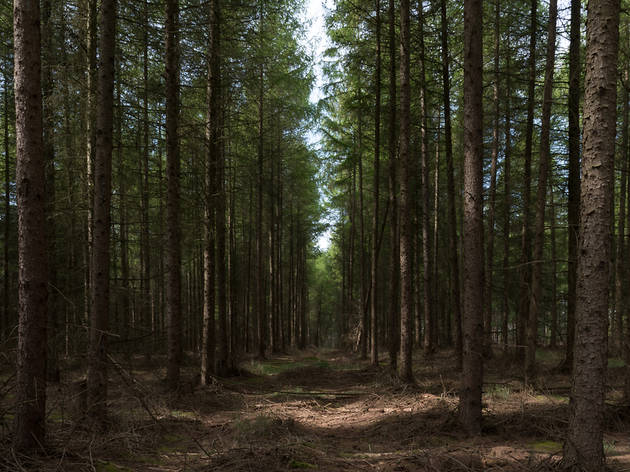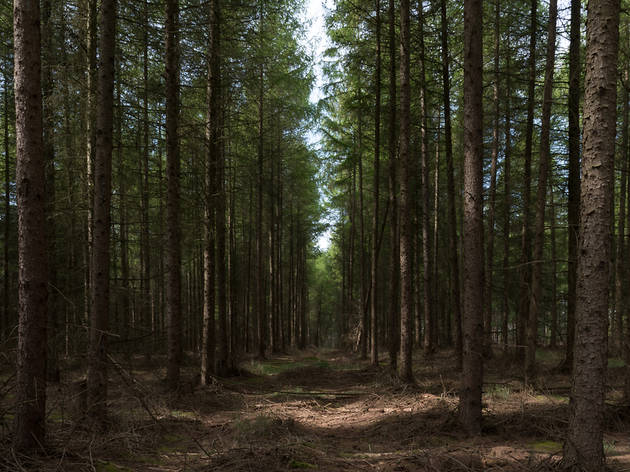 Photograph: Shutterstock
Thetford Forest has an unusual history, distinguishing it from most of the forests on this list. Whereas most of these woodlands are the surviving remains of ancient forests that used to cover most of the UK and have been protected against the odds, in the case of Thetford Forest it's the other way around.
In fact, this is the largest manmade lowland forest in the country, planted in the 1920s to increase the nation's timber recourse after WWI. It's now a protected site of Special Scientific Interest, filled with dense pine trees that make it look like the setting of a Hans Christian Andersen story.
Go species-spotting for rare birds, hares and deer, and if you've got time for a hike, head down The Peddars Way: an old Roman road leading to the north Norfolk coast.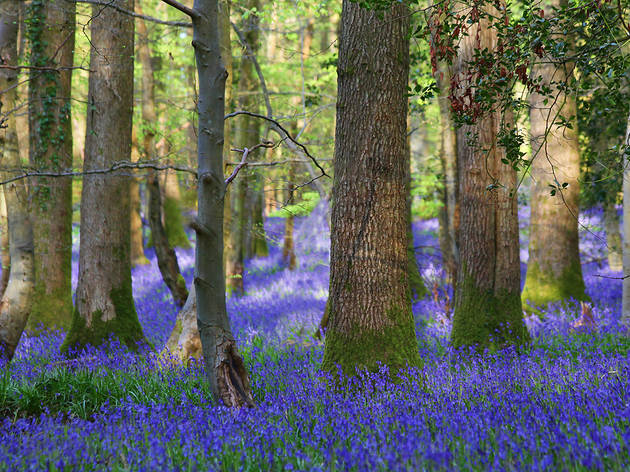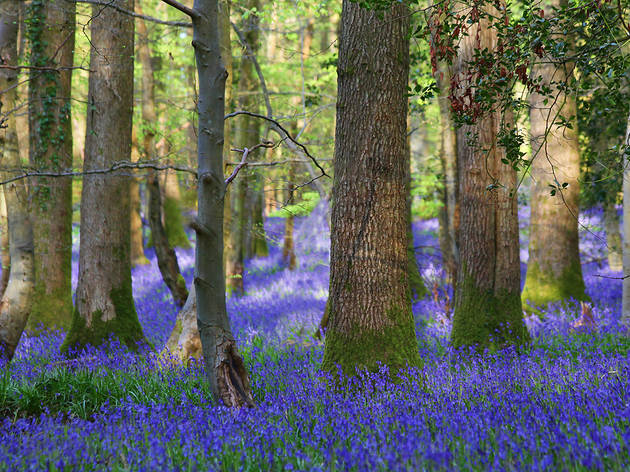 Photograph: Shutterstock
Sandwiched between the Rivers Severn and Wye like a little island, this swathe of ancient woodland packs in 20 million trees, wild-roaming boar, picture-postcard villages and rustic scenery that inspired JRR Tolkien to write 'The Lord of the Rings'.
The greenery has changed a lot over the years: you can still see relics dotted around the woodland from its past lives as a source of timber for Tudor warships and a coal mining site. Today, it's teeming with wildlife and rare plants. Explore by setting out the sculpture trail through the forest where pieces made from wood, stone and stained glass hang in the trees. Or head to Puzzlewood, the inspiration for Tolkien's Middle-earth, to explore its thick mossy walks ways, tangles of tree roots and rickety wooden bridges and tunnels.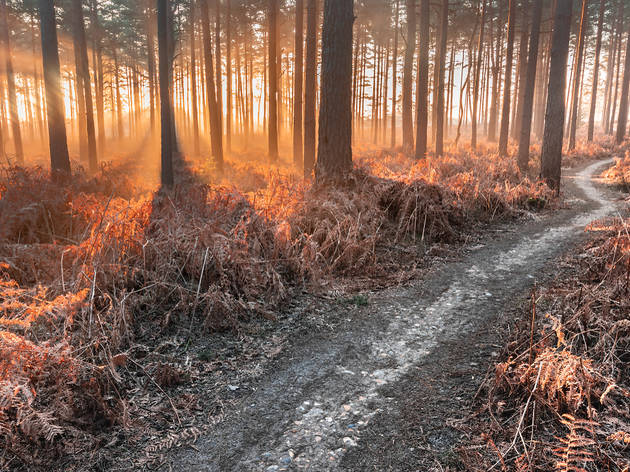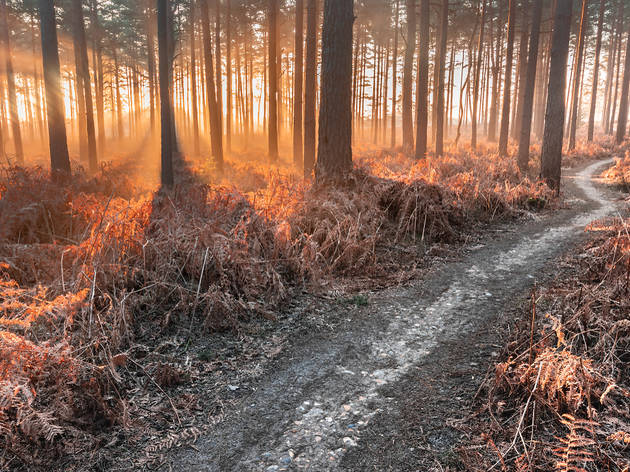 Photograph: Shutterstock
If daredevil adventure is your game, Swinley Forest is geared up for some pretty hardcore outdoor pursuits. The Crown Estate woodland situated on the southwest of Windsor Great Park has one of the best mountain-bike tracks in the UK – so much so that it was even considered as a location for the 2012 London Olympics. The Scots Pine forest is threaded with winding off-road tracks, which racers can access for free.
If mastering heights is more your thing, there's also a Go Ape course here, letting you monkey around in the trees from rope bridges and zip wires.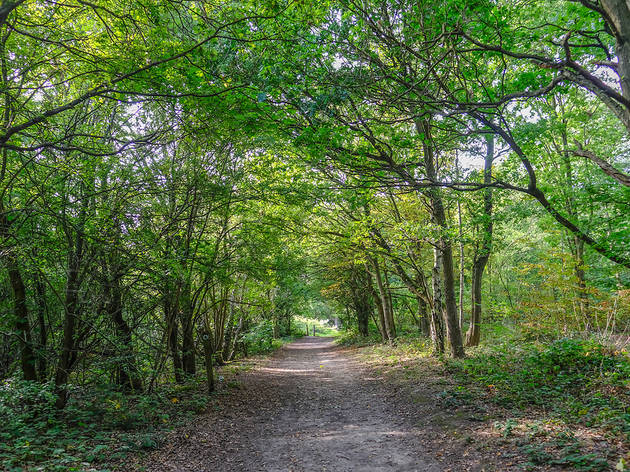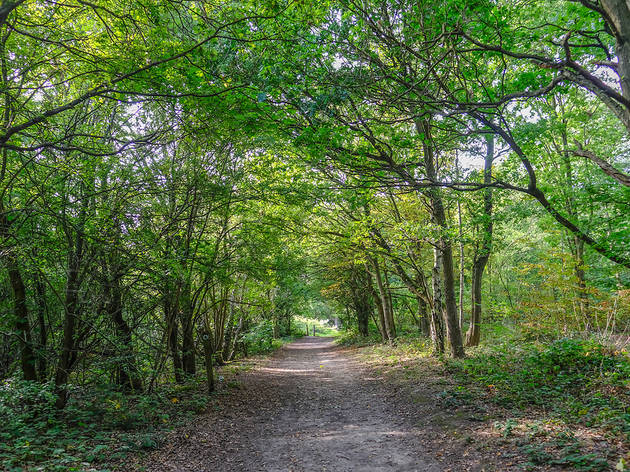 Photograph: Shutterstock
You'll feel a million miles away from the city in this 336-acre park, which is one of the last remaining sections of the Forest of Essex: a former hunting ground and now one of the best examples of medieval woodland still in existence. Stroll around the gorgeous greenery, which is home to a diverse range of wildlife and plants – the rare sound of nightingales has been heard here, and you can spot turtle doves and butterflies in the summer. Come in spring to see a cobalt carpet of bluebells, and don't miss a visit to the petting zoo and lake for the ultimate day out.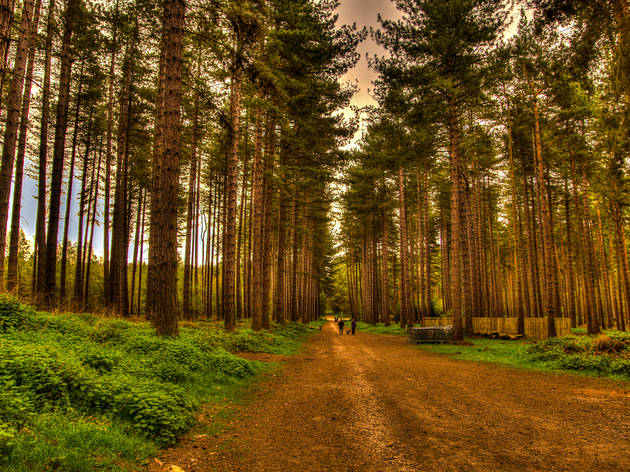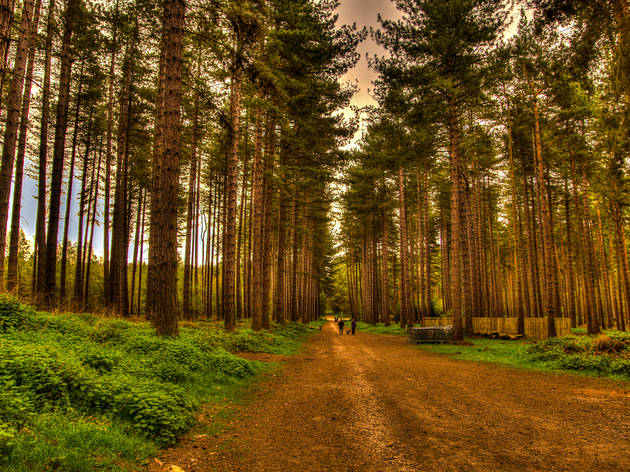 Photograph: Shutterstock
Nottinghamshire's Sherwood Forest is yet another of those famed ancient royal hunting woods, and this patch of timeworn trees is particularly legendary for being Robin Hood's old stomping ground
Much of the forest is unchanged from its time of merry men and blokes in green tights: most of the trees have been here for more than 500 years, including the legendary Major Oak, which is estimated to be a whopping 1,000 years old.
Nowadays it's also a National Nature Reserve and home to rare birds, insects, mammals and fungi as well as Europe's biggest collection of ancient oaks. Make a weekend of it by staying over and refuelling in one of the villages on the forest fringes, like the historic Edwinstowe.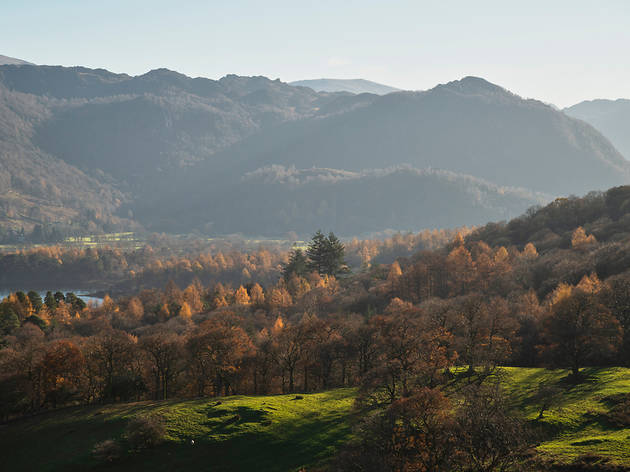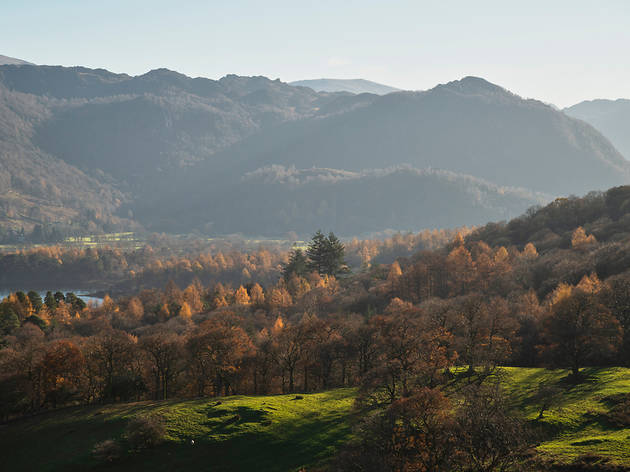 Photograph: Shutterstock
Undulating across the craggy hills between Coniston Water and Windermere, the 8,000-acre Grizedale Forest is a masterpiece of mixed woodland nestled in the heart of the Lake District.
As well as towering trees, epic viewpoints like Carron Crag and endless fern-fringed trails that wind past trickling streams and tarns, it's also home to a famous sculpture trail. The characterful sculptures were one of the first woodland sculpture trails in the country and are all made from natural materials. Look out for Allanah Robbin's 'Lady of the Water' and Linda Watson's '17 Degrees South'.
Plus, keep a keen eye out for fallow deer: the forest holds England's only remaining indigenous woodland herd.
Need somewhere to rest and refuel?
From an otherworldly airship on the west coast of Scotland to a seafront retreat on the unspoilt beaches of Northern Ireland
Welcome to your new home on wheels
You'll wonder why it took a global crisis to make you discover these sweet spots