The most colourful places in the UK and Ireland
Colour yourself happy with a weekend away from London in one of these vibrant villages and multi-hued homes
The UK and Ireland tend towards grey and gloomy, right? Weather-wise that might be the case – but there are plenty of spots that shine through in glorious technicolour whatever it's like outside. From bright homes to candy-hued beach huts, and gaudy pubs to pastel-palette villages, these destinations are guaranteed to put you in a good mood. Get packing and hit the road in search of these colour-filled spots across the UK and Ireland – even if your day trip does end in a downpour, there's always a chance of a rainbow, right?
RECOMMENDED: The best weekend breaks from London
12 colourful places to stay in the UK and Ireland
This idyllic tourist village created by architect Clough Williams-Ellis was built between 1925-75, as a means to show that it was possible to develop a naturally beautiful location without spoiling it. The result is an Italian-style, fairytale village in north Wales, peppered with confectionery-coloured buildings topped with domes and spires rising up from its cobbled streets. You'll find two hotels, a handful of historic cottages, a spa, a sprinkling of shops, and subtropical gardens perfectly curated behind its gates.
Minimalists, look away now. This Essex abode has adopted a fuchsia hue both inside and out and basically looks like Barbie's pad has been scaled up to human size, and then some. The walls of the mansion range from baby pink through to rose and salmon, with lashings of glitter, neon signs and streams of fairy lights. A tiny part of the house has escaped the brush of blush – including a blue games room and green lounge – but you didn't come for those, did you? You came for the slumber party room, hot tub and the unicorns nestling in the flowerbeds to make all your tween dreams come true.
Set and interior designer Amy Exton has painstakingly crafted this kaleidoscopic crib in Margate, adding an extra splash of colour to an already vibrant town. From its coral living room, to neon-green kitchen popping with Memphis-inspired patterns, every inch of the house has been given a dose of Amy's acid aesthetic. Spend the day out and about and you'll find yourself in colourful company at Dreamland Margate – packed with rides, a rainbow slide and art installations, while at super-cute shop Mar Mar you'll be met with hand-painted pots and luscious plants to haul home.
While the rest of the holiday homes on Living Architecture's books are all muted tones and slick, smooth concrete, Grayson Perry's collaboration with FAT Architecture is a shrine to all things ornate. Designed with traditional pilgrimage chapels in mind, the gingerbread-esque pad, punctures the Essex countryside with its elaborate tile-clad exterior and moulded copper roof. The interior is dedicated to the fictional life of a character named Julie Cope and features mosaic floors, decorative ceramic pots and intricate tapestries celebrating her life. Sounds sweet and up your street? You'll need more than breadcrumbs to get you there. The home has proved so popular, the only way you can currently bag a stay is to enter an online ballot.
Many of this gorgeous Suffolk village's original Tudor buildings have been carefully painted in candy hues, giving it a chocolate box feel. With plenty of historic houses to admire (it's considered to be the country's best-preserved medieval village), a Guildhall that runs a full programme of events and woodland walking trails surrounding it, Lavenham is a perfect choice for a spirit-lifting day out.
Whitewashed walls don't cut it in Brighton. This is a city bursting with brightly painted houses, beach huts, shops and shutters. Wiggly waves of colour are even spilling out onto the promenade thanks to local artist Lois O'Hara, whose vibrant Brighton Rainbow Crosswalk weaves its way from the boutiques nestled beneath the West Pier Arches down towards the beach. Continue your hunt for hues at The Prince Albert pub, whose façade has been glossed in a rainbow palette, or chow down on Mexican street food and pink lemonade slushies at La Choza. If you fancy jazzing up your own abode head for Blackout Shop, where you'll find every surface packed with zingy textiles, kitsch gifts and kitchenalia.
This charming Irish port town is studded with colourful houses and steeped in history. The spire of its Victorian cathedral can be seen piercing through beautiful sunsets behind the rows of pink, green and orange dwellings, while the waterfront stretches out beyond. The harbour was the last port of call for the Titanic in 1912 and visitors can learn more about the fatal voyage and the town's maritime history at the Cobh Museum housed within Scots Church.
8
Shutterstock
The Victorian frontages found in the Cliftonwood area of Bristol range from sky blue to peppermint and from peach to sunshine yellow. Who or what prompted the craze for the bonbon tones is anyone's guess, but why ask questions when it looks that cute. Keep an eye out for sweet mosaics dotted around the neighbourhood, depicting hot air balloons (Bristol's well known for its annual balloon festival) and the houses themselves, then make for the harbour to gaze up at the terraces in all their chromatic glory.
In 2007 when the Earl of Glasgow, Patrick Robin Archibald Boyle, was told he needed to remove a cement render that had been added to his castle in the '50s, he did what any of us would have done and invited four Brazilian street artists to let loose on the side it. Dur!
That's right, an actual earl commissioned those giant murals spanning the fort. There have been several times since when the artwork looked as if it might be at risk, but for now it remains intact, with tourists flocking to Scotland to snap it on the daily.
Pink, blue, green and yellow houses flank the water's edge at Portree, the largest town on Skye in the Inner Hebrides of Scotland. From the harbour where fishing boats bob merrily, high cliffs and lush greenery sprawl upwards and outwards. The town is often used as a base from which to explore the rest of the islands' wild and rugged landscape, and intriguing rock formations.
If you'd prefer the hot-pink hues of Eaton House to be dialled down a notch, The Farmhouse at Wilderness Reserve could serve as the perfect alternative. Nestled within a 5,000 acre private estate in Suffolk, the beautiful crushed-pink exterior walls hint at the plush styling within. Up to 12 pals can call the house home, with six bedrooms, glistening rolltop baths, an enormous kitchen, and an equally giant aquamarine dining room to feast in.
12
Shutterstock
If you're chasing rainbows closer to home, the capital's got your back. The sherbet houses lining Chalcot Crescent in Primrose Hill are a good place to start, and film buffs will recognise the sweep as the setting for the Brown family's home in Paddington 2. West London is replete with neat lines of soft-hued houses, too. Look up along Portobello Market to see them gleaming back at you, or head to nearby Lancaster Road or Denbigh Terrace where the pigments pack a real punch.
Looking for more day trip ideas?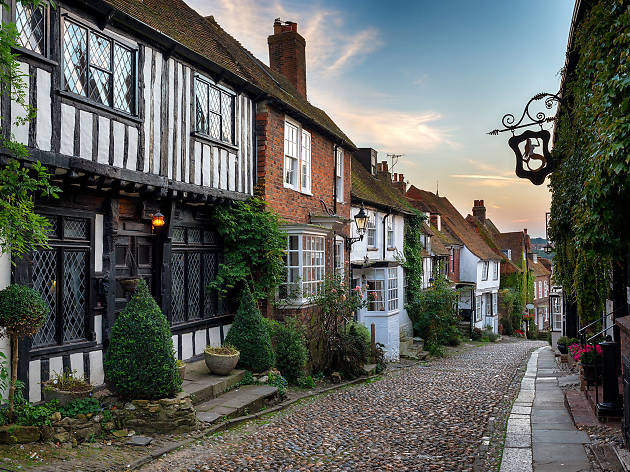 Whether you're in the mood for bracing sea air or a forest frolic