A Beautiful Day in the Neighborhood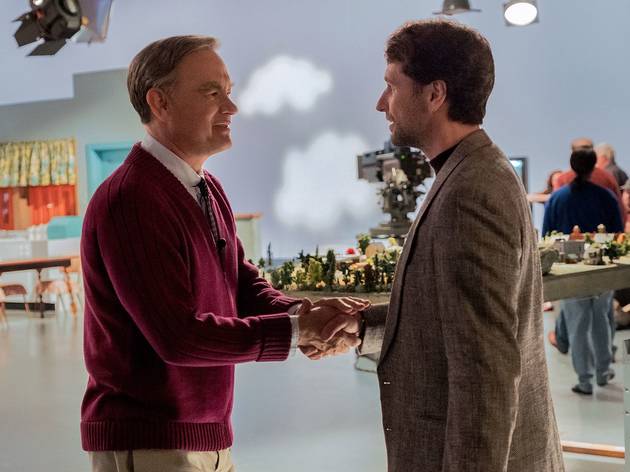 Time Out says
Tom Hanks is a beaming, slightly cryptic Fred Rogers in a movie that's more about a journalist in need of a hug.
A hush comes over a New York City Chinese restaurant during the most magical moment of A Beautiful Day in the Neighborhood—not coincidentally, it's a scene that feels like it could have come from director Marielle Heller's previous film, Can You Ever Forgive Me?, in which she found pockets of coziness within a chilly city. Fred Rogers, forever "Mister Rogers" to strangers (a spookily serene Tom Hanks), is chatting with Lloyd (The Americans' Matthew Rhys, tightly wound), a troubled Esquire profiler whom he's come to care about. Fred suggests that they remember, just for a minute, the people who "loved us into being." Lloyd blinks, but goes with it, and the apparatus of a tightly structured Hollywood movie grinds to halt. Heller gives us the full minute and you lean in. Maybe you even close your eyes.
It's a special film that makes you succumb like that, to the comforts of memory and gratitude. The scene is also a reminder that, even in the best-case scenario (which this is not), A Beautiful Day in the Neighborhood was going to be summoning a spell that was already conjured in a Pittsburgh TV studio on the cheap, week after week, for decades. There's little excavation here from Hanks or Heller, no impulse to complexify this strangest of celebrities, a gifted listener and child whisperer who calmed adults just as easily. (Morgan Neville's inspiring 2018 documentary Won't You Be My Neighbor? went further into Rogers's methods and mission.) Hanks, comfortable in his twinkly-eyed wheelhouse, is properly supportive—it's a supporting role—while Rhys becomes the movie's little boy, diving into his own daddy issues, hopefully resolving them in time to write the big heroic cover story.
The film doesn't know how innocent it wants to be. Establishing shots of Manhattan's 1998 skyline arrive in the cutesy form of a colorful diorama, just like Mr. Rogers's show, but that gesture feels utopian and unearned, not to mention a little boring. It may be that journalist Tom Junod, on whom the Lloyd character is based, isn't enough of a dramatic fulcrum; he's happily married and professionally successful despite having a cranky editor. Rhys does what he can with the role (and casting sour, belligerent Chris Cooper as your absentee father must help immensely), but a more courageous movie would have accommodated Fred Rogers's late-career triumph, when he turned post–9/11 anxieties into a teachable moment. "Anything mentionable is manageable," Hanks offers in the film: wise words, to be sure, but hardly the guiding impulse of this screenplay.
Follow Joshua Rothkopf on Twitter: @joshrothkopf
Details
Release details
Release date:
Friday November 22 2019
Duration:
107 mins
Cast and crew
Director:
Marielle Heller
Screenwriter:
Micah Fitzerman-Blue, Noah Harpster
Cast:
Tom Hanks
Matthew Rhys
Chris Cooper

Users say