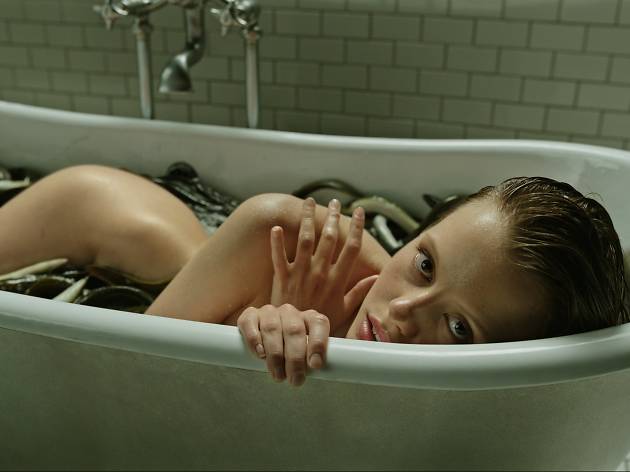 Time Out says
Director Gore Verbinski brews impressive atmosphere for this unsettling, magnificently weird tale of spa-based horror.
Just when you thought it was safe to schedule a relaxing water-therapy cleanse, A Cure for Wellness comes along and ruins spas forever. Dank with greenish tiled interiors and an unshakable sense of dread, this lovably icky horror film mounts a sumptuous, immersive universe, the kind that big-budgeted Hollywood rarely seems imaginative enough to try. We're in an alpine Swiss retreat, hidden behind an elaborate gate of metallic snakes and staffed by scowling attendants in white. It doesn't seem like a place where health gets restored. For this marvelous feat of production design alone—one that would turn Italian horror maestro Dario Argento several shades of envy—the movie deserves a peek.
Before we get there, though, there's a deceptive launching-off point in Manhattan's cutthroat business world, where rising young exec Lockhart (Dane DeHaan), a Patrick Bateman­-style asshole in the making, squirms his way out of the blame for some corporate malfeasance. To get the target off his back, he'll have to head to Europe to fetch the company's twitchy CEO, lost to the spa's waters, whose correspondence indicates a cracked mind. A quick visit in and out, right? Nope: After Lockhart suffers an immobilizing accident that binds him in a leg cast, the ominous Volmer Institute becomes his caretaker (an "enforced vacation," Jason Isaacs's chief doctor puts it, not winning any points for bedside manner).
Leisurely and hypnotically, A Cure for Wellness spins out its series of unsettling scenes, director Gore Verbinski supplying the confident sleight of hand that elevated his 2002 version of The Ring well above the Japanese original. (It's been a full 15 years and three Pirates of the Caribbean films since Verbinski has made something this gorgeous and clever). He builds suspense from the creak of Lockhart's crutches, his painful slowness hobbling down corridors, and the creepy surprises that lurk around every corner. There are eel-swarming baths to be trapped in, brutally Germanic dentist chairs to get strapped into, and the mysterious eyes of long-term patient Hannah (Nymphomaniac's fearless Mia Goth) that suggest an abyss of their own.
Visually ripe and located just around the bend from melodrama, A Cure for Wellness is a cousin to Guillermo del Toro's recent Crimson Peak, another thriller nostalgic for the deep-pocketed lushness purveyed by '30s-era horror-branded studios like Universal, the makers of Dracula and Frankenstein. If anything, Verbinski (working in an unencumbered R-rated register, from a darkly adult script by Justin Haythe) seems more indebted to classic Lon Chaney silents like The Phantom of the Opera and The Hunchback of Notre Dame, early examples of body horror undergirded with deep psychological damage. For some people, that throwback boldness will work like catnip. For less adventurous viewers, accustomed to distinctly unmagical magic, it may be a little much. I'd say find out for yourself. This is a lullaby waltzing to its own eerie lurch. Take a twirl.
Follow Joshua Rothkopf on Twitter: @joshrothkopf
Details
Release details
Rated:
R
Release date:
Friday February 17 2017
Duration:
146 mins
Cast and crew
Director:
Gore Verbinski
Screenwriter:
Justin Haythe
Cast:
Mia Goth
Jason Isaacs
Dane DeHaan

Users say