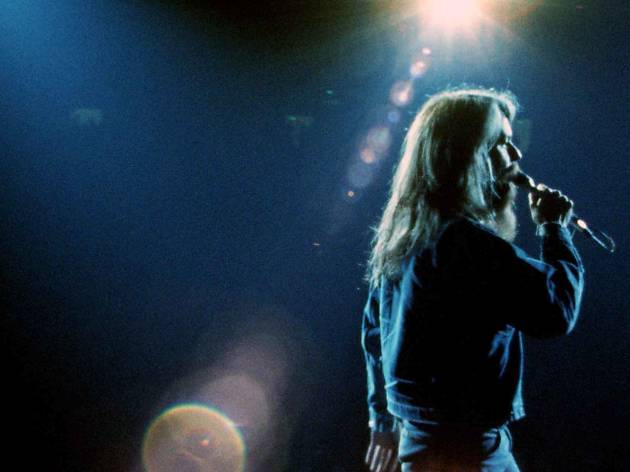 A free-associative trip through the golden years of rhythm and blues, Les Blank's long-lost Leon Russell doc unfolds like a southern-fried Almost Famous that's been stitched together from all of the little observations that a scripted film would leave out. Shot between 1972 and 1974 and buried for more than four decades after Russell balked at the finished product, A Poem Is a Naked Person has been lovingly remastered by the late filmmaker's son (after he connected with Russell on Facebook). The movie hasn't just been worth the wait, it's been transformed by it: In the '70s, this would've been an unusually intimate tour portrait. Now, it's a newly unearthed time capsule, the remarkable clarity of Blank's portrait compounded by the distance from which we're looking at it.
Guided by the same vérité restlessness that characterizes Blank's most beloved shorts (1980's "Garlic Is as Good as Ten Mothers," 1987's "Gap-Toothed Women"), the film is emblematic of a documentarian who was magnetized to the eccentric. It's immediately clear that Blank was less interested in Russell than he was the vibrant community that orbited around him—there's a reason why the musician's name is missing from the title. The director is smitten, for example, with artist Jim Franklin, whom we see sweeping out an empty swimming pool of baby scorpions so he can paint a huge mural that looks like something Hieronymus Bosch might have been commissioned to make for Pink Floyd. Later, Blank's wandering attention is seduced by a controlled demolition in Tulsa, a young Willie Nelson and a glass-eating parachute enthusiast who's rumored to be the mythically elusive hijacker D.B. Cooper.
There's enough concert footage here to please diehard fans, but Blank is more attuned to the sweat and musk of each performance than he is to the songs themselves. One moment, his camera perches on Russell's shoulder as he pounds out the honky-tonk piano melody of "Tight Rope." The next it steals a close-up of unembarrassed ecstasy from someone in the crowd. Blank doesn't neglect the music played during the shows and in the studio, but he knows that it's just a rollicking good excuse to get together and be alive. Maybe Russell was annoyed that the film turned out to be an ode to his scene rather than a testament to his genius, but maybe—in the years since he denied this masterpiece the public life it deserves—he's learned to appreciate how richly Blank could see his universe because he wasn't blinded by a star.
Follow David Ehrlich on Twitter: @davidehrlich
Release details
| | |
| --- | --- |
| Rated: | N/R |
| Release date: | Wednesday July 1 2015 |
| Duration: | 90 mins |