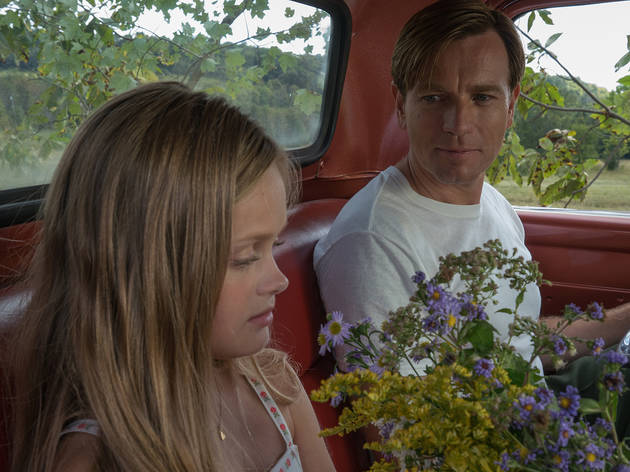 Time Out says
Actor Ewan McGregor aims high with his directorial debut, taking on a Philip Roth masterwork but only getting so deep.
"That's how we know we're alive—we're wrong," a character observes in Philip Roth's 1997 Pulitzer-winning novel American Pastoral. Based on that piece of insight, actor-turned-director Ewan McGregor's movie version is very much alive: It's a remarkably committed effort that takes a few seriously misguided turns along the way, even as its actors lunge at psychological depth with every scene.
It's not the author's Old Testament heaviness (a fatal flaw of many overly precious Roth adaptations, including the recent, high-strung Indignation) that makes American Pastoral fall short. Nor is it McGregor's inexperience behind the camera; he's been on enough shoots to know how it's done. Rather, the film settles for only half the story's impact—the part about successful Jewish businessman Seymour "Swede" Levov (McGregor) having a midlife meltdown. He escapes 1950s expectations, marries a New Jersey beauty queen (Jennifer Connelly) and creates a middle-class domestic paradise, just as the counterculture and his radicalizing teenage daughter, Merry (Dakota Fanning, spooky and the best thing about the film), screw it all up.
In execution, the movie plays like a compelling late-season episode of Mad Men, doubling down on generation-gap tensions. But there's something deeper in the novel that McGregor and TV-vet screenwriter John Romano miss. The film somehow remembers to digitally create an in-construction Twin Towers in the background of a night's drive, but it doesn't get at Roth's subtle critique of interfaith marriage, nor the undercurrents of egotism that make Swede so emblematic of a certain era of American Jewish success. His ruination isn't cosmic enough.
"A child cannot decide," says Swede's father (Local Hero's Peter Riegert), gruffly discussing what the religion of his son's future baby might be. It's a key to McGregor's film, which italicizes the anxiety of a parent who may have been too open, too liberal with his daughter. But Roth's material should have been brewed into a larger indictment of authority in freefall—a few incidental Nixon mentions don't count—and we're left to suck on actorly handwringing in lieu of larger ideas.
Follow Joshua Rothkopf on Twitter: @joshrothkopf
Details
Release details
Rated:
R
Release date:
Friday October 28 2016
Duration:
126 mins
Cast and crew
Director:
Ewan McGregor
Cast:
Ewan McGregor
Dakota Fanning
Jennifer Connelly

Users say