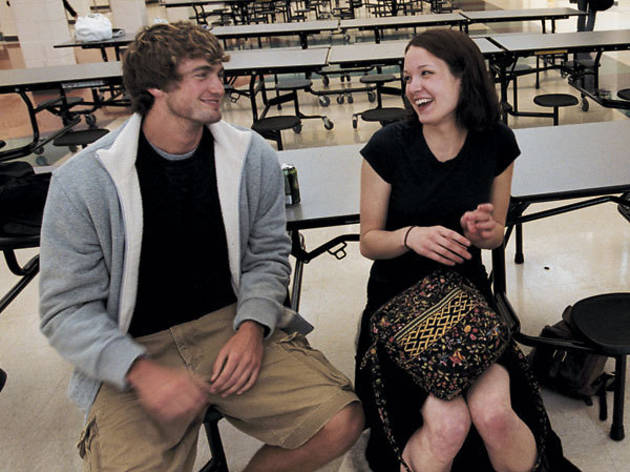 "I can't go to school anymore," the girl whispers, shuddering with break-up sobs. Then comes a torrent of tears, her head resting helplessly on a friend's shoulder. You wince, not just at the intimacy of the moment but at her certainty that the world has just ended. It's a scene out of so many teen movies (hell, so many adolescences), but how often does the embarrassment cut so deep? Forget about her ex; she just can't be seen by anyone ever again.
American Teen is, ostensibly, a documentary. That it works so well as a melodrama, better even than The Breakfast Club, raises vexing concerns (if you let it). Has director Nanette Burstein shaped, crafted and jiggered the material over the course of a senior year in red-state, suburban Indiana? Of course she has—like any doc director. Perhaps more troubling is the sneaking suspicion that the teens themselves have become her coconspirators. Types like Hannah Bailey's arty outsider or Megan Krizmanich's spoiled mean girl exist in every school, but do such perfect rise-and-fall narratives play out naturally as well?
That will be your call, but this ex-teen, for one, remembers them seesawing just so. The movie has a rare, geeky generosity—a braces-laden, acne-scared adorableness—that sets it apart from the current crop of glamorized gossip girls or reality-TV phonies. Take American Teen for the moving snapshot it is: a picture of an uncertain generation finding its roots. The big basketball game looms, photos of alums killed in the Iraq War sit in a memorial cabinet, and there are dates to be scored.
Release details
| | |
| --- | --- |
| Rated: | NR |
| Release date: | Friday July 25 2008 |
| Duration: | 95 mins |
Cast and crew
| | |
| --- | --- |
| Director: | Nanette Burstein |