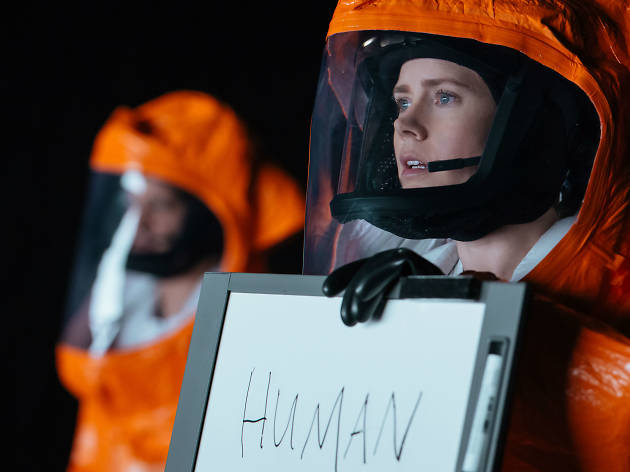 1/3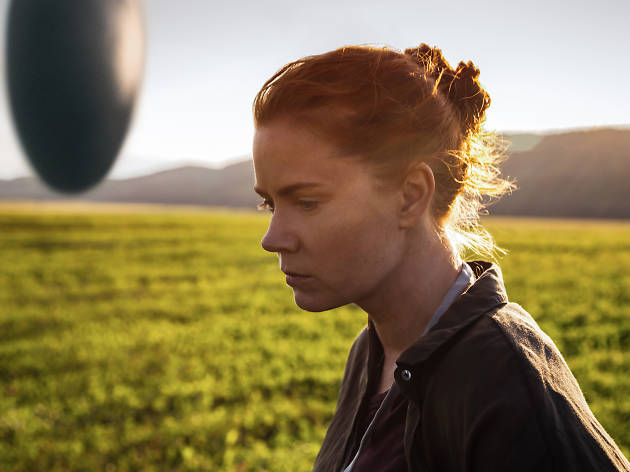 2/3
Jan Thijs
by Paramount Pictures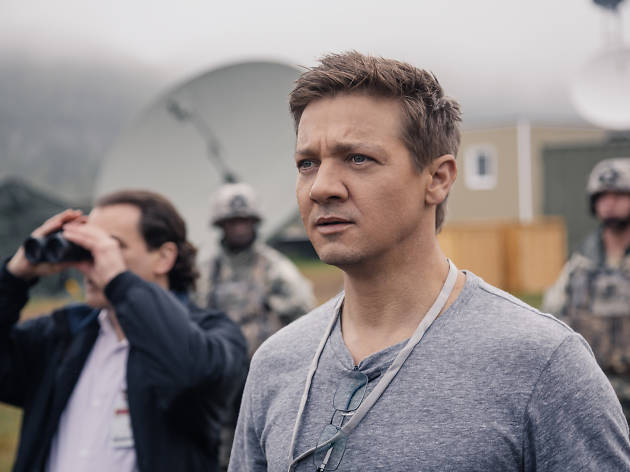 3/3
Jan Thijs
by Paramount Pictures
Time Out says
Aliens come to earth in this smart—but not smart enough—slice of modern sci-fi.
There are plenty of smart ideas and bravura visuals in this maudlin, ponderous and slightly ridiculous tale of aliens coming to Earth, adapted from a Ted Chiang short story. But to enjoy the film's musings on language, time and how much we can ever understand others, you have to close your eyes and ears to the wealth of schlocky hokum surrounding them.
An ambiguous, moody prologue layered with Jóhann Jóhannsson's Michael Nyman–esque score begs us to take Arrival seriously long before there's any talk of "heptapods." Dr. Louise Banks (Amy Adams, strong and somber) is alone in a lakeside house with only images of her past life for company: She once raised and lost a daughter. Then the sci-fi kicks in; alien pods hover above several sites around the globe. The U.S. government hauls in Louise (a top linguist) along with theoretical scientist Ian (Jeremy Renner, a bit of a spare part) to help it understand what's going on. Their mission is to enter these creatures' giant egg-shaped craft and discover what the seven-legged uglies inside want and what they're doing in a field in Montana.
You might roll your eyes when Forest Whitaker's Army colonel explains to Louise that it's her past experience translating Farsi that made her perfect for this project. Do aliens and Iranians share a linguistic heritage? That comment aside, the scenes of Louise and her team entering the alien pod and meeting the inhabitants are do well on spooky tension, and the production design is especially stellar, all of which bodes well for director Denis Villeneuve's upcoming Blade Runner sequel.
When the film lingers on Louise's attempts to "translate" the language of her new extra-terrestrial friends (there are nods to E.T.), it's strange, gripping stuff that does what great sci-fi should: offer up a new perspective on our own world. Villeneuve also has a showstopping reveal up his sleeve that revives our interest in the film later on. But much of Arrival focuses on other stuff—ticking bombs, rolling TV-news commentary, social breakdown as window-dressing—and in those moments it feels caught between a brainless big-budget movie and a smaller, more thoughtful one.
Details
Release details
Rated:
PG-13
Release date:
Friday November 11 2016
Duration:
116 mins
Cast and crew
Director:
Denis Villeneuve
Screenwriter:
Eric Heisserer
Cast:
Amy Adams
Jeremy Renner
Forest Whitaker