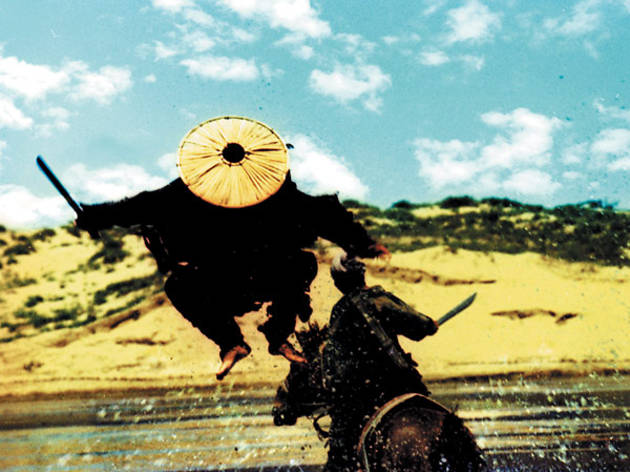 Unless you caught Wong Kar-wai's 1994 moody martial-arts flick during a blink-and-ya-missed-it run at your local Chinatown theater, the only way to see this whacked-out wuxia was on DVD. But with all due respect to Tai Seng, the San Francisco company that's sporadically released Ashes of Time on various home-video formats, the joy of locating a copy was always followed by a buzzkill. The source print appeared to have been excavated from a sandpaper factory; the murky transfer made you wonder whether your TV screen needed a Windex wipe-down. Even the film's creator couldn't find a complete negative in decent condition.
But thankfully, Wong has pieced together what he calls a "definitive" cut, unleashing a spruced-up Redux version of his swords-slinger drama. The auteur trimmed seven minutes to tighten the pace and added a new score from cellist Yo-Yo Ma, but it's the reworking of the film's visuals that signals the true difference. Cinematographer Christopher Doyle's imagery is not only crystal clear now, but has also been digitally color-coded for maximum Day-Glo effect. Travelers wander under key-lime green skies, and blade-wielding warriors battle before psychedelic lemon-meringue hills. To call this new Ashes gorgeous and retina-searing is an understatement; you may want to schedule a postscreening ophthalmologist appointment.
Does the fresh coat of pixel paint make the film's labyrinthine plot about an assassin (Leslie Cheung), his clients and their various love affairs any easier to follow? Alas, no; despite the smeary violent interludes, Ashes of Time remains less an example of early Asia Extreme than one of Asia Extremely Confusing. But Wong's strength has always been his use of screen sensuality, and this colorful revision ups the expressionism to dizzying heights. Few directors have mined deferred desire so fruitfully, and this deconstructed genre piece proves that he didn't need an urban setting to depict matters of the broken heart. The wounds have not been healed by time, but their scars look better than ever.
Release details
| | |
| --- | --- |
| Rated: | R |
| Release date: | Friday October 10 2008 |
| Duration: | 93 mins |
Cast and crew
Director:
Wong Kar-wai
Screenwriter:
Wong Kar-wai
Cast:
Jacky Cheung
Leslie Cheung
Maggie Cheung
Tony Leung
Brigitte Lin
Carina Lau