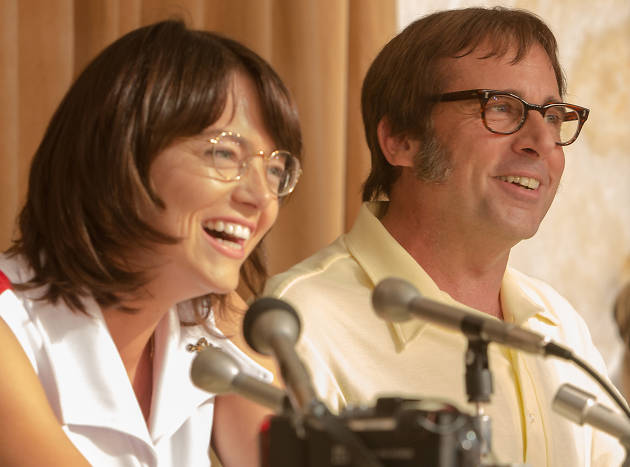 Time Out says
Emma Stone and Steve Carell throw themselves into an epic tennis showdown that's equal parts funny and unsettling.
"Male chauvinist pig versus hairy-legged feminist!" That's how ex-tennis pro Bobby Riggs (Steve Carell) pitches his big idea to women's champ Billie Jean King (Emma Stone) in Battle of the Sexes, a movie based on a story that would be unbelievable if it weren't true. Riggs vs. King played for a global televised audience in 1973; here it's played for both laughs and drama by directors Jonathan Dayton and Valerie Faris. While it doesn't quite hit the highs of their Little Miss Sunshine, it's a thoroughly enjoyable watch with a terrific cast.
Stone leads the way as King, the no-nonsense star who takes on the sexist United States Lawn Tennis Association after it announces a prize fund that's a staggering eight times more for men than women. Launching her own women's tournament with the aid of organizer Gladys Heldman (Sarah Silverman), King goes on tour. Meanwhile, former World No. 1 Bobby Riggs is struggling with a gambling addiction and hoping to hustle his way back into the spotlight. What better opportunity, Riggs arrogantly assumes, for proving that men are better competitors than women? (This was a showboating moment for sports, then in its Muhammad Ali phase, and for men in general.)
It's a fun setup with a rousing finale that broadly compensates for a baggy middle section (at two hours, the film seems a little too long). Despite its inspiring feminist message, it's the LGBTQ angle that proves the most compelling, as King quietly discovers her sexuality with hairdresser Marilyn (a wonderful Andrea Riseborough). The scenes between these two women are beautifully handled, their attraction as palpable as King's dilemma: Not only was she famous in a less-accepting era, but she was married to a man. Carell's cartoonish antics are funny enough, but the two women are the tale's real champions.
Details
Release details
Rated:
PG-13
Release date:
Friday September 22 2017
Duration:
121 mins
Cast and crew
Director:
Jonathan Dayton, Valerie Faris
Screenwriter:
Simon Beaufoy
Cast:
Emma Stone
Steve Carell
Andrea Riseborough