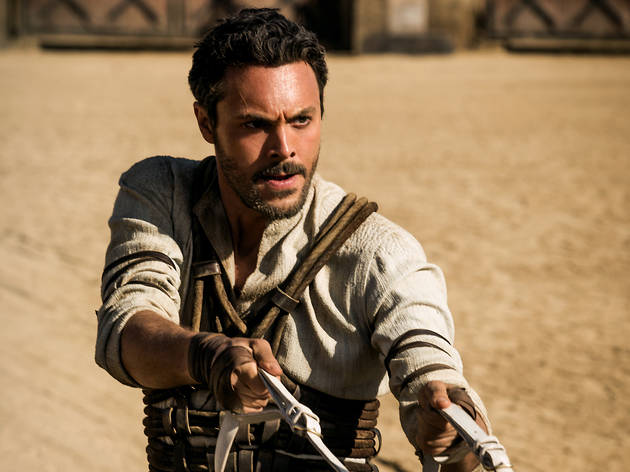 Time Out says
Sinking to the bottom of a heap of monolithic summer flops, this remake fails both as action fare and as a spiritual parable.
Just because you're rolling in the chariot doesn't make you Charlton Heston. That's a lesson this weightless, instantly disposable remake of the 1959 sword-and-sandal Oscar winner learns the hard way—today's Ben-Hur is so ersatz and grandeur-challenged, it might have you retroactively poking holes in the fakeness of the previous version, a behemoth, sure, but one of the least worthy Best Picture winners of all time.
Taking the worst of it on the chin is star Jack Huston, whose Jewish prince turned galley slave, Judah Ben-Hur, suffers from a distinct lack of personality—he's like a boulder that someone forgot to chisel into a statue. The character is supposed to function as a model of suffering, faith and forgiveness, while Jesus himself (here played by Rodrigo Santoro) shows up in a concurrent side plot. But Huston's voice, thick with hoarseness, is a grating bore and he can't pull off a sense of dawning righteousness. He should be playing villains only.
The familiar elements—betrayal by an oily Roman "brother" (Toby Kebell), arena training from a exotic redeemer (Morgan Freeman in dreadlocks and a faint hint of check-cashing)—were all improved upon by Ridley Scott's Gladiator, which not only had the benefit of Russell Crowe but that director's effortless way with huge, near-fascist pageantry. Russia's Timur Bekmambetov (Wanted), on the other hand, has only a scattershot, computerized aesthetic to draw on. His 15-minute-long climactic chariot race feels like a videogame, shimmering with digital dust and overblown colors. The movie's finest moment is actually a late-breaking hug, one that feels about $100 million too expensive.
Follow Joshua Rothkopf on Twitter: @joshrothkopf
Details
Release details
Rated:
PG-13
Release date:
Friday August 19 2016
Duration:
124 mins
Cast and crew
Director:
Timur Bekmambetov
Screenwriter:
Keith R. Clarke, John Ridley
Cast:
Jack Huston
Nazanin Boniadi
Haluk Bilginer
Morgan Freeman
Toby Kebbell