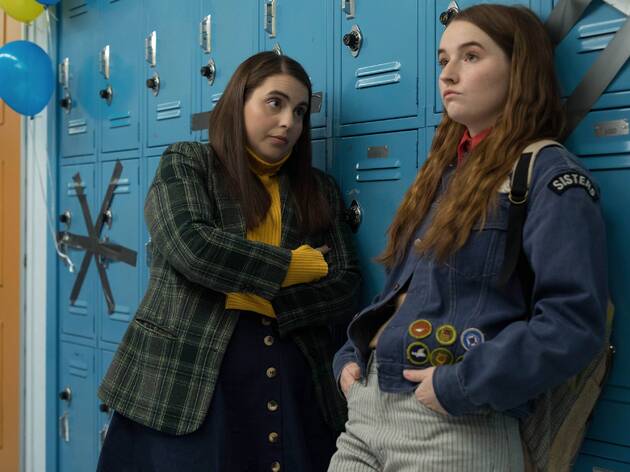 Time Out says
Sheltered high-school besties expand their horizons during the last night before graduating in Olivia Wilde's confidently weird (and wild) comedy.
Review by Joshua Rothkopf
Save it, Generation John Hughes (yes, this is a self-own): One day, a post-apocalyptic band of hardy survivors will remember today's high-school movies and scowl at the riches. Some of those films were good enough to land multiple Oscar nominations (Lady Bird). Some snuck heartache into comedy (The Edge of Seventeen). Some were just plain rude (Superbad). And now, with Booksmart, there's one that could be all of those things.
Co-scripted by an evidently inspired quartet of women writers (Susanna Fogel, Emily Halpern, Sarah Haskins and Katie Silberman), Booksmart plays like sweetest liberation—it invents a dorky duo, Amy (Kaitlyn Dever) and Molly (Lady Bird's Beanie Feldstein), then gives them walls to smash down. Socially awkward yet Ivy League bound, the pasty friends approach the final bell of senior year with a sense of accomplishment, but their smugness rings hollow: Their nerd-adjacent peers are also heading to exclusive colleges, but those classmates ripped beer bongs and had tons of underage sex along the way. How did they never learn to multitask?
Actor-turned-director Olivia Wilde (shockingly, this is her behind-the-camera feature debut) shows off something rarer than technique or comic timing. She's got loads of compassion and has somehow managed to make a high-school movie without villains. The sheer number of "types" in Booksmart—the spoiled loner, the spaced-out drama chick (Billie Lourd, princess on her own blissful planet), the studly yet aloof bro, etc.—are all given second and third scenes to evolve into genuinely felt characterizations. And it all happens within the space of a single sex-positive night with its own post–Graduate swimming-pool scene. Demand a Booksmart cinematic universe.
Follow Joshua Rothkopf on Twitter: @joshrothkopf
Details
Release details
Rated:
R
Release date:
Friday May 24 2019
Duration:
102 mins
Cast and crew
Director:
Olivia Wilde
Screenwriter:
Susanna Fogel, Emily Halpern, Sarah Haskins, Katie Silberman
Cast:
Kaitlyn Dever
Billie Lourd
Beanie Feldstein