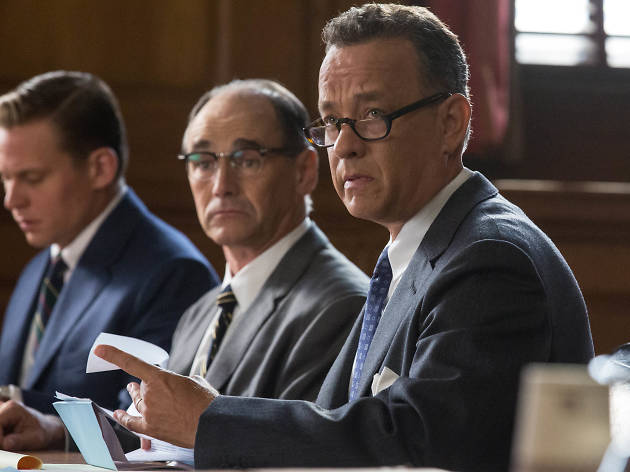 Time Out says
An unshowy Steven Spielberg does a master's job with Cold War tensions, honoring a real-life attorney's victory over fear.
Gifts of civility small and large mark Steven Spielberg's latest film, a deeply satisfying Cold War spy thriller that feels more subdued than usual for the director—even more so than 2012's philosophical Lincoln—but one that shapes up expertly into a John Le Carré–style nail-biter. In a knockout near-wordless intro, a long-faced canvas painter (Mark Rylance, magnetic) finishes an oil in his 1957 Brooklyn apartment, makes his way to the park, picks up a secret nickel under a bench containing a tiny folded document, and eventually gets nabbed by feds on his tail. He's Rudolf Abel, the real-life Soviet spy charged with espionage. But the decent, often feisty man at the film's center is James Donovan (Tom Hanks), the lawyer who, at great risk to his family, defended Abel's life as a matter of due process and integrity.
One could be forgiven for finding this early stretch a touch Costnerian: Apart from cinematographer Janusz Kaminski's blooming windows, it doesn't quite feel like a Spielberg film until a burning American spy plane plunges past its parachuting pilot, Francis Gary Powers (Austin Stowell). He's about to become a Russian prisoner and a pawn in a secret trade that the government hopes Donovan will broker in a wintry Berlin split by the Wall: Abel for Powers.
The verbal gamesmanship brings on a new, energized movie, beginning with Hanks's charming Donovan, slightly amused in his Irish crankiness, even as his fancy overcoat is stolen by German teens ("You know—spy stuff" is his explanation for the missing garment). Hanks has never seemed more like a modern Jimmy Stewart, drink in hand, just looking to get home to his bed, as the script leans into its cavalcade of slightly bizarre negotiations with Eastern European goons. (The signature of the Coen brothers, who did rewrites, is hard to miss.) Bridge of Spies does end up on a bridge of spies, but never mind its more literal moments: Getting to its humane climax of coolheaded diplomacy is, paradoxically, Spielberg's most wily and adult journey since Catch Me If You Can.
Follow Joshua Rothkopf on Twitter: @joshrothkopf
Details
Release details
Rated:
PG-13
Release date:
Friday October 16 2015
Duration:
135 mins
Cast and crew
Director:
Steven Spielberg
Screenwriter:
Joel Coen, Ethan Coen, Matt Charman
Cast:
Tom Hanks
Amy Ryan
Mark Rylance