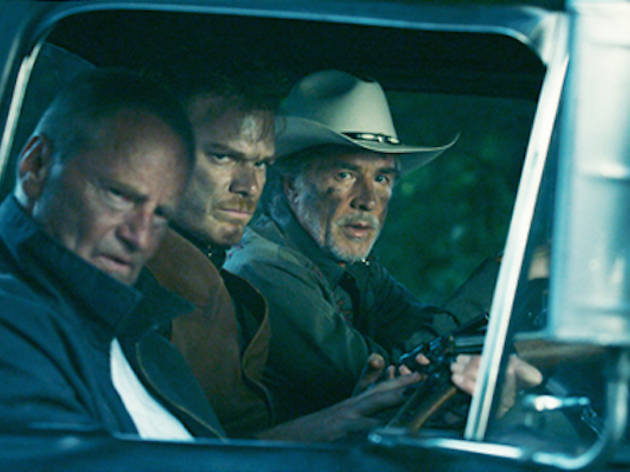 For reasons beyond understanding, cinema has not been kind to Texas-born crime writer Joe R. Lansdale. His books are lean, grimly comical and packed with the sort of sudden violence, boisterous antiheroism and crackling dialogue that Hollywood producers claim to love, but somehow, short of 2002's atypical Bubba Ho-Tep, his work has remained unadapted—until now. Cold in July is Lansdale in excelsis: a relentless tale of small-town treachery spiraling into bloody vengeance. And in the hands of We Are What We Are director Jim Mickle, it's become one of the year's best thrillers.
Dexter star Michael C. Hall plays Richard, the happily married picture framer whose life takes an ugly turn when he shoots an intruder point-blank in his living room. It's not long before the dead boy's hard-bitten daddy (Sam Shepard) comes looking for payback—but who is the corpse the cops have just wheeled away? And why is everyone so keen for Richard to just shut his mouth and forget the whole thing?
Cold in July is a proud throwback to the early-'90s indie-crime boom—think The Last Seduction, One False Move and Fargo. It's rolling in great, punchy scenes; meaty performances (Johnson's Stetsoned shitkicker is a hoot); and bold, unexpected twists, while also finding time for those quiet, heartfelt character moments that bring a story to life. Any film that teams gruffer-than-thou icons Shepard and Johnson is bound to go heavy on the testosterone, but Mickle undercuts all this strident manliness with a rich vein of self-mocking wit and paternal angst. In the end, this is a film about what it means to be a father—and the conclusions ain't pretty.
Release details
| | |
| --- | --- |
| Rated: | N/R |
| Release date: | Friday May 23 2014 |
| Duration: | 109 mins |
Cast and crew
Director:
Jim Mickle
Screenwriter:
Nick Damici
Cast:
Michael C. Hall
Don Johnson
Sam Shepard