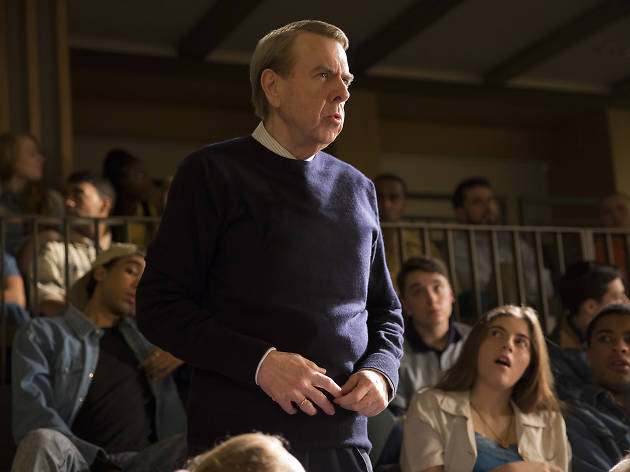 Time Out says
Playwright David Hare recalls the true tale of David Irving, the Holocaust-denying historian, in a movie that's duller than its subject.
David Irving is one of Britain's most shameful sons: a once-respected historian who came to believe (or, at least, claim publicly) that the Holocaust never happened, that it was all a conspiracy to provoke sympathy for the Jewish people. In 1996, Irving filed a defamation suit in high court against American writer Deborah Lipstadt, who had taken him to task in her book Denying the Holocaust, calling his so-called evidence into question and accusing him of outright lies. The ensuing trial is the subject of this verbose, very watchable but blunt drama scripted by playwright David Hare.
Rachel Weisz plays Lipstadt, a committed, emotionally driven academic determined to shame her opponent—to expose his dangerous, laughable arguments in court. But when her lawyer Anthony Julius (Andrew Scott) and her barrister Richard Rampton (Tom Wilkinson) both urge Deborah not to take the stand for fear of legitimizing Irving's position, she's forced to examine whether she's most interested in facing the man or winning the case.
Those are the strongest scenes in Hare's script, as the struggle between logic and emotion, heart and mind, is forced on people who share the same side of a precarious and potentially historic case. Weisz's Lipstadt is a spiky, aggressive, not entirely sympathetic character faced with a wall of upper-crust, middle-aged British men in suits telling her how to fight her battles. Wilkinson is coolly precise as her not-quite-adversary, but Scott effortlessly steals every scene as the magnificently pushy and abrasive Julius, unable to allow Lipstadt three words without leaping in for a rebuttal.
And yet Denial cries out for a little more subtlety: Timothy Spall plays Irving as a growling, spitting bulldog, and at one point, Weisz's character tells us that Deborah means "warrior" in Hebrew, just so we know she is one. Veteran director Mick Jackson (The Bodyguard) keeps the visuals flat, his sole artistic flourish an occasional jarring flashback to the horrors of Auschwitz. Denial makes a compelling case, and the performers plead it persuasively. But you might have a few objections.
Details
Release details
Rated:
PG-13
Release date:
Friday September 30 2016
Duration:
110 mins
Cast and crew
Director:
Mick Jackson
Screenwriter:
David Hare
Cast:
Timothy Spall
Rachel Weisz
Andrew Scott
Tom Wilkinson

Users say