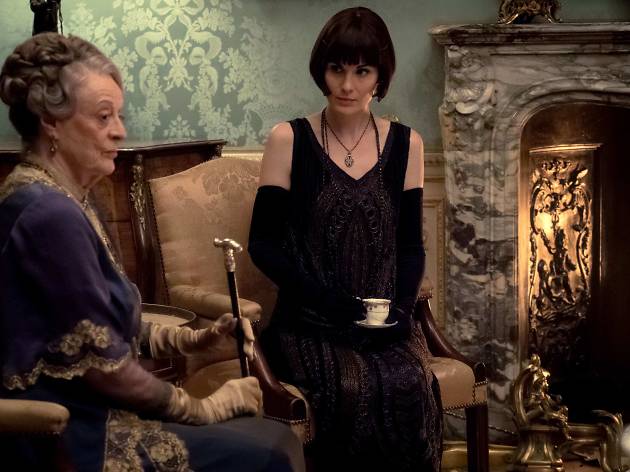 Time Out says
Fans get the big-screen adaptation of their dreams, though a casual viewer may wonder what all the fuss is about.
In a cine-scape crowded with superhero smackdowns, sometimes it's nice just to watch a film that wants you to worry about the whereabouts of some vegetables. That film is Downton Abbey, a big old comfort blanket of a movie stitched together from vignettes involving a problematic ball gown and an unfortunate outbreak of rain. It's as nourishing as one of Mrs. Patmore's crumpets—and about as edgy.
Anyone unfamiliar with the ins and outs of TV's Downton may get a little lost in its small army of pre–WWII characters and their already half-started plotlines. But prior knowledge of the show isn't essential. This is a movie that knows what its core audience wants and provides it in spades. Everyone gets their moment to shine, and Maggie Smith's acid-tongued Dowager Countess (basically Thanos in a tiara) gets about 17 of them. Her snarky asides and catty rivalry with Imelda Staunton's similarly formidable aristocrat are a highlight. Smith steals every scene she's in, troweling each line with ironic disdain, though David Haig is also quite fun as a controlling royal butler. King George V is coming to the mansion for a visit, setting all in a spin; nothing less than the house's reputation is at stake.
Downton Abbey is definitely not kicking over any antique tables, despite a gentle nod to society's changing sexual mores in the storyline of gay butler Thomas Barrow (Rob James-Collier). As you're taking in the umpteenth gauzy shot of the English countryside, it's easy to forget that screenwriter and creator Julian Fellowes once wrote Robert Altman's Gosford Park, a thistle-sharp interrogation of the U.K.'s class system. Everyone knows their place in this world, and no one seems in a particular hurry to leave it. Fans will understand that feeling. Yes, it's basically an episode of the show stretched out to two hours, but like the Crawley family silver, it's so polished you can practically see your face in it.
Details
Release details
Rated:
PG
Release date:
Friday September 20 2019
Duration:
122 mins
Cast and crew
Director:
Michael Engler
Screenwriter:
Julian Fellowes
Cast:
Maggie Smith
Hugh Bonneville
Michelle Dockery
Jim Carter
Elizabeth McGovern
Penelope Wilton

Users say