Fantastic Beasts and Where to Find Them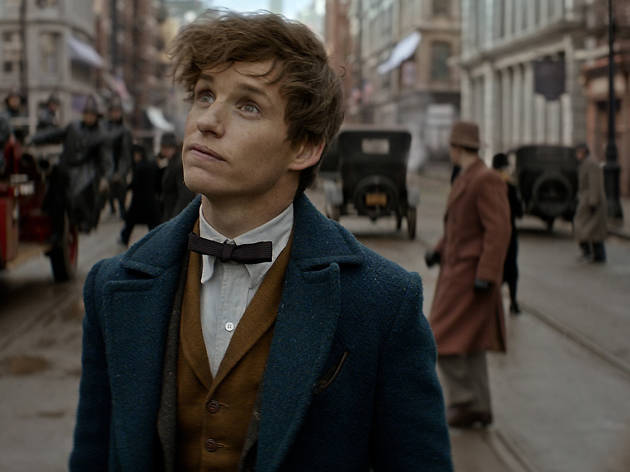 Time Out says
This entertaining spin-off from the Harry Potter movies is both inventive and familiar.
Has J.K. Rowling been taking divination lessons at Hogwarts? With spooky clairvoyance, the first movie in her new five-film wizarding franchise opens with two U.S. political factions at each other's throats. No, not Republicans and Democrats. It's 1926, and wizards and muggles (in America, they call them "no-majs") are on the brink of a civil war. Oh, and in the no-maj plot, a wealthy bully is running for President. Too soon?
Fantastic Beasts and Where to Find Them is basically a Harry Potter prequel (though you'll go to detention for saying that). Rowling, writing her first film script, and longtime Harry Potter director David Yates have created an entirely different corner of the wizarding world. They strike a savvy balance between shiny new elements and recognizable ones for Potterheads. I'm not sure which is more adorable: Eddie Redmayne as eccentric magician Newt Scamander or the creatures he smuggles into the U.S. in his battered and bottomless leather briefcase. Redmayne radiates a warm, wet-eyed glow as stumbling, bashful Newt, an English wizard in New York. He's perfect for Rowling's world, where a kind heart is the most potent magical power of all.
Like a hot young Leonardo DiCaprio with a wand, Newt is a bit of an eco-warrior, arriving on a conservation mission to release into the wild a creature he's rescued from captivity. The cutest of his beasties is the naughty niffler, a cross between a platypus and a cuddly penguin, with its expressive snout and Gollum-like affinity for gleaming trinkets. When the niffler breaks loose and scampers around the city stealing treasures, Newt goes in search with his new gang: two wizarding sisters (Katherine Waterston and Alison Sudol) and Jacob (Dan Fogler), a muggle—sorry, a no-maj—who's possibly more loyal than Ron Weasley. On their trail is Colin Farrell as Percival Graves, the brooding boss of security at the American Ministry of Magic.
Rowling cleverly delves into America's history of witch trials, with Samantha Morton playing Mary Lou Barebone, a religious crazy who preaches hellfire and damnation. There aren't quite enough thrills in Fantastic Beasts to keep you on the edge of your seat, and there's no film-stealing baddie to dig your teeth into—but then Voldemort didn't make a proper appearance until Harry Potter and the Goblet of Fire, the series' fourth installment. Still, Farrell is in possession of some of the most menacing eyebrows in Hollywood, and we know that Johnny Depp is on his way for the sequel as Dumbledore's nemesis Gellert Grindelwald. And Redmayne's lovely performance sets up the emotional core of the franchise. So yes, the magic is still there.
Details
Release details
Rated:
PG-13
Release date:
Friday November 18 2016
Duration:
133 mins
Cast and crew
Director:
David Yates
Screenwriter:
J.K. Rowling
Cast:
Eddie Redmayne
Colin Farrell
Katherine Waterston