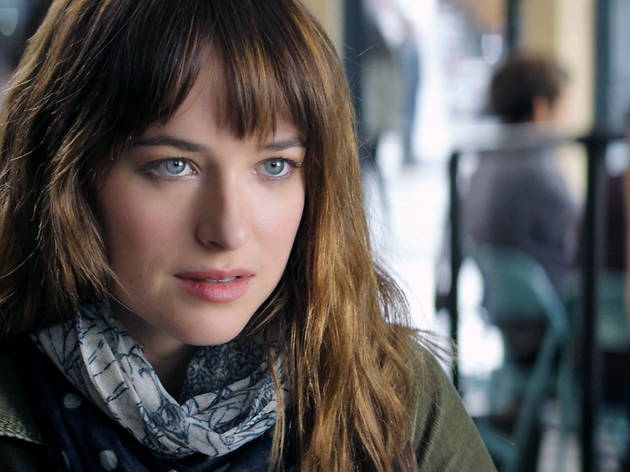 Time Out says
A watered-down adaptation that's embarrassed to be wet, Fifty Shades of Grey is a sex-positive but hopelessly soft-core erotic drama that fails to be even a fraction as titillating as the E.L. James books that inspired it. And yet, that's exactly why it works.
Fifty Shades begins with Anastasia Steele (Dakota Johnson, nuanced), a demure college senior, arriving for an interview in the office of Christian Grey (Jamie Dornan, stiff), Seattle's most eligible billionaire. It isn't long before the two are bound together like a harlequin romance novel. The virginal Anastasia, however, is in for a surprise: Christian is as kinky as he is rich.
Inevitably, this telling of the tale has been neutered to the brink of recognition. Christian is an S&M fetishist, and when Anastasia is invited into her new partner's "Red Room of Pain," she's confronted by a wonderland of leather, rope and repurposed circus equipment. And yet, by the time the movie ends just a few mild spankings later, Fifty Shades feels like going on a trip to Disney World and only riding the monorail.
But Sam Taylor-Johnson's film becomes fascinating for the finesse with which she navigates the prudishness forced upon it. The director is capable of pivoting from romantic comedy to erotic drama at the whack of a flogger, her dexterity allowing the tepid sex scenes to be framed by a surprisingly sensitive story of self-discovery. Substituting heartache for handcuffs, Fifty Shades is the rare studio romance in which the characters actually try to understand one another. As this is the first installment of an epic trilogy, how much there is beneath the surface remains to be seen, but Taylor-Johnson seems genuinely interested in finding out. Fifty Shades may not make you come, but you'll still be glad you went.
Follow David Ehrlich on Twitter: @davidehrlich
Details
Release details
Rated:
R
Release date:
Friday February 13 2015
Duration:
125 mins
Cast and crew
Director:
Sam Taylor-Johnson
Screenwriter:
Kelly Marcel
Cast:
Jamie Dornan
Dakota Johnson
Marcia Gay Harden

Users say