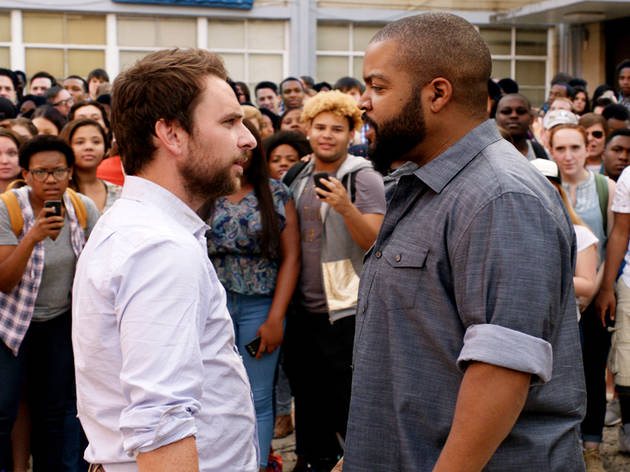 School's out for summer but as naughty as this comedy wants to be, it's the adults that fail it.
Don't knock Fist Fight for being a rude and crude high-school comedy—there's a proud tradition of those, extending from Superbad and American Pie all the way back to Porky's, the valedictorian of a left-behind class. Knock it for other reasons. The manic actor Charlie Day, playing a weak-spined, panicky English teacher, is way too shrill to hold a feature film; his high-pitched squeal is a year's supply of nails on chalkboard. Knock the movie for ogling Mad Men's Christina Hendricks as she sashays down the hallway, yet another desirable French teacher.
But mostly, knock it for reducing Ice Cube to the tired sneer he's been successfully avoiding in recent films, especially in last year's Barbershop: The Next Cut. Playing a furious educator prone to smashing desks with an axe, Cube starts at crazy and only gets bigger. After his character is fired, he challenges Day's tattle-tale wimp to an after-school slugfest in the parking lot, one that gets its own hashtag from the amused students (#TeacherFight). The fact that Fist Fight actually does climax with a bruising, tonally awkward punch-up between the two men feels like a failure of imagination.
There are incidental pleasures to be had here. For all of the movie's penis jokes (a curriculum's worth), its screenplay actually manages to smuggle in a sincere comment about America's crumbling public schools, underfunded and managed to death by uncaring superintendents. By one way of looking at it, Fist Fight might be seen as a timely nightmare—not about bullying but being downsized. For that reason alone, it's not a complete waste of time. Also it features a rampaging horse on meth. You've got to keep the base satisfied.
Follow Joshua Rothkopf on Twitter: @joshrothkopf
Release details
Rated:
R
Release date:
Friday February 17 2017
Duration:
91 mins
Cast and crew
Director:
Richie Keen
Screenwriter:
Van Robichaux, Evan Susser
Cast:
Charlie Day
Ice Cube
Dean Norris
Jillian Bell
Christina Hendricks