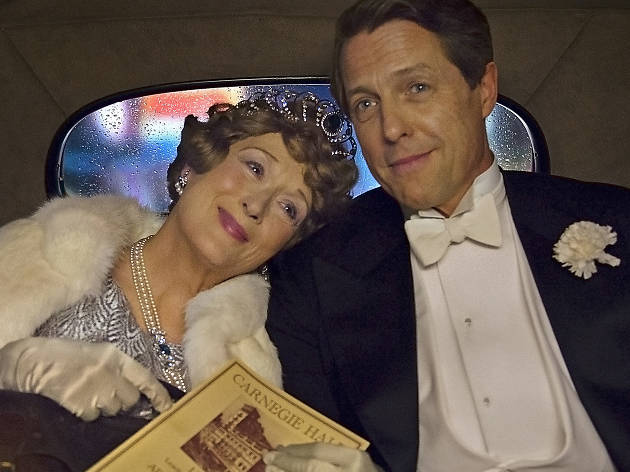 Meryl Streep squawks and warbles through this amusing biopic of a legendarily awful singer.
Meryl Streep continues her screw-the-Oscars, life-affirming run of movies with this ridiculously watchable comedy, playing filthy-rich socialite Florence Foster Jenkins. In the 1930s and '40s, the real-life deluded diva sang at private recitals in New York, warbling opera, blissfully unaware that her hilariously awful singing voice might shatter the chandeliers at any moment. (David Bowie put one of her records on his list of favorite albums.)
Wearing comically vile dresses that look like they're made out 
of cushion covers and doilies, Streep is clearly having a blast. To sing this badly must stretch as many acting muscles as all that Oscar-winning emoting. When tone-deaf Florence opens her mouth, it's like opening the door on a barn full of cows in heat. Protecting her from the truth is Florence's younger second husband, St. Clair Bayfield (played by Hugh Grant, who has transformed into a silver fox overnight). His mission in life is to keep the "mockers and scoffers" at bay, bribing audiences and paying off critics. He pampers and fusses over Florence, indulging her every whim (we all need a St. Clair in our lives), but comes unraveled when Florence dreams big, renting out Carnegie Hall in 1944.
Think about it too hard and you could go sour on Florence Foster Jenkins. What would her modern-day equivalent look like? A spoiled Floridian princess recording a noxious song that goes viral? But director Stephen Frears (The Queen) sketches out her tragic backstory, and Streep, in grande-dame mode, is not to be missed. "We're artists—we'd rather go without bread than Mozart," she trills, like a regal Marie Antoinette who just wants everyone to enjoy her cake.
Release details
| | |
| --- | --- |
| Rated: | PG-13 |
| Release date: | Friday August 12 2016 |
| Duration: | 110 mins |
Cast and crew
Director:
Stephen Frears
Screenwriter:
Nicholas Martin
Cast:
Meryl Streep
Hugh Grant
Rebecca Ferguson
Simon Helberg