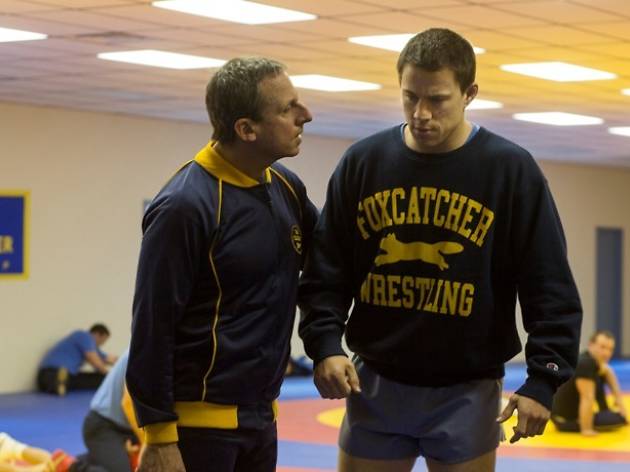 Time Out says
Arrestingly made yet oppressive, Bennett Miller's feeble-brained sports movie focuses, like the director's Capote (2005), on a true-life crime story. Mark Schultz (Channing Tatum) is a world-champion wrestler forever living in the shadow of his brother, Dave (Mark Ruffalo), also a gold medalist in the sport. Theirs is a complicated relationship in which issues aren't talked out but physicalized during tough-and-tender training sessions. (A terrific early scene captures their daily gym routine, a tussle that moves from filial intimacy to violence and back again.) Perhaps this explains why Mark feels so drawn to mysterious John du Pont (Steve Carell, transformed into creepiness), an eccentric multimillionaire who showers him with praise and invites him to train at the new facility he's built on his sprawling estate near Valley Forge.
Carell's gun-loving one-percenter, whom the actor plays as a heavy-lidded burlesque of unbridled affluence, sees wrestling as a way to not only make his mark but to restore a sense of glory to the American empire. (It's no coincidence that Mark's new home is located within walking distance of a key site in the Revolutionary War.) Miller sees parallels between Du Pont's failed, ultimately murderous campaign and the current state of the U.S., with its pronounced economic divides. Screenwriters E. Max Frye and Dan Futterman even set the events, which actually took place over the course of the 1990s, during the right-leaning 1980s to better drive home the skin-deep political jabs.
The movie's cynical thesis about the corrupting power of wealth is embedded in every frame: Cinematographer Greig Fraser (Zero Dark Thirty) gives the impeccably composed imagery a blue-toned chilliness and shoots the actors in such a way that they all have the same sickly pallor. You can feel depravity eating away at the characters' souls long before Du Pont offers Mark his first hit of cocaine and the true downward spiral begins.
This is all very gripping in the moment, in no small part due to Ruffalo and Tatum, who counter Carell's awards-baiting garishness with a lived-in sense of brotherly envy and affection. Once Miller lays all his cards on the table, however, you realize you haven't been watching people struggling with the very real temptations of unchecked privilege, so much as fumbling blindly in a glib, gloomy satire of American exceptionalism.
Follow Keith Uhlich on Twitter: @keithuhlich
Details
Release details
Rated:
R
Release date:
Friday November 14 2014
Duration:
134 mins
Cast and crew
Director:
Bennett Miller
Screenwriter:
E. Max Frye, Dan Futterman
Cast:
Channing Tatum
Steve Carell
Mark Ruffalo