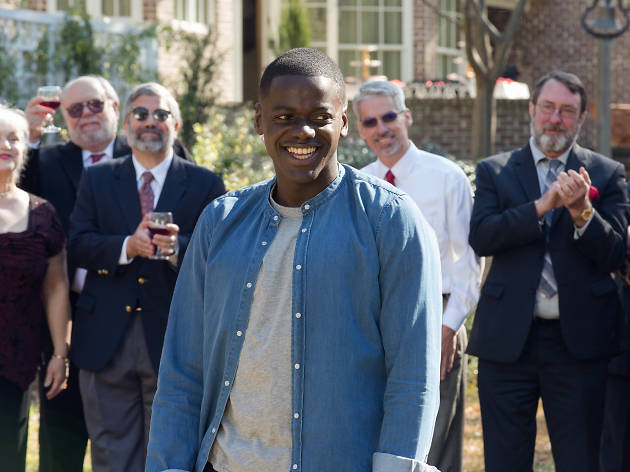 Comedian Jordan Peele steps behind the camera for a brainier-than-usual horror comedy that forgets to go for the jugular.
A horror film with the power to put a rascally grin on the face of that great genre subverter John Carpenter (They Live), Get Out has more fun playing with half-buried racial tensions than with scaring us to death. To some, that will come as the slightest letdown: The movie is a touch too in love with its big idea—that meeting your white girlfriend's parents might be hazardous to your health (even if, as we hear, they "would have voted for Obama a third time").
Chris, a serious young photographer (Daniel Kaluuya), clearly adores Rose (Girls' Allison Williams). Still, their imminent trip out of the city to her family's secluded mansion fills him with dread. That randomly darting deer they smash with their car on the way up doesn't help Chris's fraying nerves, and the way the animal stares him down during its last gasps feels like a warning.
Get Out is sharp and cutting during its buildup—you'll never want this section to end—and the addition of two awkwardly ingratiating adults (Catherine Keener and Bradley Whitford) makes a comic meal out of white liberal privilege with every "cool" handshake and turn of phrase ("Hug me, my man!" Rose's dad exclaims, drawing Chris in). Meanwhile, the movie brews a fine tension between the limits of parental largesse and Chris's own independence, while a disquieting number of black servants look on like wide-eyed zombies.
The writer-director of these vignettes is Jordan Peele, of the defunct but essential Comedy Central show Key & Peele. While you can't help but cheer his debut feature's ambitions, the discipline he found in skit-writing is lost here. Many of Key & Peele's brightest moments were miniature nightmares in themselves—like their classic fantasias "Negrotown" and "Continental Breakfast," the latter a Shining parody. Get Out, on the other hand, reveals its dirty little secret a bit too broadly, and you wait in vain for the kind of larger, self-implicating comment that Peele usually serves up, masterfully. He deserves another shot to get it perfect.
Follow Joshua Rothkopf on Twitter: @joshrothkopf
Release details
| | |
| --- | --- |
| Rated: | R |
| Release date: | Friday February 24 2017 |
| Duration: | 103 mins |
Cast and crew
Director:
Jordan Peele
Screenwriter:
Jordan Peele
Cast:
Daniel Kaluuya
Allison Williams
Catherine Keener
Bradley Whitford

We've found 22 movie theaters showing 'Get Out'
Average User Rating
4.7 / 5
Rating Breakdown
5 star:

8

4 star:

0

3 star:

0

2 star:

1

1 star:

0
"Get Out" was not only a horror film, but a true glimpse into modern society. The film left me craving more and was a unique blend of comedy,thriller, and horror. The story was so well crafted that there were entirely no loose ends, and a great twist. Jordan Peele''s "Get Out" completely deserves the hype!
So I had heard a lot of rave reviews for this movie. I don't prefer horror movies, much more of a comedy gal. My best friend however was going on about this movie until I finally caved in and we went to see it on the big screen for her birthday. I already knew most of the premise- african american guy goes to meet his girlfriend's white parents and theyre crazy. Cant say I was surprised most of the time. I will say I was uncomfortable with the whole situation WAY early on. The first day where he met the parents I knew there was something really off about them. I would've left right away. uh uh I aint dealin with that. Even if I didn't know the premise of the movie the characters did a great job of being suspicious as hell. There's s lot of great cinematography, and amazing acting. A great thriller and a must see. Much deserved critical acclaim!
A must see movie that holds your attention from beginning to end. The ending will throw you for a loop. This is definitely a modern day horror movie.
Highly recommend this film. To say that the film's "big idea" is about the hazards of visiting a girlfriend's house misses the point of the film entirely. After I realized how this movie massages nuanced social commentary (about fetishization of the african american body, caucasian self-image, etc.) into a film "genre" that does not neatly fit into any particular category (it's neither thriller, nor horror, nor comedy, but a taste of all three), I was absolutely impressed. Conflict of interest disclosure: None.
I've been looking forward to this film since news of it broke last November. Jordan Peele is at best a good comedian, however as a director, I have to give him his credit. Even though this film marks his directorial debut, I can see he has an eye for film. This film is based on what Peele calls "Social Demons". Things we as a society face every day. The film focuses on racism and how it is dealt with amongst African Americans and Black people in today's world. I won;t give up much more, however I do recommend watching this movie while it's in theaters.
#TOTastemaker
Snap: ITGraham