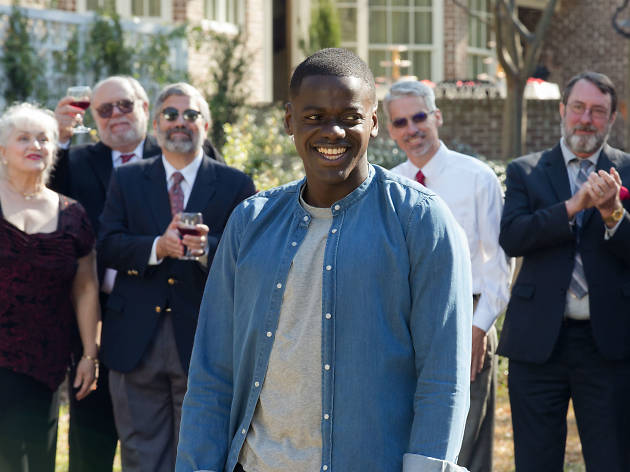 Time Out says
Comedian Jordan Peele steps behind the camera for a brainier-than-usual horror comedy that forgets to go for the jugular.
A horror film with the power to put a rascally grin on the face of that great genre subverter John Carpenter (They Live), Get Out has more fun playing with half-buried racial tensions than with scaring us to death. To some, that will come as the slightest letdown: The movie is a touch too in love with its big idea—that meeting your white girlfriend's parents might be hazardous to your health (even if, as we hear, they "would have voted for Obama a third time").
Chris, a serious young photographer (Daniel Kaluuya), clearly adores Rose (Girls' Allison Williams). Still, their imminent trip out of the city to her family's secluded mansion fills him with dread. That randomly darting deer they smash with their car on the way up doesn't help Chris's fraying nerves, and the way the animal stares him down during its last gasps feels like a warning.
Get Out is sharp and cutting during its buildup—you'll never want this section to end—and the addition of two awkwardly ingratiating adults (Catherine Keener and Bradley Whitford) makes a comic meal out of white liberal privilege with every "cool" handshake and turn of phrase ("Hug me, my man!" Rose's dad exclaims, drawing Chris in). Meanwhile, the movie brews a fine tension between the limits of parental largesse and Chris's own independence, while a disquieting number of black servants look on like wide-eyed zombies.
The writer-director of these vignettes is Jordan Peele, of the defunct but essential Comedy Central show Key & Peele. While you can't help but cheer his debut feature's ambitions, the discipline he found in skit-writing is lost here. Many of Key & Peele's brightest moments were miniature nightmares in themselves—like their classic fantasias "Negrotown" and "Continental Breakfast," the latter a Shining parody. Get Out, on the other hand, reveals its dirty little secret a bit too broadly, and you wait in vain for the kind of larger, self-implicating comment that Peele usually serves up, masterfully. He deserves another shot to get it perfect.
Follow Joshua Rothkopf on Twitter: @joshrothkopf
Details
Release details
Rated:
R
Release date:
Friday February 24 2017
Duration:
103 mins
Cast and crew
Director:
Jordan Peele
Cast:
Daniel Kaluuya
Allison Williams
Catherine Keener
Bradley Whitford