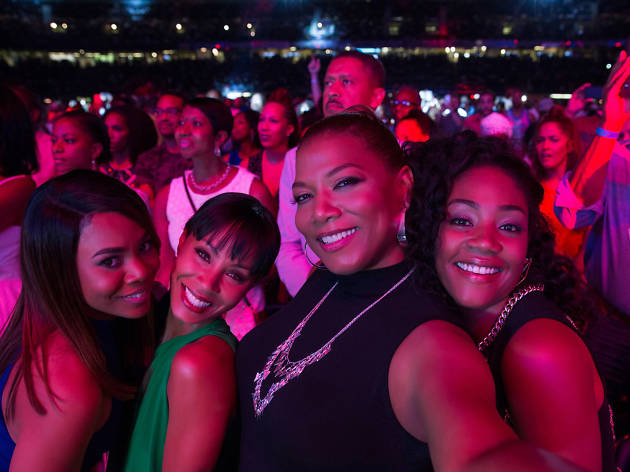 Time Out says
Four old friends go wild in a shamelessly funny comedy blessed with bad behavior and heart.
If Bridesmaids, Bad Moms and Rough Night got to the femalecentric raunch-comedy first—who knew such good things could come out of a Hangover?—then the exuberantly trashy and sneakily deep Girls Trip is that formula perfected. We're still talking about simple drug-and-sex-laden pleasures, this time involving a quartet of black college buddies, formerly inseparable, who have eased into life's compromises. They head down to New Orleans for a weekend of well-financed debauchery. For some reason with this film, the wildness feels wilder, the vulnerability rawer and the sisterhood stronger. If the movie sends you out on a high (and maybe to the phone to get your own "Flossy Posse" back together), then it's doing the work of angels.
With unusual equanimity, the script (from a team of writers whose credits include TV's Black-ish and South Park) features four distinct main characters. Ryan (Regina Hall) is a rising Oprah with—count 'em—a popular TV show, a doting former-pro-football-star for a husband and a bestseller called You Can Have It All, the latter of which pushes her slightly into unbearable territory. Sasha (Queen Latifah) used to be a New York Times reporter; now she's a gossip blogger. Lisa (Jada Pinkett-Smith) is a single mother of two who's given up on dating so completely, her wardrobe consists of either hospital scrubs or matronly sweaters suitable for parent-teacher conferences. And Dina (Tiffany Haddish, stealing the movie) is, well, Dina: brassy, impulsive, recently fired and the most fiercely loyal—definitely the fiercest.
Girls Trip is so successful because it lets its cast of improvisers ease into a bond that feels bone-deep. The story's plot points—a stream of betrayals, some serious, some not—function decently enough and the setting, the Big Easy's annual Essence Fest, allows for plenty of distracting music-world cameos (Sean Combs pokes the most fun at himself). But it's the manic energy and intimacy between the four leads that turns the film into something unexpectedly alive, from a euphoric dance-off against millennial Instagrammers, to every bit of rapid-fire hotel-room banter. (Haddish, particularly, unleashes two arias of purely physical craft: an expert ankle-collapsing drunk walk and a rude sex tutorial involving fruit, both of which should be studied in schools.) You don't mind when the film gets around to making a point, because it's already delivered on something more meaningful: a fully fleshed gang of jokers who truly love each other.
Follow Joshua Rothkopf on Twitter: @joshrothkopf
Details
Release details
Rated:
R
Release date:
Friday July 21 2017
Duration:
122 mins
Cast and crew
Director:
Malcolm D. Lee
Screenwriter:
Kenya Barris, Tracy Oliver
Cast:
Regina Hall
Queen Latifah
Jada Pinkett Smith
Tiffany Haddish