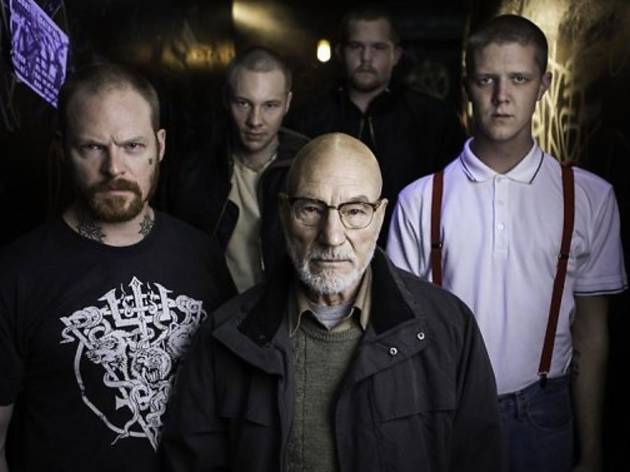 Time Out says
Violent skinheads attack an unsuspecting punk band this grim indie thriller.
The Ain't Rights are the fictional punk band at the heart of Jeremy Saulnier's defiantly unmusical yet gripping indie thriller, and the group's members seem scrappy enough. They siphon gas from strangers' cars for their dilapidated touring van and sulk their way through podcast interviews. Onstage in an Oregon shithole of a bar, they antagonize the skinhead crowd and flee to their backstage dressing room.
That's when things get interesting in Green Room, a smart movie that's obliquely about the rage that can fuel violence as well as art. It's a thin line between the two, represented by the locked door to the band's private space, one that feels increasingly fragile. The club's proprietor, played by a malevolent Patrick Stewart, turns out to be a white supremacist of scary authority; before he even needs to say "Make it so," minions assemble to take out the group, for no just reason at all.
Special mention should be made of the absolutely disgusting gore effects—arm slashings and belly slicings—achieved by a makeup department clearly in thrall of old-school craft. This is a brutal movie that finds unusual freedom in limitations, as do wiry bassist Pat (Anton Yelchin) and bleach-blond concert attendee Amber (Imogen Poots), who both turn out to be pretty handy with weapons. Chalk it up to their killer instincts.
Follow Joshua Rothkopf on Twitter: @joshrothkopf
Details
Release details
Rated:
R
Release date:
Friday April 15 2016
Duration:
94 mins
Cast and crew
Director:
Jeremy Saulnier
Screenwriter:
Jeremy Saulnier
Cast:
Anton Yelchin
Patrick Stewart
Imogen Poots

Average User Rating
2.7 / 5
Rating Breakdown
5 star:

0

4 star:

1

3 star:

0

2 star:

2

1 star:

0
I was very excited to see this film. Heard great reviews. It's mostly an attempt to create a "new" film about ruthless neo-Nazi baddies who run a club with drug distribution and shoot it in a gritty environment. But this is rehashed slash and burn film nonsense you've seen before dressed up with a punk rock band. And baddies who are as stupid as they come. If you can't take down 6 people in a locked room with your army of skinheads then you must be in movie land. There was nothing ingenious about the battle. There shouldn't have been one. Everything was contrived with the stuff of bad straight to cable movies.
As to the script being clever. I couldn't hear most of what was said. Visuals were sometimes as bad, very difficult to see. Terrible audiovisual mix. Alexandra L is right on target - lazy script. Little is explained why who is doing what. Just stuff about "the red laces" and that is supposed to be cooooool. Patrick Stewart utters some ruthless lines and the fanboys just gush over the cool factor. After a decent first 20 minutes that has nothing to do with the rest of the film, it becomes nothing more than a bad survival film. Oh, I hope our nutty band of small petty thieves can take care of those really bad skinheads. Meh.
There is sadly nothing to see here. All the talent is wasted. Poots tags along to be the pretty face. Instantly forgettable and don't believe the discussion of the depth and angles to this film. There aren't any. The usual circle jerking done within the movie community.