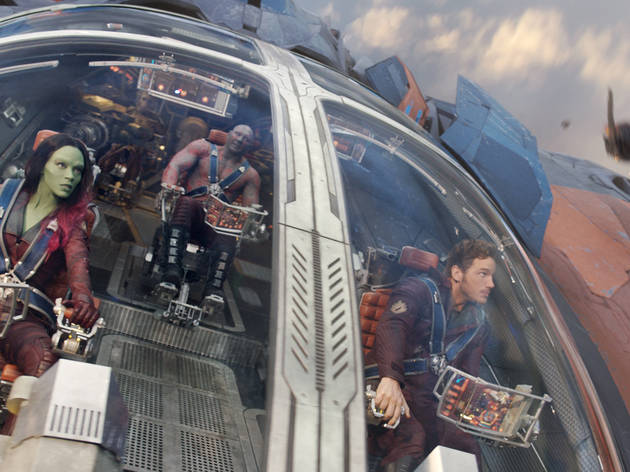 Time Out says
To misquote Forrest Gump's mother, Guardians of the Galaxy is like a box of chocolates. Or rather, it's like a vast, family-size crate of chocolates, all wrapped in the shiniest packaging and exploding with sweetness and surprises. Maybe there are a couple of flavors you don't care for, and after a while, it all starts to get a bit sickening, but you stuff yourself anyway, coming up bloated and satisfied on the other side.
Based on one of Marvel Comics' lesser-known franchises dating back to 1969, this is the tale of Peter Quill (Chris Pratt), an earthling abducted as a boy who, a quarter of a century later, is working as a Han Solo–style outlaw for hire under the self-ordained nickname Star-Lord. When his quest for a mysterious orb attracts the attention of some intergalactic troublemakers, Quill throws in with a team of fellow outsiders, including green-skinned warrior princess Gamora (Zoe Saldana), genetically enhanced raccoon Rocket (voiced by Bradley Cooper), comically literal man-mountain Drax (Dave Bautista) and a self-regenerating, semisentient walking tree named Groot (Vin Diesel, typecast again).
There's a basic good-versus-evil plot in here somewhere, but it's rendered largely impenetrable by a profusion of Marvel-verse asides that will only make sense to those who have followed the mythology across the entire comics-and-film franchise (some conversations seem to consist entirely of silly names jumbled up at random). No matter: The rest of us can just sit back and enjoy the ride, as the film ricochets from one dazzling, frazzling action set piece to the next, pausing only to charm our socks off with another pithy retort, classic bubblegum-pop tune or cutely random alien.
Some may find the film's self-satisfaction a little grating—Pratt is likable, but he's no Harrison Ford, however hard he tries—and there are moments when the sheer brain-melting relentlessness becomes wearying. But overall, this is giddy, ridiculous fun—a witty, wacky, wonderfully generous gift of a film. Marvel, you shouldn't have.
Details
Release details
Rated:
PG-13
Release date:
Friday August 1 2014
Duration:
121 mins
Cast and crew
Director:
James Gunn
Screenwriter:
James Gunn
Cast:
Chris Pratt
Zoë Saldana
Dave Bautista

Rating Breakdown
5 star:

0

4 star:

1

3 star:

0

2 star:

0

1 star:

0