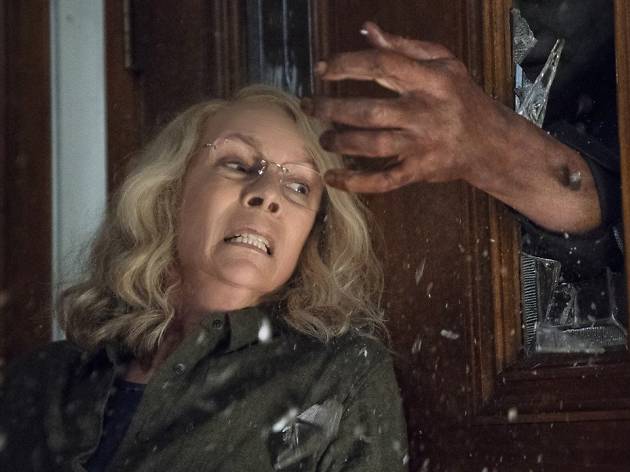 Time Out says
Michael Myers is back in a fierce update that turns Jamie Lee Curtis into a force of nature.
It would seem a prerequisite, but the people rebooting today's Halloween—journeyman indie director David Gordon Green and his co-screenwriter Danny McBride—really love the OG Halloween. (When Rob Zombie tried doing his remake in 2007, you weren't sure if he was enjoying himself or hating life.) Submitting to the new film, essentially a sequel that wipes out four decades of lesser cash-ins, is like driving a cushy Jaguar along familiar curves. So much of John Carpenter's immaculate grammar is impossible to improve upon, so it's simply been redeployed, sometimes with a small twist, sometimes not. Implacable masked killer Michael Myers still has a fondness for stiffly sitting up like a sprung jack-in-the-box; he still lurks in slatted closets and pins boyfriends to the wall with butcher knives.
What elevates this Halloween beyond mere fan service is the presence of Jamie Lee Curtis, whose willowy Laurie Strode has been converted, Sarah Connor–style, into a shotgun-toting shut-in with more than a hint of crazy about her. That's a great reason to return to this universe: Everyone's waving around a gun these days, and the idea that the survivor of the so-called "Babysitter Murders" would become a militia-worthy nut with murderous instincts of her own has a sad symmetry to it. Laurie tells us she's prayed for the day that Michael would escape from the loony bin, so she can have her vengeance. "Well, that was a dumb thing to pray for," a cop replies. But we've prayed for it, too.
It's hard to care much about a pair of pushy British podcasters or, more critically, Laurie's resentful adult daughter (Judy Greer) and the mouthy millennials who essentially function as Michael-bait. (McBride lets his stonerish comic instincts get the better of the dialogue, making room for disquisitions about bánh mi sandwiches and other nonsense.) But how do you beat Carpenter's iconic synth score? You don't. Some of the new music, co-composed by Carpenter's son Cody and Daniel A. Davies, fits in beautifully: seesawing anti-lullabies that would have been at home among the analog stingers of the original. And when Michael wreaks havoc on a brightly lit suburban street loaded with trick-or-treating kids and parents on cell phones, some kind of bedrock horror rule—the one about evil lurking in the shadows—is broken, deliciously.
Follow Joshua Rothkopf on Twitter: @joshrothkopf
Details
Release details
Rated:
R
Release date:
Friday October 19 2018
Duration:
109 mins
Cast and crew
Director:
David Gordon Green
Screenwriter:
David Gordon Green, Danny McBride, Jeff Fradley
Cast:
Jamie Lee Curtis
Judy Greer
Andi Matichak

Users say