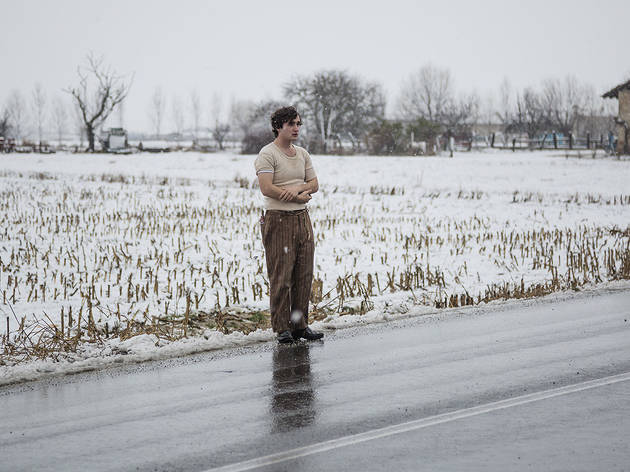 Time Out says
Alice Rohrwacher's folk tale—about nothing less than the birth of modern Italy—is as sublime as it is a warning.
Following on from her 2014 Cannes Grand Prix winner The Wonder, Italian writer-director Alice Rohrwacher returns with this transcendent time-twisting fable. Initially set within the confines of a rural Italian village, the film follows a family of sharecroppers who live under the tyrannical yoke of a corrupt tobacco magnate.
For the first hour, we watch the daily activities of an extended family in its pastoral home of Inviolate. The members live in a cramped, crumbling house with a solitary electric bulb, tirelessly harvesting crops in order to please the self-styled "Queen of Cigarettes," the Marchesa Alfonsina de Luna, and her cronies.
At first, this appears to be an early 20th-century story, everyone dressed in traditional peasant clothing and with few modern amenities at hand. But with the arrival of the Marchesa's dandyish son, Tancredi (Luca Chikovani), sporting a T-shirt and a mobile phone, we slowly realize that all is not what it seems. The family have been hidden away from the modern world all their lives.
The rebellious Tancredi forms a bond with the child-like teen Lazzaro (Adriano Tardiolo), who is eager to please his new master. Tired of his mother's demands, the ever-imaginative Tancredi comes up with a plot for Lazzaro to kidnap him while hiding out in the surrounding hills. But the scheme accidentally triggers a series of events that breaks the Marchesa's hold over the family, thrusting them out of their serf-like existence into a supposedly better life in the bustling city, where they end up living on the streets.
Rohrwacher constantly manipulates time in ever more playful ways, often to comic effect. As with The Wonder, she shoots the film on Super 16mm, harking back to a bygone age of cinema with warm, slightly yellowed images. Tardiolo meanwhile proves to be a revelation, capturing the sweet, saintly quality of Lazzaro's character. He's perfectly matched with Chikovani's outlandish performance as the petulant Tancredi.
With a richly textured plot in which things are never quite what they seem, Rohrwacher paints a magical portrait of the decay of rural life, intertwining the past and the present in a work that is as exhilarating as it is faintly tragic.
Details
Release details
Rated:
PG-13
Release date:
Friday November 30 2018
Duration:
125 mins
Cast and crew
Director:
Alice Rohrwacher
Screenwriter:
Alice Rohrwacher
Cast:
Adriano Tardiolo
Alba Rohrwacher
Luca Chikovani

Users say