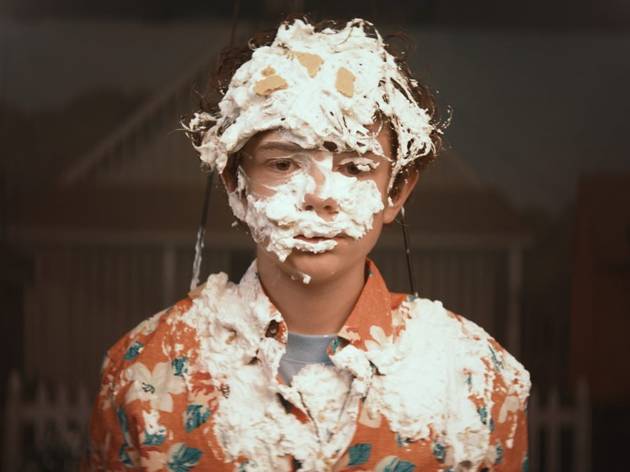 Time Out says
Shia LaBeouf purges the demons of his past in a boldly styled piece of autobiographical self-examination.
With the profoundly confessional Honey Boy, Shia LaBeouf comes out of his performative shell of paper bags and bizarre stunts. An honest reconciliation with his troubled past as an abused child and toxic adult—it was written by LaBeouf as an assignment in rehab, where he was sent in 2017 upon his arrest for DUI—Honey Boy is both a healing self-appraisal and a cinematic public apology from someone seeking a fresh start. It's an admittedly grueling yet cumulatively disarming effort, one that's been entrusted to the right directorial hands: Weaving together two separate timelines, filmmaker Alma Har'el (of the arty documentaries Bombay Beach and LoveTrue) gives LaBeouf's vulnerable exercise a purposely unruly shape, mapping the chaos of addiction with guts and style.
Fittingly, Honey Boy starts with noise and confusion: We see impressionistic re-creations of a stunt from some massive action tentpole movie—presumably one of the Transformers—alongside various off-set misdeeds perpetrated by the real LaBeouf, here renamed Otis, circa mid-2000s. (He's played in this strand by Lucas Hedges, convincing as a version of LaBeouf suffering from withdrawal, arrogance and PTSD). A car crash leads Otis to counseling sessions, where he plunges into memories of his boyhood, tinged with neglect and worse. Even though it's textbook therapy for a famous Hollywood actor to do so, LaBeouf courageously plays his own cruel father in Honey Boy's earlier mid-'90s half: the alcoholic James, a Vietnam vet, convicted sex offender and ex-rodeo clown. Working on the set of a minor TV production with his lonely child-actor son (A Quiet Place's Noah Jupe in a dazzling breakthrough performance), James spends his days failing to stay sober and feeling inferior to Otis, who technically maintains their livelihoods.
Throughout, Har'el capably toggles between the two eras. In numerous powerhouse faceoffs between the psychologically manipulative James and the mature yet helpless Otis, writer LaBeouf earns the audience's compassion for his younger self. In the film's most heartbreaking scene, Jupe displays bravura beyond his years, laying bare Otis's tearful plea for a responsible father—he gets a smack in return. An angelic neighbor character (popstar FKA Twigs), though conceived as something of a cliché, alleviates the onscreen harshness, while cinematographer Natasha Braier's bracing palette contributes to an overall surreal appearance. Taking on tricky subject matter with gravity and depth, Honey Boy can't be dismissed as yet another LaBeouf caper. It's a reminder of a talent that, despite its own worst instincts, refuses to be snuffed out.
Details
Release details
Cast and crew
Director:
Alma Har'el
Screenwriter:
Shia LaBeouf
Cast:
Shia LaBeouf
Lucas Hedges
Noah Jupe

Users say