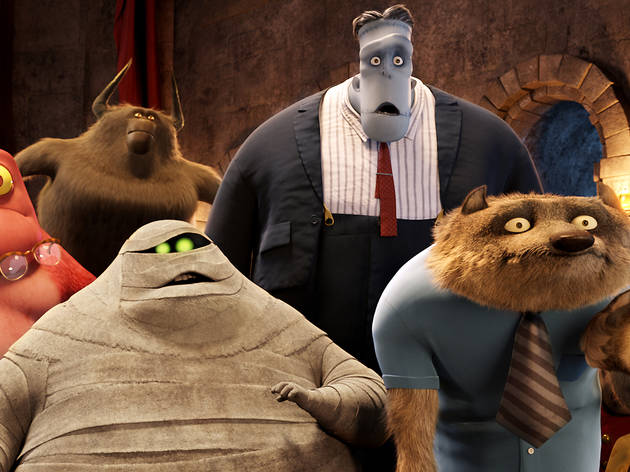 Time Out says
After seeing dozens of different permutations of Count Dracula over the years, you'd assume you knew everything about the aristocratic bloodsucker. Here's one thing you didn't know: This prince of darkness is quite the hospitality-industry bigwig. Genndy Tartakovsky's toon comedy turns the world's best-known non–Robert-Pattinson vampire (Adam Sandler) into a successful hotelier who runs a resort for the monstrosity crowd that's free of angry, pitchfork-wielding mobs. Drac is also an overprotective helicopter parent, refusing to let his 118-year-old daughter (Selena Gomez) out of the castle, or his sight. Then a handsome human backpacker (Andy Samberg) accidentally finds his way to this haven for the horrifying, and all hell breaks loose.
There's an impressive pedigree here: Tartakovsky was responsible for the amazing Samurai Jack and Dexter's Laboratory series; several Saturday Night Live veterans, including ace-in-the-hole writer Robert Smigel, lend their talents; Sony Animation has been making a name for itself with smart, savvy features like 2009's Cloudy with a Chance of Meatballs; and the durable Universal Horror stable—the fire-hating Frankenstein's monster, the howlin' Wolfman, the original Egyptian Lover, a.k.a. the Mummy—is diligently ransacked for laughs. (Why no one had previously milked the humorous potential regarding the flatulence of a creature made of stitched-together corpses is a mystery.)
So why does this animated kids' film fail to come together? Bursts of manic pacing steamroll over most of the wit, a little of Sandler's thick-accent shtick goes a looong way, and by the time the requisite life lessons about letting your offspring leave the nest get rolled out, the undead-on-arrival jokes are outnumbered by anemic sitcom gags. Tweens might appreciate the sugar-rush ghoulishness; Famous Monsters of Filmland fans and discerning kids-flick viewers may find themselves reaching for torches.
Follow David Fear on Twitter: @davidlfear
Details
Release details
Rated:
PG
Release date:
Friday September 28 2012
Duration:
95 mins
Cast and crew
Director:
Genndy Tartakovsky
Users say