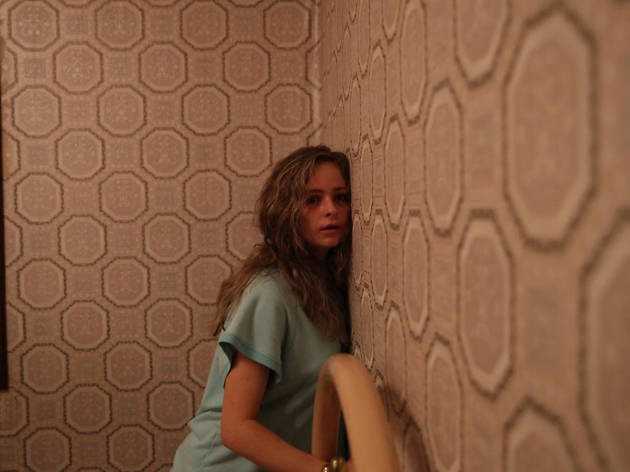 A taut kidnapping drama, this ferocious Australian export leaves no doubt about the limitless potential of a handful of characters in close quarters.
Something rotten wafts from every pore of Ben Young's fearsomely accomplished first feature, a kidnapping thriller that never gets too far from the action (even though you'll want to be). We pick up on the stench right away from the movie's initial stretch: an ominous montage of crystalline slo-mo camerawork ogling the bodies of a squad of high school cheerleaders, crosscut with the moist lips and eyes of a couple spying from a parked car. Elsewhere, bad sex is happening in trashy brick-walled apartments while the sun-bleached neighborhood outside seems to invite a catastrophe.
What is it about Australian filmmakers and down-and-dirty, no-holds-barred crime dramas? Let's not figure out why they're so good at them and simply enjoy. Recent years have brought us David Michôd's grungy Animal Kingdom and The Rover, and it's only a kangaroo's hop from these tense domestic showdowns to Hounds of Love, which takes as partial inspiration two real-life killing sprees that still haunt the western city of Perth. Young's universe is a carefully re-created 1987, during which the so-called Moorhouse murders—perpetrated by a married couple—transpired.
Of course, we ache with every bad decision made by frizzy-haired Vicki (Ashleigh Cummings), sneaking out of her divorced mom's home after dark to buy pot from strangers and get in their car. But it's the film's central pair of monsters, Evelyn and John White (Emma Booth and Stephen Curry, both extraordinary) who capture our dark imaginations. You know what's coming long before they lure Vicki to their den to get high. (Prepare to have the Moody Blues' swirling "Nights in White Satin" ruined for you.)
After the chains come out, Hounds of Love becomes a sweat-drenched exercise in psychological warfare, as Vicki tries to pit Evelyn's apparent neediness against John's brutish mood swings. Young's facility with these scenes—as well as with the desperate search underway—launches his movie into the company of The Silence of the Lambs. Even if it ends a touch abruptly, it seeps into your clothes.
Follow Joshua Rothkopf on Twitter: @joshrothkopf
Release details
Rated:
N/R
Release date:
Friday May 12 2017
Duration:
108 mins
Cast and crew
Director:
Ben Young
Screenwriter:
Ben Young
Cast:
Emma Booth
Ashleigh Cummings
Stephen Curry