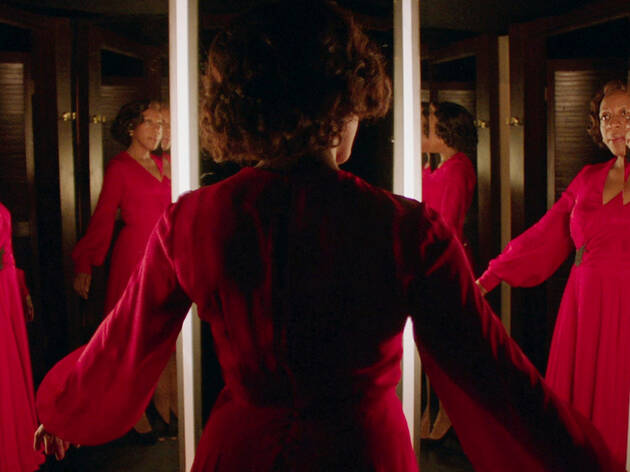 Time Out says
Enveloping you in its vintage folds, Peter Strickland's hypnotic horror film turns fashion into a death sentence.
The first—maybe the only?—thing you should know about In Fabric going in is that it's about a killer dress. Not "killer" as in "fashionable" or a "knockout"; it's actually a garish, neon-red distraction that looks like it was designed by a fire inspector. But the garment does carry a curse, generally making life difficult for the wearer when it's not slithering under bedroom doors, floating up stairways or causing the washing machine to go ballistic. You can enjoy these scenes in the goofy way they're meant to be received, but if you sit through this mesmeric film, one that eventually scrapes the far edge of a nightmare, you won't leave laughing.
Peter Strickland, the subversive British writer-director, has his fetishes: cheapo zoom lurches, shuddering synth bloops, and the sights and sounds of an earlier, analog era. Like Anna Biller, the inspired maker of 2016's The Love Witch, Strickland is obsessed with retro horror; also like Biller, he's no mere nostalgist. He wants to invest the language of '60s and '70s exploitation cinema with liberated ideas. In this film, the first one comes when we visit Dentley & Soper, the fictional department store at the heart of Strickland's plot. It's an ominous place, staffed by imposing, statuesque sales-witches (including the director's favorite actor, Fatma Mohamed) who, in a bizarre ritual, chase their female customers toward the merchandise while clapping rhythmically, hoping for a "transaction of ecstasy."
If you haven't yet guessed, the real fear here concerns our addiction to buying things; In Fabric goes way beyond zombies in a shopping mall. What happens down in the store's subterranean recesses is part of the secret pleasure of watching the film, so we won't spoil it (other than to say it involves unusually lifelike mannequins). It's worth noting that Strickland has made a huge leap forward from his two prior features, Berberian Sound Studio and The Duke of Burgundy, both accomplished but hermetically sealed in their own weirdness.
Now Strickland can attract actors like Secrets & Lies's Marianne Jean-Baptiste and Hayley Squires, the dramatic powerhouse of I, Daniel Blake, lending his horror a working-class believability. And as the movie deepens—from the lonely desperation of buying a new dress for a date to job anxieties, fears of emasculation and the lulling spell of shoptalk—Strickland crams his film with more anti-consumerist curves than its waistline would let on. Try it on, but carefully: It leaves a mark.
Follow Joshua Rothkopf on Twitter: @joshrothkopf
Details
Release details
Rated:
R
Release date:
Friday December 6 2019
Duration:
118 mins
Cast and crew
Director:
Peter Strickland
Screenwriter:
Peter Strickland
Cast:
Marianne Jean-Baptiste
Hayley Squires
Leo Bill
Fatma Mohamed
Gwendoline Christie