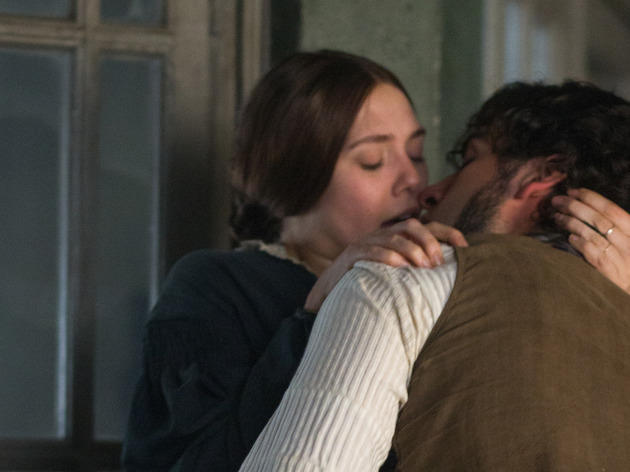 Time Out says
After seeing Elizabeth Olsen so miserable in Martha Marcy May Marlene—and Oscar Isaac barely surviving the winter in Inside Llewyn Davis—it's nice to see the pair enjoy a bit of onscreen boots-knocking. Their characters are stuck in a dank version of 1860s Paris, a place of musty shops and asthmatic, annoying husbands. But whenever the two draw close, sunshine magically appears and everything heats up. Their illicit chemistry is completely believable, a hungry fire.
Unfortunately for them—and for us too, really—these lovers are trapped in the bazillionth film version of Émile Zola's 1867 novel Thérèse Raquin, the early progenitor of many a tawdry noir. Please hold on to any hate mail you might send after I spoil the fact that Olsen's pale, squirmy, sex-challenged spouse, Camille (Tom Felton), is not long for the world, a victim of foul play. Zola's plot (and this so-so adaptation, better directed than paced) focuses on the guilt harbored by the criminal pair. It's a moralistic story, one that doesn't quite suit the modern exuberance of Charlie Stratton's cast.
But a grace note exists: Jessica Lange, as rare as a unicorn these days, seizes on the role of a grieving mother with two taloned hands. If there are any tremors of shame to be felt here, they emanate from her.
Follow Joshua Rothkopf on Twitter: @joshrothkopf
Details
Release details
Rated:
R
Release date:
Friday February 21 2014
Duration:
101 mins
Cast and crew
Director:
Charlie Stratton
Screenwriter:
Charlie Stratton
Cast:
Elizabeth Olsen
Oscar Isaac
Jessica Lange
Tom Felton