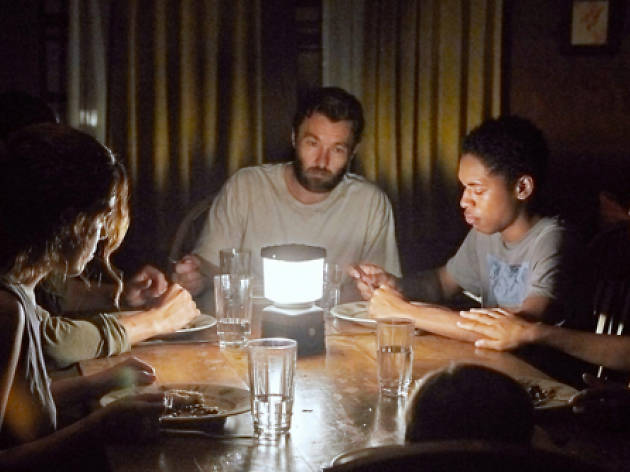 As harrowing as post-apocalyptic nightmares come, Trey Edward Shults's thriller explores the rawest variation on us-versus-them.
A major statement on the subject of civilization in freefall, writer-director Trey Edward Shults's nerve-shredding domestic thriller joins the rarified company of Cormac McCarthy's 2006 novel The Road and the small handful of intimate post-apocalyptic scenarios that puncture through to our deepest fears. Shults, whose first feature Krisha (2015) turned the crucible of one Thanksgiving weekend into a harrowing psychodrama, again burrows deep into the idea of families in extremis. This time, he's got two of them, but you wouldn't call them friendly neighbors: Caked in grime and clad in biohazard masks, they're citizens of a ruined world that's forgotten how to trust.
Confidently, the movie tosses you into the deep end with no time to process: In an unspecified woods, an old man covered in black boils is wheelbarrowed to an unmarked grave, shot to death by crying caretakers and incinerated in a pit. He leaves behind an adult daughter, Sarah (Carmen Ejogo), her bearded, intense husband Paul (Joel Edgerton, uneasy with his rifle and heartbreakingly sympathetic) and their 17-year-old son Travis (Kelvin Harrison Jr.). In the flickering lantern light of the movie's electricity-free universe—Drew Daniels's cinematography works in a gorgeous, ash-etched palette—they have survival down to a science. Their fortified home, covered in wood planks and lined with plastic sheeting, has only one double-locked entrance, the red door a warning to anyone who might approach.
Yet someone does approach, banging on the portal (the sounds in this film, explosively deployed, will give you a heart attack), and after the stranger is subdued and tied to a tree overnight, we learn that his name is Will (James White's magnetic Christopher Abbott) and not "sick." Don't hold your breath hoping to learn what the plague is. That's part of what makes Shults's spare, fablelike story transcend any number of Walking Dead episodes: It trades in the unknown, in sweat-soaked parental caution, the claustrophobia of the house and, with creeping dread, the addition of Will's young wife, Kim (Riley Keogh), and three-year-old son to the group.
It Comes at Night is a film of tense gradations, a chamber piece set at the twilight of humanity. Even as we get more details about life during this endgame—a precious bottle of bourbon, a brief skirmish with marauding strangers—Shults is careful to develop his psychology in tandem. Travis, a hormonal teen, inherits a world where sex is the last thing on people's minds, yet chatting with Kim at the kitchen table after midnight unnerves him. And what exactly comes at night? Fear, lust, greed, death itself? An apocalyptic 16th-century Bruegel painting hangs on the wall (forgive this single on-the-nose piece of production design) pointing to deadly sins, but the movie, loaded with dream sequences and nail-biting exchanges, is far more complex than a mere morality play. It will have you thinking about our current uneasy moment, when everything could come crashing down after a careless tweet. "Wanna know all about the Roman Empire?" jokes Paul, a former history teacher, with a weary smile. He's a little too late.
Follow Joshua Rothkopf on Twitter: @joshrothkopf
Release details
| | |
| --- | --- |
| Rated: | R |
| Release date: | Friday June 9 2017 |
| Duration: | 97 mins |
Cast and crew
Director:
Trey Edward Shults
Screenwriter:
Trey Edward Shults
Cast:
Joel Edgerton
Christopher Abbott
Carmen Ejogo
Kelvin Harrison Jr.
Riley Keough