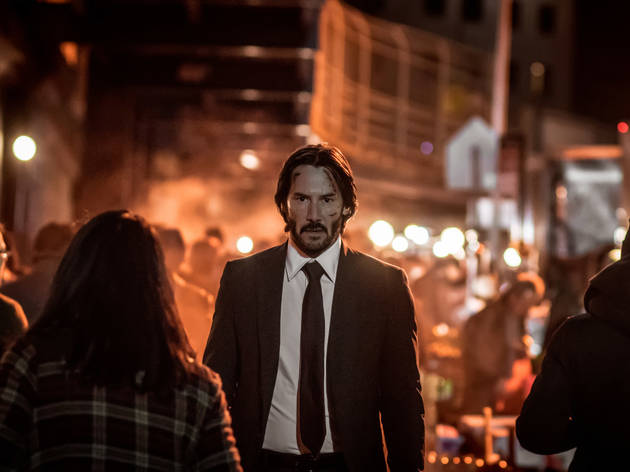 Time Out says
Keanu Reeves is back in a sequel that, if anything, feels more gory, more stylish and more deliriously silly (and fun) than the original.
The first movie had Keanu Reeves's stoic man of action taking on the Russian mobsters who killed his dog—a vengeance with a vicious edge. No, they haven't come for his cat this time, but the taciturn ex-assassin is still prone to murderous rages. It turns out John's unsanctioned rampage broke the laws that all hired killers follow, so he faces some hefty consequences. The ensuing disciplinary action shuttles our antihero from New York to Rome and back again, always one step ahead of his former colleagues who (unwisely) won't let it go.
John Wick: Chapter 2 opens with a movie projected on a wall, as John races past an outdoor screening of a silent slapstick comedy. It's an unsubtle but appropriate image: None of this is meant to be taken too seriously. Just sit back and enjoy the stunts, the speed and the style. Reeves has more than a touch of Buster Keaton about him, staying stone-faced as he blasts, karate-kicks and throat-punches his way through literally hundreds of faceless underworld goons.
And what a stupendously entertaining ride it is. Former stuntman Chad Stahelski is back in the director's chair, and he knows his craft inside out: Every body blow lands hard, every gunshot roars like thunder. Neon-lit and gloomy, the film is lovely to look at (think Drive's Nicolas Winding Refn without the pretension). The humor is charmingly self-deprecating—a series of adversarial grunt-offs between Reeves and fellow assassin Cassian (Common) is a highlight—and the testosterone-heavy supporting cast is terrific: Laurence Fishburne, Franco Nero, Ian McShane, Warriors legend David Patrick Kelly and even pasty-faced Peter Serafinowicz all grab their moment in the spotlight. But it's Keanu's film, and he's a joy to watch. Loose, long-limbed and achingly cool in a three-piece black suit, he makes mass murder look completely effortless.
Details
Release details
Rated:
R
Release date:
Friday February 10 2017
Duration:
122 mins
Cast and crew
Director:
Chad Stahelski
Screenwriter:
Derek Kolstad
Cast:
Keanu Reeves
Bridget Moynahan
Ian McShane
Common
Ruby Rose
Laurence Fishburne