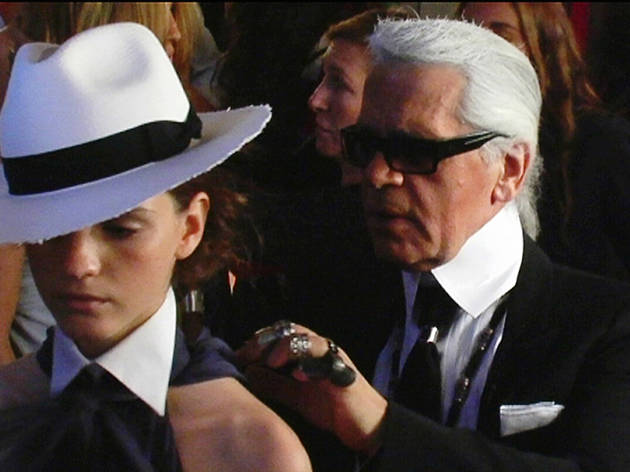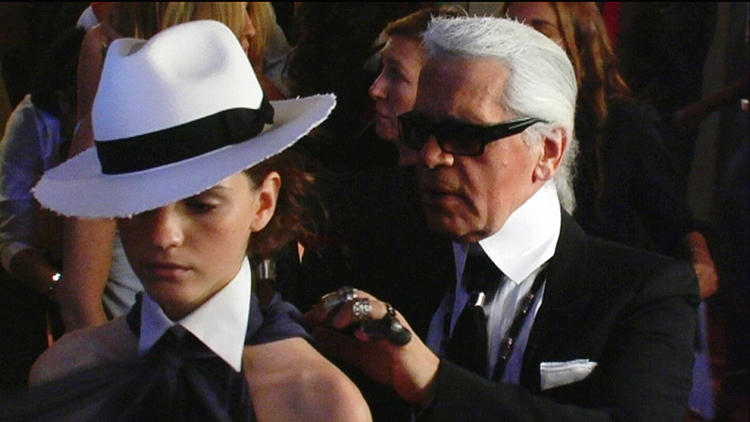 "Fashion is ephemeral, dangerous and unfair," Karl Lagerfeld, Chanel's artistic director since 1983, proclaims in this diverting doc. But don't be fooled by the title: Although this is the first time Lagerfeld has agreed to have his life filmed, there's very little confidential here. Herr Karl is neither unzipped nor even slightly loose-lipped.
We see Lagerfeld at his homes and at work. Rocking his signature look of sunglasses, ponytail, four-inch-high collar, boots and fingerless biker gloves, Lagerfeld is a space alien prone to both aperçus and vaguely Warholian pronouncements such as "I am attached to nothing." But he will not open up; of his sex life, the openly gay designer says only, "I was active quite young, but that's a private matter."
Who knows how much control Lagerfeld had over what Rodolphe Marconi could and could not depict? A slide show reveals several snaps of a younger, beautiful Lagerfeld, but there's not one photo of fat Karl (he lost 92 pounds in a year and cowrote a diet book). What we do learn: He likes to travel with a pillow he's had since childhood resting against his tummy.
Dedicated followers of fashion may be far more interested in two docs David Teboul made of Yves Saint Laurent, Lagerfeld's chief rival in the 1970s: Yves Saint Laurent: His Life and Times and Yves Saint Laurent: 5, Avenue Marceau, 75116 Paris. The latter opens with remarkable footage of YSL muse Catherine Deneuve chatting in the designer's studio about her love of pigs. Lagerfeld's doc, in contrast, has his top model, Nicole Kidman, looking at photos of herself on Karl's laptop.
Release details
Cast and crew
Director:
Rodolphe Marconi