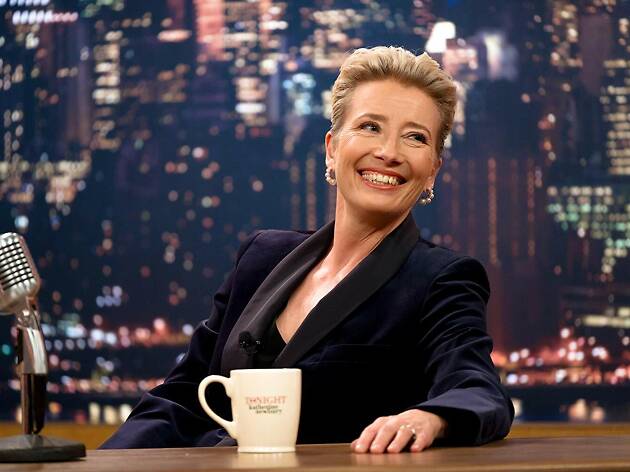 Time Out says
Emma Thompson classes up a too-timid crowdpleaser about a female TV host who needs to modernize.
In Late Night, screenwriter and costar Mindy Kaling dares to imagine a world where a top female comedian has been hosting a popular late-night talk show for nearly three decades. It's a gutsy premise that runs counter to the sad longstanding reality—and a concept you wish Kaling's story had internalized and furthered. Instead, this charming yet broad comedy settles for the basics, offering 101-level lessons about feminism and diversity in media. A multitalented TV pioneer herself with her own comedy series (The Mindy Project) and high-profile writing credits on The Office and SNL, Kaling is no stranger to the mostly white and male writers' rooms. If only she'd taken a riskier gamble with that intersectional viewpoint in developing Late Night's two central female characters.
One is tough-as-nails TV host Katherine Newbury (Emma Thompson), a social-media-averse comedy legend. You can't get enough of her, thanks to Thompson's flawless timing and droll Britishness (not to mention some impeccably styled outfits). But with falling ratings and a career ultimatum from her boss to appeal to a younger demographic, Katherine finally decides to hire a woman writer. Coming to the rescue in the most implausible and elaborate way is Molly Patel (Kaling), a sweet-natured chemical plant worker and amateur comedian from Queens who somehow finds her way to the top of the résumé pile. She aims to shake things up through her unrepresented perspective.
Kaling is affable as the ambitious, eager-to-please Molly, striving to prove her indispensability to numerous co-workers who see her as a diversity hire. But her chemistry with Thompson never materializes, even though it's a linchpin of the plot. More problematically, Late Night only barely scratches the surface of the topic of inclusivity. Characters dole out a steady supply of buzzwords and zingers, as they do in sitcoms or stand-up routines, only half of which land. Unfortunate inconsistencies in Thompson's character stick out: Are we to believe that a supremely sharp, successful woman who invites Senator Dianne Feinstein onto her show is also "private" with her politics and unable to remember her colleagues' names? Meanwhile, the romantic endeavors of the two women (one involving a too-conveniently-manufactured act of infidelity) feel half-considered.
The most radical observation Late Night makes concerns the extreme maleness of showbiz that turns women into rivals. But the film brushes over this insight and ultimately falls short of even its more modest intentions. It's telling that The Devil Wears Prada, the closest thematic comparison to Kaling's scenario, feels more fearless and timely, even though it's 13 years old. Like Katherine herself, Late Night feels regrettably late to a changing game.
Details
Release details
Cast and crew
Director:
Nisha Ganatra
Screenwriter:
Mindy Kaling
Cast:
Emma Thompson
Mindy Kaling
Ike Barinholtz
Amy Ryan
Megalyn Echikunwoke
John Lithgow