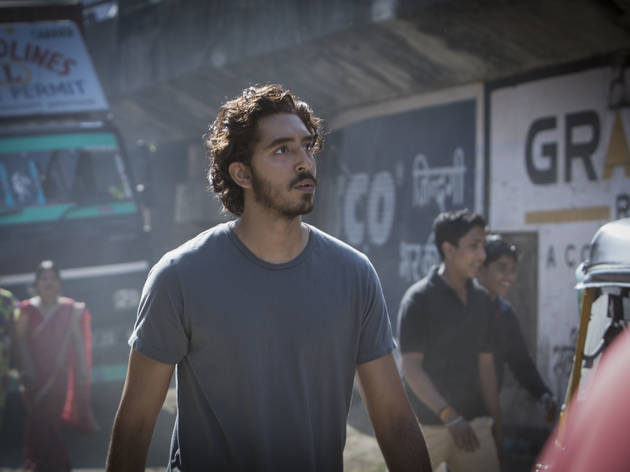 Time Out says
In this uneven Slumdog Millionaire-esque drama, a wayward child survives homelessness to be adopted into wealth, but his past haunts him.
One major misjudgment can sink an entire film. Lion is based on the true story of Saroo Brierley (played as a child by Sunny Pawer, then as an adult by Dev Patel), an Indian boy who stepped onto the wrong train at age five, was carried half way across the country and ended up living on the streets of Calcutta until he was adopted by kindly marrieds Sue (Nicole Kidman) and John (David Denham) and taken back with them to Tasmania. It's a compelling story, convincingly told—at least until a wildly unlikely act of God occurs, turning the entire movie on its head.
There's a strong whiff of Slumdog Millionaire to the opening act, as Saroo is separated from his brother Guddu (Abhishek Barate) and forced to fend for himself in a wild, unfamiliar city, on the run from the corrupt local cops and people traffickers. But the movie slips into another key entirely when we jump forward 20 years to reconnect with Saroo as an adult—this is a quieter, more mournful film, driven by a committed performance from Patel, battling the ghosts of the past and trying to maintain a relationship with Lucy (Rooney Mara in a fairly thankless role), who just wants him to be happy. First time Aussie director Garth Davis never really digs deeply enough into these characters, but it's watchable, well constructed and crisply photographed.
And then the wheels come off: Perhaps things really did play out as Lion claims, perhaps Saroo did just inadvertently stumble onto the truth he'd been seeking all his life. But on screen it feels cheap, like cheating. We've watched this young man struggle and fight for answers, only to have them drop into his lap at precisely the right moment. It's a drastic misstep that ruins whatever chance Lion had of doing justice to a fascinating true story.
Details
Release details
Rated:
PG-13
Release date:
Friday November 25 2016
Duration:
120 mins
Cast and crew
Director:
Garth Davis
Screenwriter:
Luke Davies
Cast:
Dev Patel
Rooney Mara
Nicole Kidman