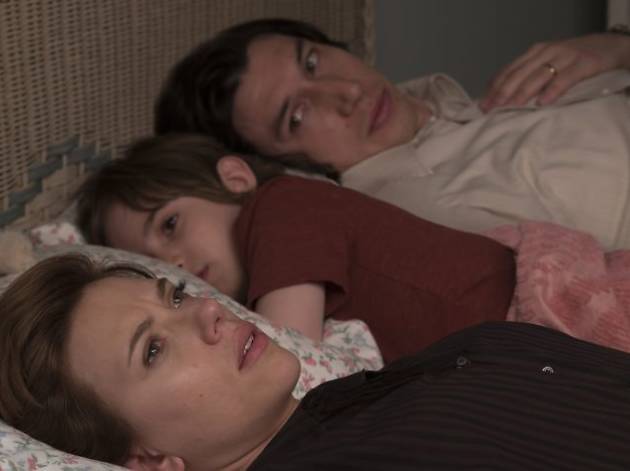 Time Out says
Featuring powerhouse performances by Scarlett Johansson and Adam Driver, Noah Baumbach's divorce drama is a bruising tour de force.
Review by Joshua Rothkopf
Because it would have been unbearable otherwise, Noah Baumbach begins his churning, deeply felt divorce drama Marriage Story—easily the wisest film of his career—on a note of sweetness. Wedded Brooklyn parents Nicole (Scarlett Johansson) and Charlie (Adam Driver) introduce themselves via a double diary of sorts, co-narrating as we watch snippets of their urban life: pizza slices scarfed down, bedtime stories told, subway stops missed. Both of them are unfailingly generous. Nicole makes people feel comfortable, Charlie says. He rarely gets defeated, she tells us. Each calls the other deeply competitive. Alas, that's the trait Marriage Story is about.
It's a movie that slowly leeches itself of tenderness, of endearments small and large, climaxing in a ferocious, Bergmanesque verbal showdown (one that goes from cautious chat to wall-punching) that represents a triple triumph for the actors and their director. Rarely has Johansson, pared down and deglammed, been this aching. Never has Driver, even with his Star Wars rage monster Kylo Ren under his belt, torn into his lines with such ruined viciousness. And Baumbach transcends his own The Squid and the Whale, mounting a complex moment in a small apartment that's almost abstract in its blankness—there's nowhere to hide. (Presumably, he lived out some version of this scene himself. Let's not speculate on what Jennifer Jason Leigh, Baumbach's ex and an obvious inspiration for Nicole, will think.)
Charlie is a rising experimental theater director who has just won a genius grant. At one time, his brooding seriousness was catnip to the Los Angeles–bred Nicole, a former teen-movie star. But she's deferred her own dreams for his, and now the relationship has soured. Expertly scripted by Baumbach as a showcase for subtle, natural monologuing, Marriage Story catches us up to date with their histories via generous speeches, out of which emerge an unusually well-balanced equanimity. You may be reminded of Kramer vs. Kramer and all its fireworks, but that movie was lopsided and unfair to Meryl Streep's discontented wife and mom. Baumbach relishes in the messiness: Separated from her husband, Nicole moves back to L.A. to do a TV pilot and regroup with her mother (Julie Hagerty, a welcome blast of upbeat irreverence) and sister (Merritt Wever, keenly neurotic). Nicole and Charlie's young son, Henry (Azhy Robertson, a keeper), comes with her to California.
Already, Marriage Story is turning into a turf war, and the bicoastal strain quickly resembles a pre-chummed sea for several well-cast lawyer sharks. They make the movie unmissable: Laura Dern's high-powered Nora, a balm to Nicole's confidence, sugars up her client with honey-laced tea and a patient ear, but eventually disgorges the film's fiercest bits of scorched-earth savagery. Meanwhile, Charlie, naively assuming a quick and painless process, ping-pongs between a beast of an attorney (Ray Liotta) and a gentle, dignified advocate (Alan Alda). They all bring a rich, heretofore unseen sense of duty to the work of legally dividing a couple and their assets. "It's like a death without a body," offers Alda's lawyer—grim but on the money.
Don't expect a happy ending. (You knew that.) But almost miraculously, after all the hard stuff is through, Baumbach finds a way to burrow even deeper into his characters pain—and the scabbing over—after all the hard stuff is through. Driver, flexing his theater chops, belts his way through a ravaged version of Stephen Sondheim's "Being Alive" alone at an open-mic night, Charlie's friends watching on as he invests the melodies with tear-rimmed cynicism. And Johansson's Nicole is also onto a new life, her terrain fought for and won. She sees Charlie only on custody days, swapping a sleepy kid between shoulders, tying her ex-husband's shoelace out of practical safety, not compassion. As he did with the underrated While We're Young, Baumbach is turning his signature comedies of urban dissatisfaction into something more universal. He has earned these scars—the film will be clear-eyed company to many who feel betrayed by their own hopes.
Follow Joshua Rothkopf on Twitter: @joshrothkopf
Details
Release details
Rated:
R
Release date:
Wednesday November 6 2019
Duration:
136 mins
Cast and crew
Director:
Noah Baumbach
Screenwriter:
Noah Baumbach
Cast:
Scarlett Johansson
Adam Driver
Alan Alda
Laura Dern
Ray Liotta